Quick question about how skilled one has to be at a foreign language to be "proficient"
Do you have to be able to speak fluently or hold an extended conversation?
Do you have to know how to read and write?
Really, I am at the stage where my foreign language was native to my parents and they spoke it around the house, but my first language was always English. I can hold decent conversations (but am better at listening) and can read/write a small amount. What should I label myself as in terms of skill?
proficient definition for foreign languages on resumes
When putting your foreign language experience on your resume, it is important to not overstate your skill. It is better to be more conservative rather than less conservative.
In the case of the OP, our users shared that they would likely classify them as conversationally proficient. If you overstate your level of proficiency, an interviewer may be fluent in the language and call you out in an interview in that language. If you claim proficiency – you will be seriously dinged if you cannot respond.
Another user shared a site that can help you test your proficiency in a respective foreign language – you can use this to determine your level of proficiency for the purposes of your resume.
You can also use the Interagency Language Roundtable (ILR) scale to figure out your proficiency. The ILR scale gives a complete description of language proficiency levels which is more transferable to resumes. We've listed the common equivalent next to the ILR ranking. Examine the rankings carefully. An exaggeration of language skills could put you in a bad situation. Do not list "Full Professional Proficiency" or "Fluent" next to any language, unless you can proceed in an interview in said language.
| ILR Level and equivalent | Level of Proficiency |
| --- | --- |
| Elementary Proficiency / Basic | Includes the only the basic functions of using the language. |
| Limitied Working Proficiency/ Conversational | Ability to communicate socially with limited professional application of the language. |
| Professional Working Proficiency / Business | Able to speak clearly in a structured manner. Good sense of the languages grammar. Broad Vocabulary. |
| Full Professional Proficiency / Fluent | Can participate in any conversation with experience. Fluent use of the language. |
Language Skills on Resume
You can check out how to list foreign language skills on your resume. Note that the applicant lists their language skills as basic in French and fluent in Mandarin.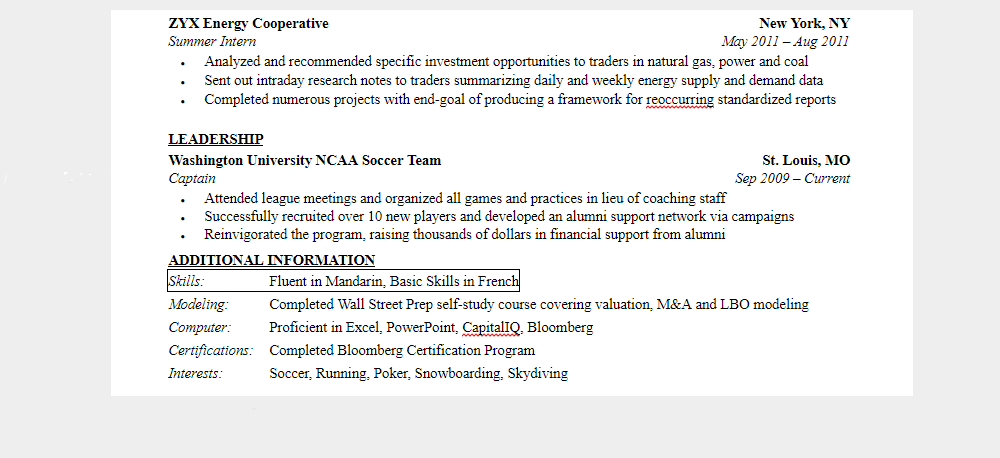 Read more about this topic on another detailed thread on WSO.
Want Your Resume Reviewed by a Pro?
The WSO Resume Review Service has hand-picked the best professionals from thousands of currently practicing finance professionals… people who live and breathe their industry - day in and day out… who can tell you what's changing firsthand…who LOVE giving back and will keep you up-to-date on everything you need to polish your resume and land more interviews.