Regretting Chipotle? | The Daily Peel | 7/21/21
What's Ripe
Digital Currencies – Boom! just like we predicted yesterday, BTC and other digital currencies have earned a spot in today's "What's Ripe". Gaining 8.8% in the last 24hrs (at the time of writing), BTC is back above $32k, ETH is up 10.2%, ADA 7.4%, and UNI 8.6%. It's unclear whether the conversation with three of digital currency's biggest supporters was what helped (more on that below), or perhaps investors saw the latest lows as a chance to buy the dip. Reports say that Satoshi Nakamoto was seen bumping Eminem and loudly singing "guess who's back, back again" in his car.
Chipotle Mexican Grill ($CMG) – Congratulations, that burrito that you bought and then paid for later on in the bathroom contributed to Chipotle shares rocketing up 11.5% yesterday. The Mexican food chain absolutely dominated earnings, with quarterly sales soaring 31% and projections for same-store sales to grow "low to mid double digits" in Q3. With burritos that good and sales that are even better, maybe my mom will finally learn that it's not called "Chipotel".
Lyft ($LYFT) – Lyft shares got quite the lift yesterday (sorry, I had to). The Uber competitor was given a push by an announcement involving heavyweights, including Ford and Argo AI, who will team up to roll out self-driving ride-hailing services in Miami and Austin. Already operating in Phoenix, this will be the largest commercial rollout of the technology yet, and investors are pretty excited. Shares gained 5.3% as a result.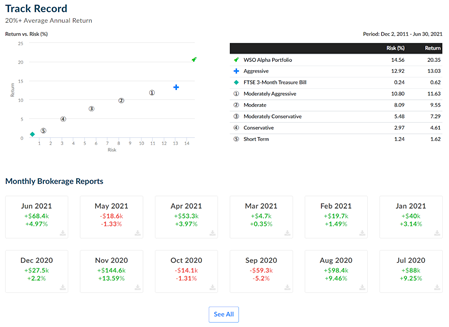 Access 30+ holdings in an actual 401k account (held by lead investor)
Get trade alerts and research from an actual portfolio with real capital at stake (over 20% annualized return over 9.5 years)
Over 100 monthly brokerage statements included, dating back to December 2011 (as proof) when it started
What's Rotten
Netflix Inc. ($NFLX) – Don't you hate it when your company only adds a measly 1.5 million new users in 3 months? Well, Netflix does, and investors sure do too. The creators of the streaming market were tossed down 3.3% yesterday on a poorly received earnings call. After a monstrous number of customer additions last year, user growth was well below expectations and the firm saw the slowest YTD growth since 2013. To minimize disappointment, Netflix announced plans to roll out a gaming unit and hinted at dipping their toes in podcasting. If those don't work out, someone's going to have to get Carole Baskin on the line.
Harley Davidson ($HOG) – Despite beating on EPS, Harley Davidson stumbled as they projected lower margins, as a result of higher materials cost, going forward. But hey, if that means less obnoxiously loud, oversized dirt bikes screaming past my house, it's fine with me. Shares dropped 7.2%.
Sleep Number Corp. ($SNBR) – Apparently, sleep is for losers and putting a number on the bed you sleep on is for huge losers. That's at least what I took away from Wall Street on Wednesday, as Sleep Number shares took a 12.9% dive. In addition to hating sleep, shares are also likely down on missing both profit and revenue expectations for the quarter. Whatever they do, they better not stop me from taking a nap on their beds next time I'm bored at the mall.
Macro Monkey Says
Startups Are Hot – After a year of a roaring public market and the treasury tossing out cash like nobody's business, it shouldn't be a surprise that there is an obscene amount of money flying around Silicon Valley. Venture capitalists have taken these new dollars and seem to be funding every idiot with an idea they can find, thus setting records for funding in the last 4 consecutive quarters. Will there be some miserable failures? Of course. Scams? You bet. But we may see some really cool stuff come out of this as well, as long as Zuckerberg doesn't just buy out every company with an engineer.
Food for Thought:
The Talk – "I love dogs and memes" - Elon Musk, the second richest man alive, at The B Word conference yesterday. Fortunately, Musk's conversation with Jack Dorsey and Cathie Wood was slightly more insightful than that...for the most part. The three titans of tech focused on fundamental issues and opportunities for BTC, like energy usage, hash rates, economic empowerment, and competition from other digital currencies. I don't need to tell you that they were all very bullish, but they were all very bullish, just in a much more intelligent way than your annoying, wanna-be tech bro friend. We saw earlier that these currencies rode the wave of that bullishness yesterday, but we'll have to wait and see if that can carry through. If you couldn't tune in, here is a link to a replay of the conversation, I highly recommend it.
"Given a 10% chance of a 100 times payoff, you should take that bet every time." - Jeff Bezos
Happy Investing,
Patrick & The Daily Peel Team
Was this email forwarded to you? Sign up for the WSO Daily Peel here.