MARKETS
Trade: The U.S. trade deficit fell 8.2% in November to its lowest level in three years. Imports from China are while oil exports continue to .
Crypto: This is your periodic reminder that bitcoin still exists. The cryptocurrency shot above $8,000 yesterday to its highest point in three months.
Want Morning Brew Daily Served Fresh to Your Inbox?
Drop Your Email Below...

TECH
Sonos Sues Google for Being a Bully

Listening to music on a Sonos speaker is like getting a personal serenade from Nick Jonas. But after going on tour with Big Tech, the high-end speaker company wants out: Yesterday, Sonos sued Google for allegedly infringing on five of its patents, the NYT reports.
In a separate case, it's also requesting a ban on the sale of Google laptops, phones, and speakers in the U.S.
The allegations
Sonos showed Google its blueprints in 2013 under a partnership to integrate Google's music service with its speakers. Three years later, Google released a wireless competitor, the Google Home.
Suspicious, Sonos sniffed around and concluded Google used its tech. It explained this to Google several times between 2016–2019 and asked that Google at least license it.
Sonos says Amazon also infringed on its patents in Echo devices, but...one schoolyard fight at a time.
The defense: A Google spokesman said the company's "disappointed" Sonos is pursuing a lawsuit and that all claims are false.
We've heard this song before
With roughly 1,500 employees and $1+ billion in annual speaker sales, Sonos isn't a mom and pop shop.
But that doesn't mean it's playing on a level field, writes the NYT: "As the biggest tech companies have become essential to reach customers and build businesses, they have exploited that leverage over smaller companies to steal their ideas and their customers."
Sonos, like many other companies, uses Google's ad platform and Amazon's retail and cloud services.
Google and Amazon can also subsidize products through other business units to undercut rivals (their Home and Echo devices can run $50, while Sonos speakers start at $180). Google sells nearly as many speakers in a quarter as Sonos does in a year.
Big picture: This suit reinforces complaints that Google and Amazon squeeze oxygen out of competition. Both are already facing antitrust probes, and Sonos execs have reportedly discussed testifying to a House committee.
INVESTING
The Future (of Investing Apps) Is Now

Since Thiel & Co. got together to crack the online payment nut in 1998 (PayPal), fintech has surfed from personal finance (Mint) to point-of-sale (Square) to payment processing (Stripe).
Another fintech frontier: Investment platforms, where insurgents are pushing incumbents off the dance floor.
Want more detail? This week, the good people of Apptopia analyzed the investment app landscape. Here's what they found:
Robinhood's the clear leader. The app has more mobile monthly active users than the top legacy players (E-Trade, TD Ameritrade, Edward Jones, and Fidelity) combined.
Quarterly downloads of the top investment-based finance apps (Robinhood, Acorns, Stash, Betterment, and others) have collectively grown 126% from Q4 2015 through Q3 2019.
The gender breakdown is...uneven. Men account for no less than 69% of total active users at each of the major investment apps. Acorns has the highest proportion of female users (30.4%), while E-Trade ranks last at 15.8%.
Bottom line: Robinhood's no-fee trading has already forced legacy brokerages to eliminate commissions. This report indicates they'd be wise to follow the new kid's focus on mobile as well.
AUTO
The Grooviest Auto Roundup You'll Read All Day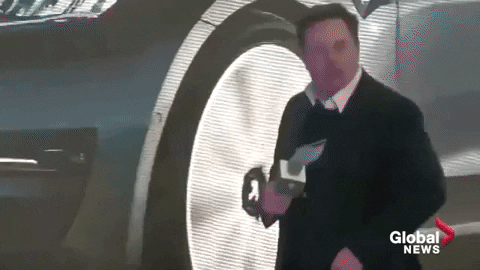 What got into Elon Musk in Shanghai? He made it through a presentation yesterday without shattering any windows. Plus, Tesla delivered its first China-made Model 3s to the public and said its new Model Y compact SUV would be produced in Shanghai. "Ultimately the Model Y will have more demand than probably all of the other cars of Tesla combined," Musk said.
After it unveiled the (uninspired) logo for the PlayStation 5, Sony surprised CES by revealing a concept electric sedan, the Vision-S.
Also at CES, Toyota announced plans to build a "city of the future" at the base of Mt. Fuji. Called Woven City, the techno-metropolis will serve as a playground for smart homes, autonomous cars, and AI.
Far away from CES, GM reported that sales in China dipped 15.1% in 2019, its second straight year of declines in the world's largest auto market.
In the British luxury sector, Rolls-Royce rolled to its best year ever with sales up 25%. Aston Martin, however, warned its 2019 profit would drop by ~45%.
GEOPOLITICS
Top Risks of 2020

On the list of things that keep investors up at night, geopolitical risks are up there with "Did I leave the garage door open?"
Political risk consulting firm Eurasia Group has released its top risks of 2020. If you're the type to worry, here's some ammo...
U.S. politics. "We face risks of a U.S. election that many will view as illegitimate, uncertainty in its aftermath, and a foreign policy environment made less stable by the resulting vacuum."
The tech "decoupling" of the U.S. and China.
General U.S./China tensions.
Multinational corporations face backlash. "Nation-states are reasserting themselves, presenting new risks to the capital and assets of corporations."
Indian Prime Minister Narendra Modi's controversial agenda.
A more aggressive, independent Europe.
The politics vs. economics of climate change. The failure of climate policy will lead to "suboptimal corporate decision-making, operational business disruptions, and political instability."
Failed U.S. policy in Shia-led nations in the Middle East.
Discontent in Latin America.
Turkey's flailing economy and government.
What did they miss?
STOCKS
Team Snap or Team Twitter?

Now it's your turn: Twitter or Snap? You can vote here.
WHAT ELSE IS BREWING
Boeing reversed its previous stance and recommended that pilots undergo simulator training before the 737 Max returns to service.
Nearly $11 million of recreational pot was sold in Illinois during the first week of legalization, state officials said.
Japanese prosecutors issued an arrest warrant for Carlos Ghosn's wife on suspicion of perjury. Ghosn will hold a big press conference today.
Cargill's meat business surged thanks in part to the African swine fever decimating the Chinese hog population. Profits increased over 19% last quarter.
Michael Bloomberg bought a 60-second ad spot during the Super Bowl that will likely cost at least $10 million. So did President Trump.
Sen. Elizabeth Warren proposed an overhaul of U.S. personal bankruptcy laws.
MOVING OUT
If you want to learn who's moving where, you could do worse than checking in with U-Haul. On Monday, the company released its list of top growth states for 2019. Growth is calculated as the net gain of one-way U-Haul trucks entering a state vs. leaving that state over a calendar year.
How many of the top and bottom five growth states can you name?
Want Morning Brew Daily Served Fresh to Your Inbox?
Drop Your Email Below...

MOVING OUT ANSWERS
Top five growth states: 1) Florida 2) Texas 3) North Carolina 4) South Carolina 5) Washington
Bottom five growth states: 46) Pennsylvania 47) Massachusetts 48) Michigan 49) California 50) Illinois