The Dot Plot to Plot Rate Hikes | The Daily Peel | 9/23/21
Silver Banana goes to...

Market Snapshot
Wednesday was the bounce-back investors were waiting for, following this week's earlier drawdown. U.S indices gained large, with the Nasdaq gaining 1.02%, the Dow rising 1.00%, and the S&P 500 jumping 0.95%. 
This week's market is the perfect example of why you need to check out this presentation from Weiss Ratings. You'll learn exactly how to pay the "ups and downs" of the market, and even more importantly, learn why this is happening. It's all part of "The K Wave" Economic Theory and they've got an in-depth presentation and 28 page paper on it! Check it out before it's too late.
Let's get into it.
Macro Monkey Says
Taper Talk - The moment everyone has been waiting for finally came yesterday. JPow and the rest of the FOMC spit some heat on the state of the economy, some coming in line with expectations, while other information was relatively unexpected. 
First and foremost, while maintaining asset purchase tapering and rate hikes do not go hand in hand, the FOMC revealed plans to likely raise rates sooner than anticipated. At previous meetings, the phrase "not until at least 2024" was tossed around. Now, the so-called "dot plot" that allows FOMC members to predict rate hikes, has moved primarily to mid-2022. Similarly, JPow indicated tapering will come "soon" in his ever esoteric style, saying that while no decision was made, it was clear to members that tapering is not far away. 
Financial markets had a mixed reaction to the meeting. Stocks were largely up on the day, but bond yields traded somewhat sideways, as timing of these incredibly impactful events remains unclear. In short, the money printer will slow down and the cost of money will go up sooner than expected. Still think stocks will only go up?
BFFs - Don't get too excited, we're still not friends - the only BFFs we need are Bond Fund Flows. Contrary to popular belief, fixed income is not dead. The graph below shows weekly flows into ETFs and mutual funds that hold fixed income securities, and things are looking up. In fact, things have been looking up since mid-2020 despite ridiculously low interest rates, indicating that aggregate demand for these products and investment products in general remains very high by historical measures. 
Don't get me wrong, bonds are still for nerds, but these nerds make money. The equity market has come under fire for its huge runup, scaring some into using the scary "bubble" word, but it appears stocks are not alone in their sizable gains. Demand for financial assets is elevated across the board, so things may not be as insane as they seem.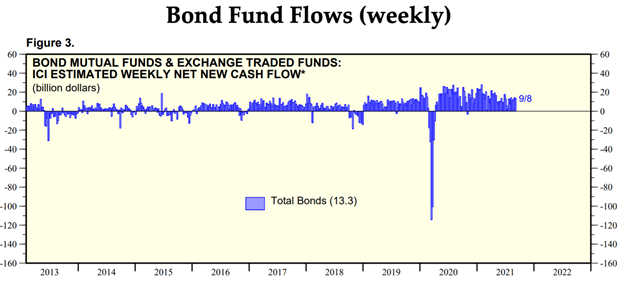 Is the Worst to Come? 28-Page Paper Says…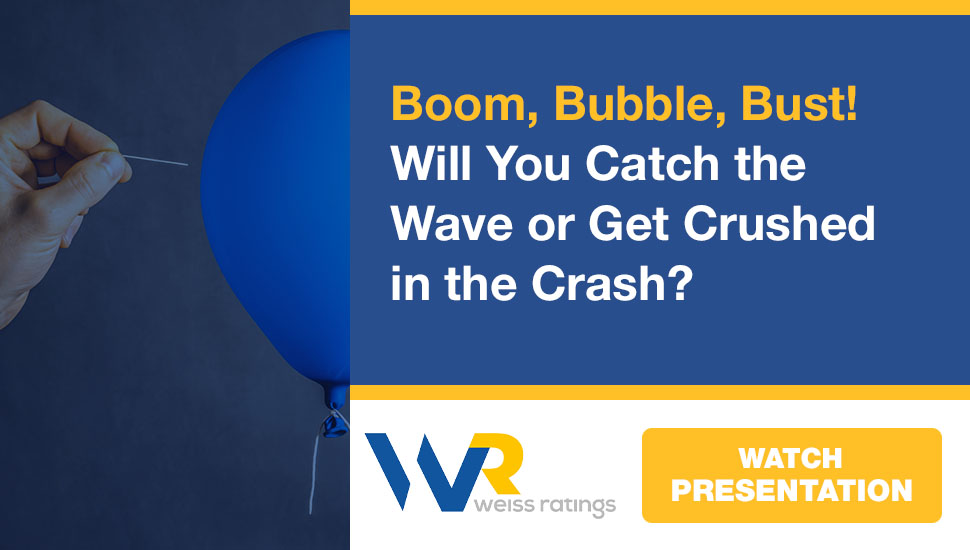 We are in the midst of an unprecedented, speculative bubble, which inevitably leads to an equally unprecedented collapse.
Even though the Dow keeps climbing … real estate values are hitting all-time highs … although things "seem" normal … they're not.
It's all outlined in this 28-page paper, and its impact on your money is unlike anything we've seen in our lifetimes. I tell you all about it in this presentation.
What's Ripe
Penn National Gaming ($PENN) - Is there anything Dave Portnoy can't do? The man is already a pizza reviewer, hero of small business, manager of famed hedge fund DDTG, and of course, a podcast host. Now add to that list ghost kitchen / restaurant owner, as Barstool Sports, subsidiary of Penn, announced plans to begin operation of Barstool Bites. Barstool CEO Erika Nardini described the new business as "giving our fans the ability to order the types of food we eat when...watching football on Sundays." No wonder Penn jumped 5.1% on the day. Y'all rockin with Barstool wings?
Robinhood ($HOOD) - It pains me when Robinhood qualifies for What's Ripe, but we'll get through this together. Like a casino that opens a track for horse racing in the back, Robinhood has announced plans to begin testing a wallet for digital currencies. Shares popped 10.9% on the news. Meanwhile, a report from Ark came out, announcing their recent additional purchase of 323,409 shares of HOOD stock, only adding fuel to the fire. 
What's Rotten
FedEx ($FDX) - Poor, sweet Fedex had a tough day yesterday. Shares plummeted the most since the dreaded month of March 2020, falling 9.1% on the day. The company revealed some bad news to say the least, cutting growth and profitability estimates for the year, leading to sell-side downgrades and a bad day for peers as well. UPS closed down 2.4%, dropping 4% at the open, likely linked to the woes of their competitor. If you're a Fedex shareholder, this can only mean one thing: buy more sh*t (just not from Amazon).
Facebook ($FB) - Tim Cook is smoking Zuck in their very public beef and I couldn't be happier about it. In addition to the announcement that the firm's CTO, Mike Schroepfer, would step down next year, the company admitted that Apple's ad changes will "have a greater impact in the third quarter compared to the second quarter." Since FB makes all of their money by going full-China on their data collection, this is just about the worst look possible, sending shares down 4% on the day.
Thought Banana:
Zooming Out on U.S & China - After shooting up well over 700% to kick off 2020, Zoom shares have fallen just above 50% from their peak in October of last year. With that freshly printed giant market cap, the firm went on a shopping spree and settled on cloud provider Five9 Inc. Now, U.S regulators are getting nervous. 
The proposed $14.7bn is spreading fear cloaked by the ominous phrase of "national security risk" as Zoom's already heavy presence in, and connections to, China will only increase. Considering the U.S and China aren't on the best of terms at the moment, Washington is worried. The worst named committee in American history, Team Telecom, will review the deal and see if the national security risk allegations hold any water. Just as China is playing hardball with their own companies and their relation to U.S markets, the U.S is playing right back. 
"Don't panic. The time to sell is before the crash, not after." 
- Sir John Tempelton
Happy Investing,
Patrick & The Daily Peel Team
Was this email forwarded to you? Sign up for the WSO Daily Peel here.