The End of an Era | The Daily Peel | 10/13/21
Silver Banana goes to...

Market Snapshot
In another confused but slightly down day for markets, traders seem to be skittish heading into Q3 earnings season. The Dow was down 0.34%, the S&P was down 0.24% and the Nasdaq fell 0.14%.
Today got you down? Start trading like a professional and stop asking mom to pay your margin calls. Crypto, small caps, blue chips, you name it - Titan has you covered. They're a premier investment firm, but for everyone. Check out Titan today!
Let's get into it.
Macro Monkey Says
Back to Politics - After tantalizing Tiktok traders as the best to ever do it, former equity and derivatives trader Nancy Pelosi has logged off her Bloomberg Terminal and returned to her old job as Speaker of the House. The leader of the congressional democrats, Pelosi is starting to make the rounds to sell a slimmed-down budget proposal to fellow members of the majority party. While big dawg Joey B originally wanted $3.5tn, it has become clear they won't be getting that anytime soon.
West Virginia Senator Joe Manchin has taken on the role of devil's advocate to literally everything, and given the democrats ultra-slim majority, they need him on their team when it comes time to vote. Machin is a proponent of a $1.5tn bill while Joey B. and Nancy P. are now targeting $2tn. Honestly, I don't get what all the fuss is about. Regardless of the price tag, spending over $1tn of money that the government absolutely does not have, is a risky play that might pay off for those who need it.
F*ck it, let's just send it at $10tn, or whatever number it'll take to get me another stimmy check.
Bye-Bye Boomers - Death, taxes, and the 60/40 portfolio, life's only *former* certainties. One member of this exclusive list is in all likelihood seeing the end of its days, and as much as we all wish it was taxes that were ending, it's the 60/40 portfolio that has started its march to the grave.
To give some background, it has been common practice in wealth management for managers to allocate 60% of their client's portfolio to equity markets and the remaining 40% to fixed income securities, since Jack Bogle burst onto the scene with a little company called Vanguard. This was seen as the optimal way to achieve an attractive risk/return tradeoff over time, as stocks and bonds historically have tended to see inverse correlations. Now, Street participants far and wide are tossing out this page of the playbook as the result of emerging, broad economic trends.
First, inflation, as well as inflation expectations, are high - very high by U.S historical standards. This isn't exactly good for either stocks or bonds, leading many to believe that inflationary pressure will cause the asset classes to become more correlated, as we saw in September. Moreover, as volatile, high-growth tech stocks eat up more and more of the broader equity market, the market becomes a longer duration asset, meaning cash flows from these companies are more sensitive to rate movements, decreasing the present value of those flows. I mean Dogecoin doesn't have cash flows so...is this the market telling us 100% DOGE is the new 60/40? Must be...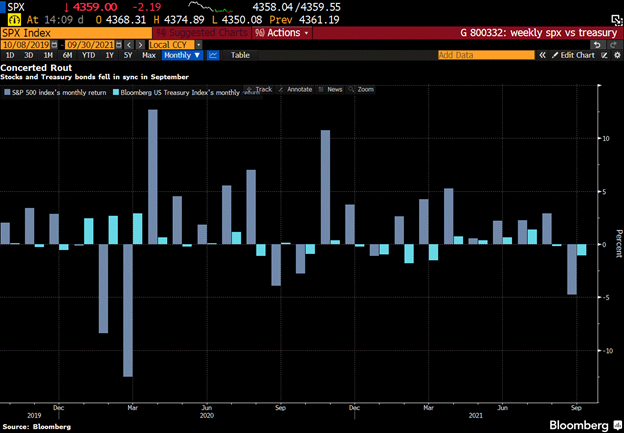 ETFs and Mutual Funds are VHS tapes.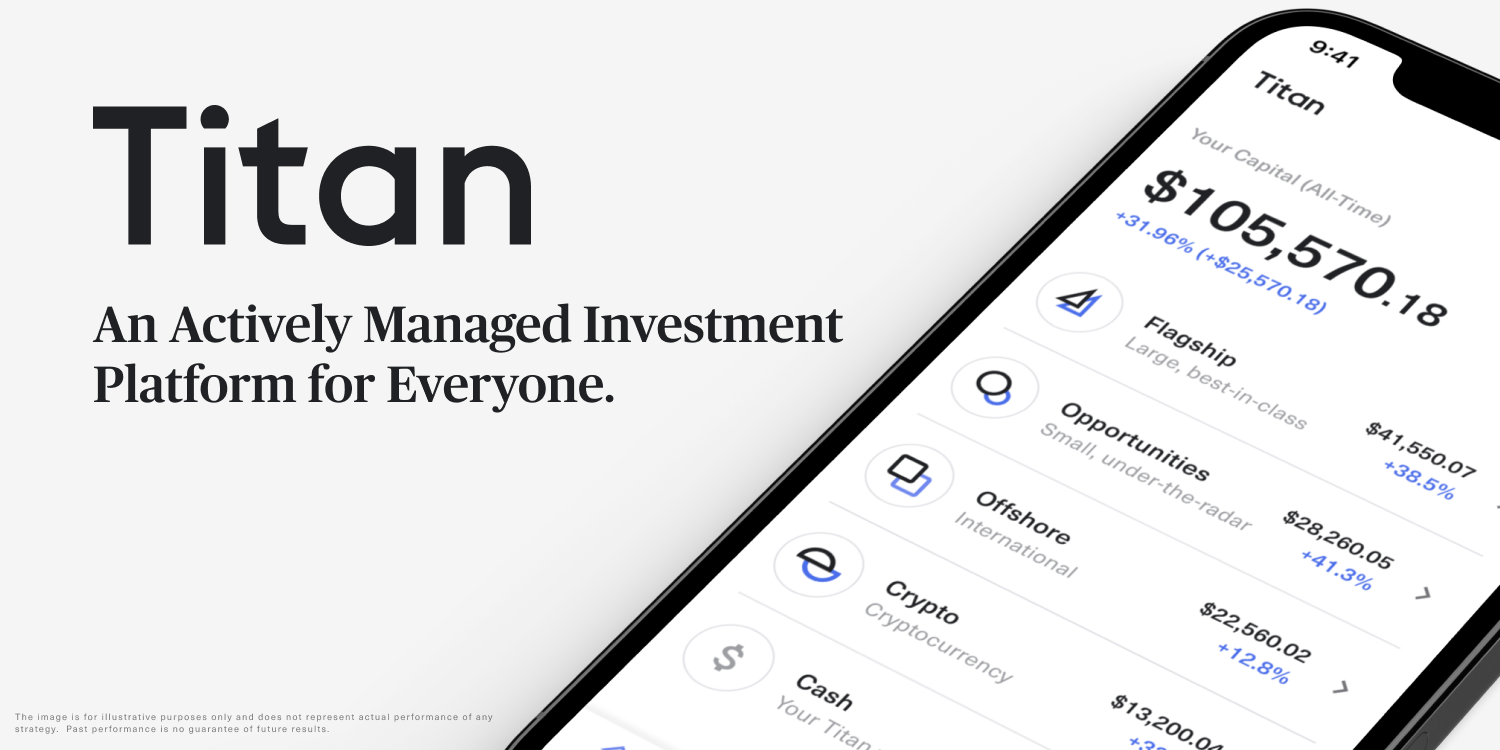 When you invest with Titan you'll own a concentrated portfolio of stocks in a separately managed account, and an investment thesis for each holding. We think it's important to know what you own vs. looking at a laundry list of opaque ETFs in a robo-investing app or your old 401K.
In addition to 3 equity portfolio options, Titan has recently launched Titan Crypto; the first actively managed crypto portfolio for everyday U.S. investors.
What's Ripe
MGM Resorts International ($MGM) - MGM is no stranger to people flying high (at the casino), but yesterday, it was their stock flying high. Shares jumped 9.6% amidst a mostly flat day, thanks to a heroic analyst at Credit Suisse. This analyst came out with fresh analysis on the firm and slapped a $68 price target on that b*tch, more than doubling the previous target of $33. He cited consolidated capital structure and projected increased earnings going forward in the recovery.
CrowdStrike ($CRWD) - A big winner of the pandemic, CrowdStrike set the tone yesterday for what cybersecurity should be. The cloud-based workload protection leader has assembled The Avengers of SaaS businesses to form The CrowdXDR Alliance, a group enabling CrowdStrike's XDR platform to integrate with some of the largest tech players on the planet. Shares surged 3.4% on hopes this move ends more like Endgame than Infinity War.
What's Rotten
Franklin Resources ($BEN) - Ben Franklin's namesake firm certainly let him down yesterday, losing 3.5% while seeing much higher than average volume traded. Strangely, it was a pretty quiet news day for the stock. Deutsche upgraded their price target and not much else went on, which makes you wonder if this is a delayed reaction to last week's news that Franklin is acquiring O'Shaughnessy Asset Management and their custom indexing platform, Canvas. Still, the stock saw close to 5x usual volume despite literally doing nothing. Was yesterday Ben Franklin's birthday or something?
Hewlett-Packard ($HPQ) - A fallen soldier if there ever was one, HP once considered themselves a big tech name until today's names made them look like a celebrity who tweeted something controversial when they were 14, aka canceled. Yesterday, that dagger was dug even further, with shares losing 4.1%. The fall comes after a new report revealed HP's market share in PCs is sliding even further.
Thought Banana:
Aluminum - We'll take a break today from relentlessly beating you over the skull with stories on the energy market and take the opportunity to spit game on another commodity, aluminum. Basically, aluminum prices are higher than Snoop Dogg at Rolling Loud. Prices surged even higher yesterday, gaining 3.3% in 3-month futures on the commodity. See, it's not just oil that's having a tough time getting from point A to point B. Aluminum is often referred to as "solid electricity" because of how much sheer power it takes to make it, and given the current power crisis, it's tough to make aluminum. Okay maybe I lied and this is just more about the energy crisis...but hey, aluminum is at a 13-yr high and I'm just glad it isn't literally the world's most important commodity. I just hope you already bought your kids little league bats for next season.
"You learn in this business; if you want a friend, get a dog."
- Carl Icahn
Happy Investing,
Patrick & The Daily Peel Team
Was this email forwarded to you? Sign up for the WSO Daily Peel here.