Breakup Season | The Daily Peel | 11/16/21
Silver Banana goes to...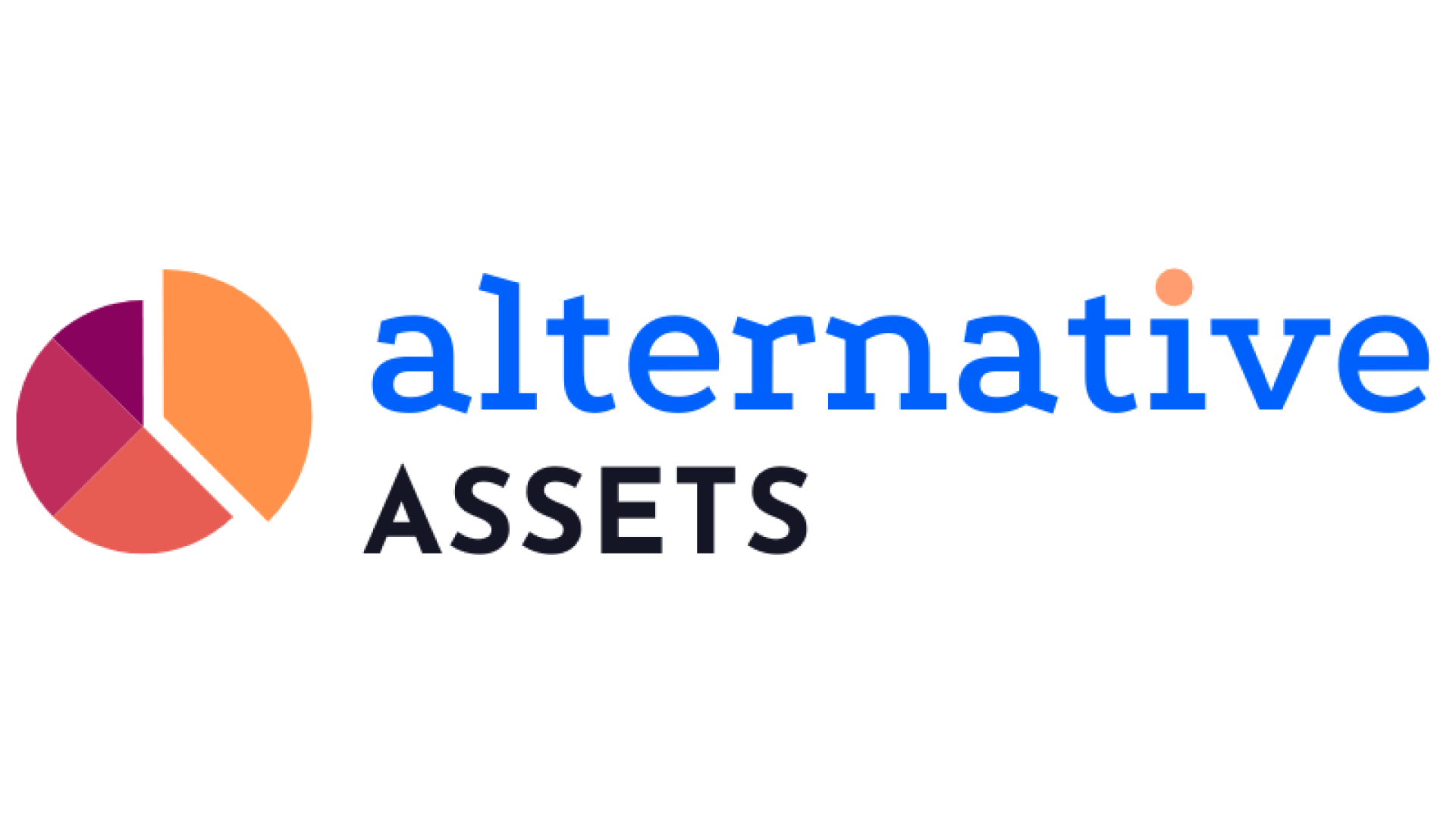 Market Snapshot
Like me on the average Sunday morning, markets barely moved at all yesterday. The S&P fell 0.05 points, or 0.0%, while the Nasdaq and Dow both fell 0.04%.
Think outside the box! Alternative assets have been killing the stock market and The Alternative Assets Newsletter gives you the critical info you need to get the best results. 
Check them out while the opportunities are hot!
Let's get into it.
Macro Monkey Says
Reunited and it Feels...Tense - As tensions rise across just about every facet of international relations, the leader's of the world's preeminent powers, The U.S. and China, held a digital meeting to (hopefully) avoid military conflict...among other things. 
The talks began later in the evening last night lasting no less than three hours. While no groundbreaking deals or ambitions are expected to be announced, the two plan to focus on "intense competition" with China while sidestepping any escalation of conflicts. Specific matters brought up in the discussion were not entirely disclosed, although political analysts anticipate climate, military, and technology would almost certainly arise.
Regardless, the Biden administration did reveal that keeping communication lines open would be of the utmost importance. As difficult as cooperation can be between these two nations, literally anything is better than nuclear war. 
Breakup Szn - Bigger is better, size matters, the more the merrier - f*ck all that. At least, that's what some of the world's once great conglomerates are saying of late. Recently, a flurry of companies have opted to split up certain business units in favor of a more specialized, focused strategy. Let's take a loot.
General Electric, aka GE, announced plans to end it's days as the conglomerate of conglomerates by splitting into three separate businesses, energy, aviation, and healthcare. Not too sure how building military aircraft engines supports the drug discovery business, but with shares down over 70% since the dotcom bubble, I guess they finally realized this too.
Johnson & Johnson too is closing out the era of gigantism and domination over the world of healthcare, becoming Johnson and other, separate Johnson. That may not be true, but if any execs like it, feel free to give me a call. Anyway, JnJ is splitting into two separate units, one being the legacy healthcare unit while the other will maintain the CPG business. Like with GE, I guess management realized there's not much synergy between baby powder and medical diagnostic equipment, no matter how hard you cross your fingers.
Lastly, Toshiba, amid vocal activist calls to go private said f*ck that, and is doing literally the opposite, splitting into three separate publicly traded entities. For now, the very creatively named units include; Device Co., which will maintain the hard drive and semi business, then there's Infrastructure Services Co., which will operate the firm's energy systems, and finally, Toshiba, which will continue to manage the firm's flash memory business as well as the other miscellaneous lines of revenue.
It's an interesting trend that flies directly in the face of the conglomeration of the late 20th century. Any number of factors could be driving this trend, but one thing that's for sure is investors will be pretty pleased. Historically, the parts of the sum are worth more than the sum of the parts.
The BEST "Alternative" To Stocks
"What else can I invest in besides stocks?" 
-You, a smart person
There's a whole world of investment options out there guys. 
If you're only thinking stocks, you're missing out on some great opportunities. There are now markets for video games, sneakers, NFTs, vinyl records... 
The only problem is, nobody's doing the hard work to actually value this stuff! That's why we've been reading the Alternative Assets Newsletter. They analyze the heck out of these markets each week.
This isn't just about information, either. It's about results. They were the first ones to track these new markets, and their recommendations are already crushing the benchmarks. 
What's Ripe
Rivian Automotive ($RIVN) - Haters gonna hate, but Rivian just keeps ripping. Despite the firm's only "sales" so far going to employees, Rivian has popped nearly 40% all time and over 91% from its listing price of $78 after yesterday's 14.9% gain. Sales, shmales, the "next Tesla", as some have called it, is sitting on nearly 50,000 pre-orders as well as a fat delivery vehicle contract from part-owner Amazon. As far as rumored "next Teslas" go, Rivian may just be a top contender. 
Casper Sleep ($CSPR) - All of us love sleep, but not many are willing to pay around $285mm for it. Durational Capital is not us, as paying $285mm for sleep is exactly what they're doing with the recently announced acquisition of Casper Sleep. Casper, who IPO'd in February of last year at ~$11/sh didn't fare super well in the public markets, falling 68% between then and Friday's close. Durational will pay a 95% premium from last week's close, or $6.90/sh, sending the stock up 88.9% yesterday.
What's Rotten
American Tower ($AMT) - Yesterday we spoke pretty highly of American Tower's $10bn acquisition of CoreSite Realty, a data center REIT. The market, on the other hand, was not a big fan. Shares in the world's largest REIT fell 4.2% on the news, meaning traders either think the acquisition just plain stinks or maybe $10bn is too high of a price tag.
Marathon Digital Holdings ($MARA) - BTC miner, holding company, and low key meme stock, Marathon Digital Holdings, did not have a good day yesterday. Plummeting 27.0%, the firm announced plans to raise $500mm through convertible debt, much to the surprise of onlookers who expected a capital raise through equity, as many other crypto firms have done. Not to mention Marathon also received a subpoena from the SEC related to potential violations of federal securities law. That's a tough day if I've ever seen one.
Thought Banana:
Europe Is Cheap - I mean like, dirt cheap - at least, in comparison to U.S. equities. When American-domiciled firms start to look a little hot from a valuation lens, investors tend to try to find some more Buffett-esque opportunities elsewhere, which very often happens to be in Europe. Right now, European stocks have never before been cheaper than those of the U.S. on a relative basis. 
The MSCI European index is currently trading at a 33% discount from a forward P/E basis. Like in the U.S., Euro stocks absolutely crushed earnings season, meaning the denominator in the P/E formula rose. But, the difference is, Euro stocks didn't get nearly the price boost ours received on this side of the pond.
If you consider yourself a regular Warren Buffett, first of all your crazy, and second of all, maybe check out some names from the Old World.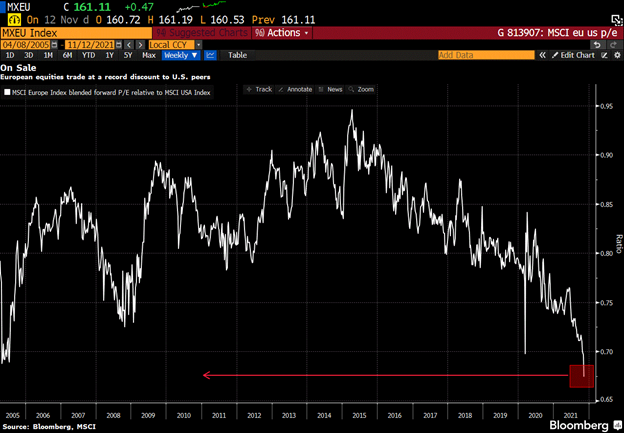 "Wall Street sells stocks and bonds, but what it really peddles is hope." - Jason Zweig
Happy Investing,
Patrick & The Daily Peel Team
Was this email forwarded to you? Sign up for the WSO Daily Peel here.