The J's Take Congress | The Daily Peel | 9/28/21
Silver Banana goes to...

Market Snapshot
Although much friendlier than last Monday, the markets started off this week with mixed emotions. The Nasdaq and S&P lost 0.52% and 0.28% respectively, while the Dow gained 0.21%.
While that's not too much of a gain, the gain in your mental health will be huge with help from Beam Organics. These guys have got it all, and they do it right - from sleep supplements to energy and emotion boosters - so you can say goodbye to the days where your mental state is more volatile than the options market. If you care about your mental well being and want to perform at your peak, you have to give Beam a look. Check them out now.
Let's get into it.
Macro Monkey Says
Finals Week - It's like finals week, but a slightly bigger deal than your 8-page paper you've been crying about for 3 months. The financing of the United States is on the line, and House Speaker Nancy Pelosi is fired up and ready to beg for votes. As it stands, slightly over $4.5tn is up for discussion, divided into what many are referring to as the "bipartisan infrastructure and spending bill", and of course, the debt ceiling deadline is approaching fast. Here's the situation:
Treasury Secretary Janet Yellen informed Congress that the treasury would run out of funds to pay many of its obligations at 12:01am on October 1st, aka midnight this Friday. If Congress is unable to put something together, a partial government shutdown will ensue, which aside from being less than ideal anyway, is really not cool in the midst of a resurging pandemic.
Meanwhile, the $3.5tn spending bill is a spark for much infighting amongst the Democratic party. The $1tn infrastructure bill however, has already passed the Senate and should have an easier time in the House. Safe to say it will be an interesting week in D.C.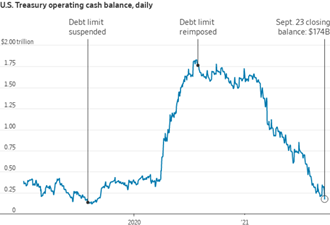 JPow and Janet - The cutest couple in public finance history will be in the hot seat, as Fed Chair JPow and Treasury Secretary Janet Yellen will testify in front of Congress on pandemic response. While the hearing won't change much, it's a little bit like a performance review for Powell just before his term comes to a close in February. Fortunately for him, JPow's bae Janet Yellen has thrown her support behind the sitting Fed chair and will likely continue to do so today. Given that this is a performance review for the Captains of the American financial system, they'll be back together on Thursday as well for round 2 of squaring off with Congress. Get the popcorn and get ready for this afternoon.
The Bedtime Blend to Sleep Better
When sleepytime teas, counting sheep, and turning off all your screens doesn't have you catching much-needed zzz's, there's an easy (and delicious) bedtime fix-beam dream powder.
With dream powder, you're getting more than just quality shuteye, you're providing your body with sleep enhancing vitamins and minerals, such as magnesium, reishi, l-theanine, and nano cbd.
Beam dream powder is like a guilt-free, sleep-inducing, delicious cup of cocoa. It's a bedtime blend of organic cacao powder and organic cinnamon powder-without any calories or added sugar.
And there's proof in this powerful powder. It's supported over 2.5 million nights of better sleep. After taking dream powder:
98% of people feel an improvement in quality of sleep
97% of people who take it feel more energized the following day
91% of people notice increased productivity the following day
Now those are some stats you don't wanna sleep on.
Subscribe today and save 35% on your first month of a subscription.
What's Ripe
Energy Stocks ($COG, $OXY, $FANG) - Energy stocks were energized yesterday (so sorry), seeing a well-deserved sector gain not realized in a long while. Leading the rise, Cabot ($COG) gained 8.5%, while fellow energy giants Occidental ($OXY) and Diamondback ($FANG) saw strong gains too. Things are looking up for the overall economy, as emphasized by JPow last week, sending cyclical sectors on a tear.
Treasury Yields - Treasury yields have been puke material since seemingly forever ago, but yesterday gave them a decent boost, even touching an almost 4 month high. After Powell spilled the beans on pending asset tapering later this year and rate hikes likely in 2022/23, it seems traders are pricing in the announcements a bit early. Yields rising from nothing to slightly above nothing also gave bank stocks a boost, with JPMorgan and Bank of America gaining almost 3% each.
What's Rotten
Moderna ($MRNA) - As vaccine producers basically trade on an inverse relationship with the state of the pandemic, I guess it's good news Moderna fell 5.1% yesterday, unless you're a shareholder that is. Pfizer CEO Albert Bourla shared his view that the pandemic will be over in less than a year, and Moderna is still waiting on booster approval in the U.S and Europe. Obviously, sales will take a hit once we no longer have the goal of getting literally the entire world using their products, but the positive PR given to the likes of Moderna, Pfizer, BioNtech, and others could pay off in spades in the coming years. I mean, they did save the world...so...
Megacap Tech ($NDX) - With treasury yields rising, the equity market was having a difficult time justifying the insane valuations of the FAANG gang yesterday. The Nasdaq 100, the 100 largest stocks in the Nasdaq, fell 0.79% on the day, with Mercadolibre ($MELI) leading the fall, losing 5.8%. With nonexistent yields during the pandemic, some analysts had the gall to call big tech the new risk free return - and it seems like that was true for a while, but the king is on its way back.
Thought Banana:
Hamster Trading - You know that feeling when you realize people like Zion Williamson are younger than you but 100x more successful? Well, this is going to be that but much, much worse. I can say without reservation that there is a hamster out there who is a way better trader than you'll probably ever be. Mr. Goxx, a cryptocurrency trading hamster, has outperformed the S&P 500, BTC, the Nasdaq 100, and Warren Buffet so far this year.
Although the person funding Mr. Goxx has not been made public, this hamster buys and sells with real money all powered by his state-of-the-art exercise wheel. Basically, this Jesse Livermore of the animal kingdom runs on his wheel and can cycle through a few dozen coins to trade. Then, Mr. Goxx is presented with two tunnels representing "buy" and "sell." So yes, it is completely random as this hamster can't even recognize himself in a mirror, but it provides us with the reminder of how easy it is to confuse luck and skill. And, I mean, the 500% run up of the digital currency market this year helps.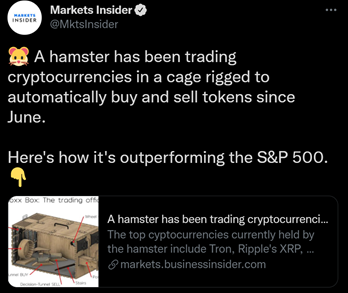 "It is widely accepted that anything that reduces short-term volatility must also reduce long-term return." - Joshua Brown
Happy Investing,
Patrick & The Daily Peel Team
Was this email forwarded to you? Sign up for the WSO Daily Peel here.