The Meme Life | The Daily Peel | 8/11/21
The S&P gained 0.1% alongside the Dow's 0.46% jump, but lagging big tech drove the Nasdaq down 0.5%. Let's get into it.
What's Ripe
Fulcrum Therapeutics ($FULC) – Fulcrum shares turned into an inclined plane yesterday on positive trial data for their sickle cell disease drug. Shares soared 125.3%, and so did my respect for anyone who got my 5th simple-machines joke. The catchy-named drug, FTX-6058, showed results indicating positive effects in patients because of some sciencey words I didn't understand. However I do understand that means $$$, which was confirmed during the rest of the release as revenue and EPS crushed estimates, making this pretty much the firm's best day ever.
Fisker ($FSR) – For the first time in human history, an EV startup has investors believing they will make and deliver vehicles on time. Unthinkable, I know, but that was Morgan Stanley's sentiment yesterday on Fisker Inc, sending shares on a 25.6% tear. After going public in 2018, the stock was flat until July of 2020 when all you retail Kings made the chart look like a heart rate monitor. Now that Morgan Stanley has called the firm the "electric vehicle architect", real excitement is growing. I guess Elon can go f*ck himself.
Kansas City Southern ($KSU) – In the hottest railroad story since Cornelius Vanderbilt was kicking around, Canadian companies are still trying to acquire Kansas City Southern, driving a 7.5% spike. Canadian Pacific Railway has come back with a $27bn offer, underbidding Canadian National Railway's $28bn offer from a few weeks ago. The offer comes 10 days before KSU shareholders vote on the Canadian National offer, but all eyes are on the STB, the U.S. rail regulator, and their probability of approval. Wow, and I thought Canadians were supposed to be nice to each other.
What's Rotten
AMC Entertainment ($AMC) – BTC maximalists have something new to add to the list of things they blindly agree on - AMC being the best theater chain. After opening up 9.5% higher than Monday's close, shares tumbled the rest of the day to close down 6.0%. Just as analysts were growing bullish on AMC and their liquidity position, the firm announced their new BTC payment option and shares still got smacked. The lesson? You live by the meme, you die by the meme.
SmileDirectClub ($SDC) – The last thing SmileDirectClub investors are doing today is smiling. Shares sank 22.5% on an earnings call that would make WeWork seem like Ben Graham's dream. Revenue dropped 12.3% from last year while EPS fell 35% on a GAAP basis. This led to a JP Morgan downgrading to underweight and has caused the stock to fall 72.8% to an all-time low since IPO.
Metromile ($MILE) – Oof. Biiiiig oof for Metromile, tumbling 24.1% yesterday. Their butchering was driven by a poorly received earnings report during which management shed light on their continued struggles from the pandemic. The pay-per-mile vehicle insurance company was hit hard as consumers drove far less over the course of the last year. The announcement of continued struggles led analysts at Cantor Fitzgerald and Piper Sandler to cut their price targets by 46% and 54% respectively. Tough ride for Metromile.
Macro Monkey Says
Tax on Tendies – Now they've gone too far. I can deal with higher gas prices and fewer semiconductors, but higher prices on tendies is way too far. The consumer price for boneless chicken breast in urban America has quickly soared to levels last seen in 2015. This comes after several meat giants announced they would be passing raised prices through to restaurants and supermarkets, who will in turn likely pass this on to you. To add fuel to the fire, Tyson CEO Donnie King called the inflation they're seeing "unprecedented and accelerating." Supply chain bottlenecks are primarily to blame, but I have to imagine our massive tendies earned of late has jacked up demand quite a bit.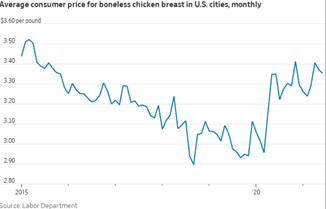 Food for Thought:
Digital $$$ – Diamond hands do it again. The digital asset realm has spurred back to life, with prices increasing towards their highs reached earlier this year. BTC once again sits just above the technical level of $45,000, ETH is hovering around the $3,100 level, and the total digital currency market cap tracker is consolidating around the key technical level of $1.8tn, after ripping up since late July. In the last week, BTC has gained just under 16% and ETH is up slightly over 20%, meanwhile, VET has jumped up 22.3%, UNI 29.2%, and ICP is up a whopping 78.7%. If you survived the 50%+ slaughtering from May to late July, you deserve this.
"Behind every stock is a company. Find out what it's doing." – Peter Lynch
Happy Investing,
Patrick & The Daily Peel Team
Was this email forwarded to you? Sign up for the WSO Daily Peel here.