The Most Expensive Meme... | The Daily Peel | 8/26/21
Another steady uptick across U.S. markets yesterday as financials and consumer cyclicals both outperformed. The S&P rose 0.22%, while the Nasdaq rose 0.15% and the Dow gained 0.11%. Let's get into it.
Macro Monkey Says
Make it Downpour – House Speaker Nancy Pelosi went full Frank Underwood in recent weeks and managed to rally enough centrist-Democrat support to barely pass the $3.5tn budget proposal. This proposal, guiding much of government spending for the next decade, has opened up the possibility for reconciliation, which will allow some of the most crucial aspects of the Democratic agenda to be passed without needing support from across the aisle. On top of that, this vote also set a deadline of Sept. 27th for the vote on the infrastructure bill. Like it or not, this shows our extreme gerontocracy is still really, really good at spending money.
How Do You Do, Fellow Kids? – If you didn't think big companies were scared already, check this out. The DeFI movement is spilling into corporate America and Visa, the company that (probably) processes a lot of your transactions, has purchased a CryptoPunk for $150,000. Now, the debate is raging over whether this is Visa showing some sweat on its brow or simply a cheap, creative marketing tactic garnering plenty of media coverage. Either way, what matters is that this is a huge legacy financial infrastructure player getting into DeFi in the most Gen-Z way possible.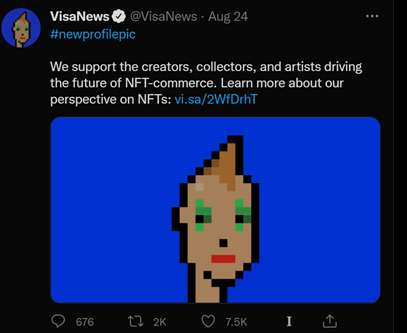 This Pick Gained Over 400%
Is it time to trim the position in one of our largest tech names that has seen over a 400% gain? Find out how we're playing the bull market and maintaining our upside, while trying to get more defensive for potential draw downs (especially if inflation gets out of control). WSO Alpha is free for 2 weeks.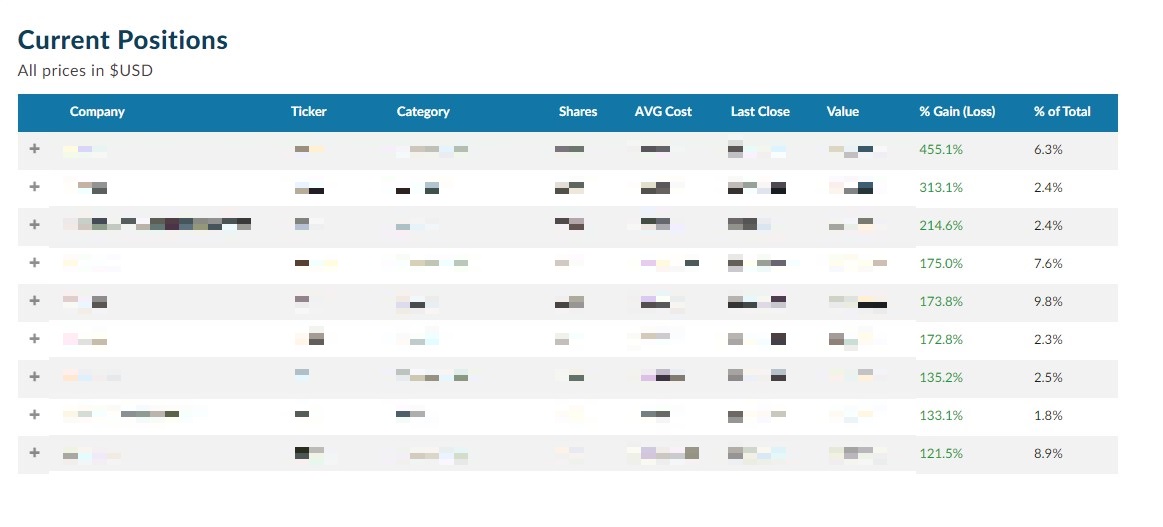 What's Ripe
Dick's Sportings Goods ($DKS) – After a long and hard year, Dick's Sporting Goods is reaping the rewards of patience and survival, gaining 13.3% Wednesday. The pandemic crushed retailers, especially struggling sporting goods stores that are mostly used as free gym memberships, but Dick's managed to blow it out of the water in their most recent quarters. The company is still riding the at-home exercise wave, and now that team sports have returned, the double whammy lead to a 72% EPS beat and a sizable raise in guidance.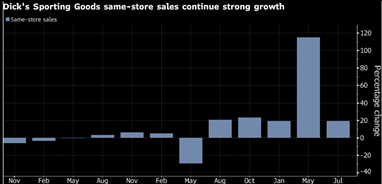 Penn National Gaming ($PENN) – College football is back...almost. As the season kicks off this weekend, gaming stocks have been on a tear, led by none other than Penn National, rising 8.7% yesterday. Investors are excited to bet on betting, and the purchase of Barstool Sports seems to have brought the formerly obscure gaming firm into the limelight, often leading its peer group in volatility whether up or down. So yeah, owning the most popular college-based media firm right before college sports get underway might be a smart idea.
What's Rotten
Nordstrom ($JWN) – Waking up and choosing violence is a Wall Street specialty, and yesterday's primary victim was Nordstrom. The retailer reported surprisingly solid earnings for the quarter, beating EPS estimates by 90% and revenue by 10.8%. Unfortunately, literally no one cared. Shares tumbled 17.6% as a result of lower than expected year-end guidance, prompting JPMorgan, Citi, and others to lower their price targets.
The Final Meme? – The most expensive meme in human history may be slowing to halt. After nearly bankrupting several hedge funds and other firms, retail demand for shares in GameStop and other meme stocks has stalled dramatically. While Tuesday was their best day in months, data from Vanda Research shows retail volume in meme-stocks has fallen off a cliff in every name except for AMC. Long-short hedge funds were in the driver's seat for Tuesday's volatility, further proving that all good things must come to an end.
Thought Banana:
"Uhh.. Nevermind!" – Usually, I respect people who get their bets right. But you don't get points for betting that OnlyFans would reverse course on the ban of adult content. Frankly, this was pretty obvious, as adult content is basically all the platform is known (and used) for. The company, which takes a 20% cut of creator's revenue, faces even more hurdles than usual in finding investors and establishing other financial services as adult film is often an industry laden with malpractices of all sorts. But after the uproar by creators, the firm really had no choice. However this plays out, the only thing that's sure is that someone is gonna get f*cked.
"Pride of opinion has been responsible for the downfall of more men on Wall Street than any other factor." – Charles Dow
Happy Investing,
Patrick & The Daily Peel Team
Was this email forwarded to you? Sign up for the WSO Daily Peel here.