This Again? | The Daily Peel | 11/29/21
Silver Banana goes to...

Market Snapshot
Blood in the streets - this might be a little bit of an overreaction, but the heavy and broad selloff to close the holiday week has investors shaken from New York to Sydney. The Dow saw the furthest fall, losing 2.53% while the S&P lost 2.27% and the Nasdaq sank 2.23%. Let's get into it. 
You NEED Alpha. Professional research and access to a portfolio with an average annual return of 19.6%. WSO Alpha has got all you need to start gaining; premium research, a 10 year-old portfolio to trade with, and more!
Unlock the entire portfolio here!
Let's get into it.
Macro Monkey Says
You've Got to be Kidding Me - Here we go again, apes. It appears that the mighty COVID virus has decided to hit us with yet another surprise attack, mutating it's genome to ruin our lives in vastly superior ways. The Omicron Variant, as it is known, has emerged out of South Africa, infecting hundreds thus far while tearing down unwitting portfolios across the globe. You've got to be kidding me.
Officially known as B.1.1.529, the newest variant is apparently "highly mutated" and that's about all we know for sure right now. The first identified cases were largely present in young people, causing mild illness in most of the infected. Scientists remain unclear on the dangers posed to the remainder of the population, particularly groups most disaffected by the OG and Delta variants.
Regardless of the effects, nation's aren't playing around anymore. The globe has apparently graduated from little league restrictions right up to the majors, making sure there's no chance anyway can say they underreacted. Meanwhile, the WHO says countries that have imposed travel bans already - like the U.S., U.K., E.U., Israel- have overreacted.
Oh yeah and markets got absolutely destroyed. Investors are engaging in the financial equivalent of sh*tting themselves. We'll find out later today how much of that was a day one overreaction. 
Digital Currencies - Even our fearless leaders in the digital currency industry couldn't avoid succumbing to the FUD erupting after the emergence of the new variant. BTC crashed at least 9.5% in just under a day on Friday, although it has since rallied back over 4.5% in the last 24hrs as on Sunday evening. Still, the leader of crypto has fallen nearly 18% from its all-time high. 
Of course, BTC is not alone. ETH, ADA, SOL, and basically everything under the sun saw a sizable and rapid crash as well. Investors appear to be shifting out of more risk-on assets as they flood into risk-off assets like bonds, as seen by fixed income yields plunging across the globe. Still, the fact that BTC and digital assets alike are able to sustain crashes like these and the much, much worse ones seen in the past (without direct Fed intervention, mind you) says a lot about demand for these assets.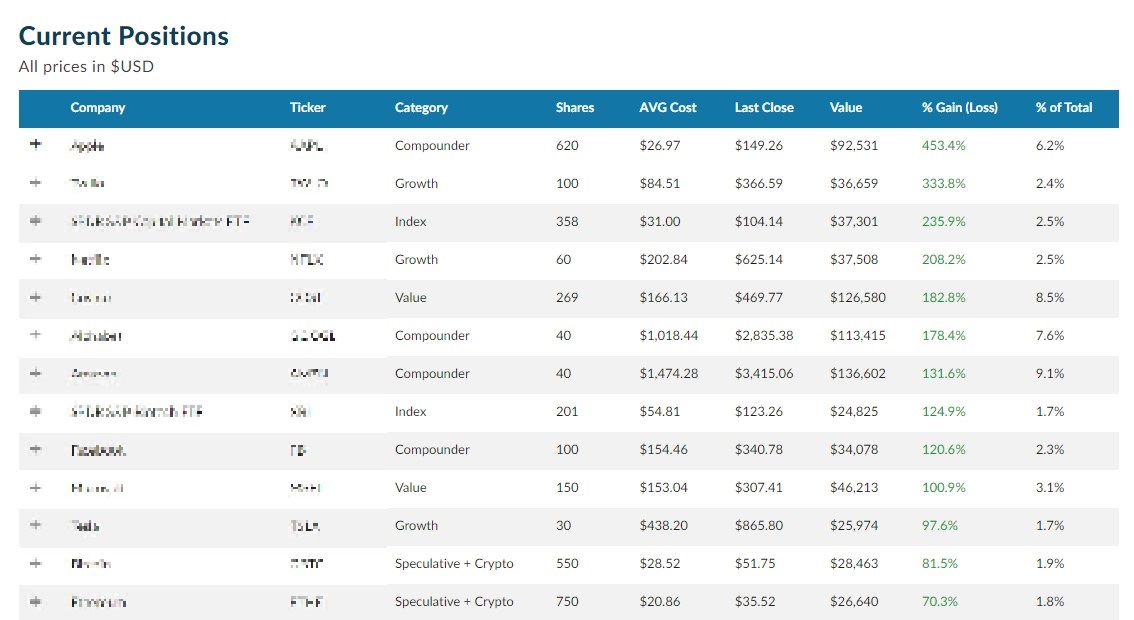 The WSO Alpha portfolio is still up over 300%.
This is THE portfolio you don't want to miss. WSO Alpha has
Historically outperformed the S&P, Nasdaq, and Dow
An unmatched Risk/Reward profile
Professional research reports
And more!
What's Ripe
Vax Stocks ($PFE, $MRNA, $BNTX) - If there was one bright spot on Friday, it was in vaccine stocks...for obvious reasons. With the latest and greatest COVID variant, Omicron, infecting less than 100 people by market close on Friday, it seems that most of the damage it has caused has been to our portfolios. Capital poured into pandemic plays like no tomorrow, sending vaccine stocks on a ride with Pfizer gaining 6.1%, BioNTech rising 14.2%, and Moderna shooting up 20.6%. 
Stay-At-Home Plays ($PTON, $ZM) - Showing the extent of fear rippling through markets as a result of the new COVID variant, investors also poured cash hand over fist into classic WFH/stay-at-home plays. Most notable of those on Friday were Zoom and Peloton. Both stocks gained roughly 5.7% as investors weight the probability for stay-at-home restrictions coming back in style as higher than it was previously. Now, whether those are accurate or a complete overreaction, only time will tell. 
What's Rotten
Airline Stocks ($DAL, $AAL, $SAVE) - Airline stocks went full nosedive on Friday, crashing and burning like a...plane crash. In keeping the same theme, the Omicron variant is rally f*cking sh*t up. Many European nations were quick to reimpose travel restrictions from South Africa and other nations in that region, while the U.S. and other countries followed suit. Already, over 61 cases have flown into Amsterdam, and given how garbage March and April of last year were, you can't really blame them for being a tad nervous.
Crude Oil (Brent, WTI) - Someone should probably call PETA because we are just ruthlessly beating this dead horse. Once again, the Omicron variant is taking an early toll on another asset class, energy. Like it's older brother, the original COVID-19 virus, Omicron is causing concern about potentially diminishing oil demand over the next few months. As a result, Brent futures fell 11.4% to $72.89 while WTI contracts got ripped even more, falling 13.0% to $68.17. 
Thought Banana:
Literally Bananas - In 1904, American writer O. Henry coined the term Banana Republic. Decades later, the word in its widespread use was often used in reference to Central American nations that were abused by large food corporations like United Foods. Notable so-called "Banana Republics" include Guatemala, Nicaragua, and most notoriously, Honduras. Now, these countries often face tumultuous - and unique - circumstances with origins tracing back to U.S. corporate and government involvement.
Right now, Honduras happens to be going through a rather tumultuous and unique presidential election. Incumbent President Juan Orlando Hernandez, a known narco who's brother is literally in jail in the SDNY for drug smuggling, is facing off with a, candidates each promising a vastly different future for Honduras. The main contenders include the extreme right Nationalist Party, that of Hernandez, and the more moderate left-leaning party known as the Libre Party. The stakes are almost as high as the tensions in the small nation. Since 2009, the Nationalist party has led an arguably authoritarian regime constantly accused of widespread corruption and international narcotic smuggling, leading many citizens to feel eager to get them out.  
Honduras is no stranger to mass protests and borderline rioting when it comes to political and social events of this scale. We'll see over the coming days how this plays out and effects everything from the lives of citizens to bond markets linked to Central American nations. To paraphrase the Hunger Games, I hope the odds are in their favor.
"The main purpose of the stock market is to make fools of as many men as possible."  - Bernard Baruch
Happy Investing,
Patrick & The Daily Peel Team
Was this email forwarded to you? Sign up for the WSO Daily Peel here.