This feels illegal | The Daily Peel | 10/3/21
Silver Banana goes to...

Market Snapshot
In the midst of a potential U.S default, rising inflation, and looming asset tapering, traders were cool as a cucumber on Friday. U.S indices broadly gained, with the Dow rising 1.43%, the S&P adding 1.15%, and the Nasdaq putting up 0.82%.
These returns are okay, but with Titan, you could be doing a lot better. Finally, Titan is here to bring hedge fund like strategies to everyday investors, like me and you. Their returns are insane and they're just getting started. If you like making money, you need to check out Titan right now.
Let's get into it.
Macro Monkey Says
We Need Hamilton - Not the play, although that would be dope, we need the man himself. Alexander Hamilton, the nation's first Treasury Secretary, basically built the entire U.S Federal financial system with his own two hands. It's at times like these, when the nation is on the brink of defaulting on its debt payments, we'd love to see him reincarnated. As of last week, the 78th Treasury Secretary Janet Yellen estimates the U.S will run out of cash to service its obligations by October 18th (aka, two weeks from today). This would be devastating.
Back in 2011, S&P downgraded the country's credit rating to AA, meaning both Microsoft and Johnson & Johnson are more worthy creditors in their eyes. This downgrade led to an over 10% correction for several months. If the U.S were to default, you can bet that number will be much higher. Treasury bills are the most liquid and reliable financial instruments in the world, considered "risk free", but a default could change all that. For one, the "risk free" and "full faith and credit" tag lines would be jeopardized if not all but destroyed.
Relying on Congress to fix anything isn't something anyone wants to do, but it's the position we're in now. Like extending the debt ceiling, we'll probably see this one come down to the wire too.
Con$umer $pending - "Shut up and take my money" was the motto of American consumers in August, as the nation's countrymen increased consumption spend 0.8%. With the uptick in spending came another uptick in inflation as well, leading real consumer spending to grow only 0.4%. The difference may not sound like much, but having the growth reduced by half isn't a pretty sight.
Economists say that going forward we may see increases in nominal consumer spending that translate into contractions for real spending, which is the number actually used as a GDP input. As consumption is ~60% of GDP, this isn't exactly a buy signal on the U.S economy. The appreciation in wealth discussed recently, and wage increases doesn't mean anything if purchasing power is reduced, and right now, the boogeyman by the name of inflation is putting up a fight.

Stop playing. Start investing with Titan.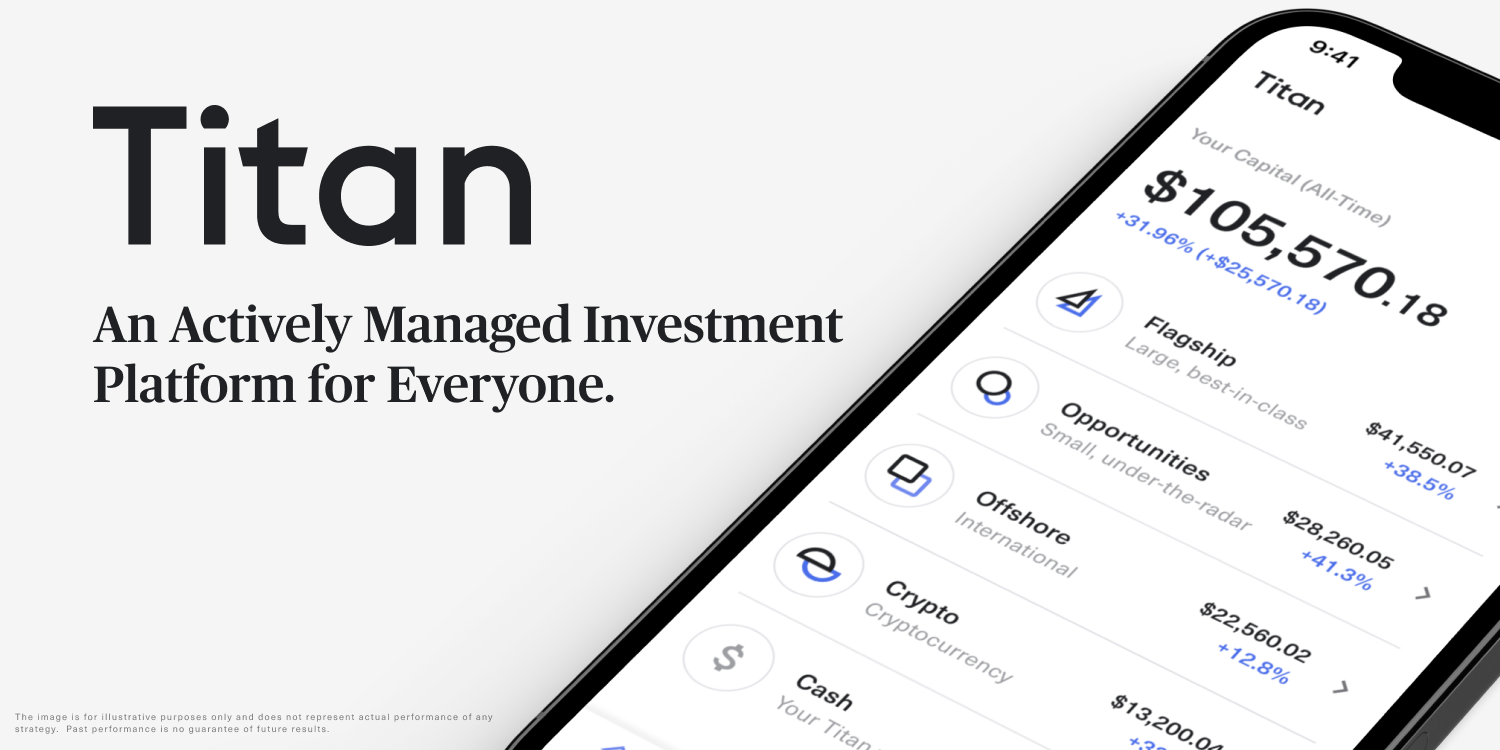 Titan is a mobile investment platform that enables everyday investors to have their money actively managed by a team of experts, while receiving in-depth updates along the way. While some brands want you to believe that investing is a game, the reality is that successful long-term investing requires diligence, rigor, and precision -- not simple DIY.
In addition to 3 equity portfolio options, Titan has recently launched Titan Crypto; the first actively managed crypto portfolio for everyday U.S. investors. You can start compounding your wealth today with as little as $100.
What's Ripe
Digital Currencies - Crypto currencies are coming back with a vengeance of late, as the massive swings in volatility reign on. BTC is up almost 15% in the past week with ETH up 18%, BNB up over 24%, and SOL ripping 30% in the same period. Its a good time for speculation, and with the news cycle chilling out a little on all the hate, digital currencies took their chance and roared back over $2.2tn in total market cap. You know its a bull market when you get texts like the one shown below from your non-finance friends.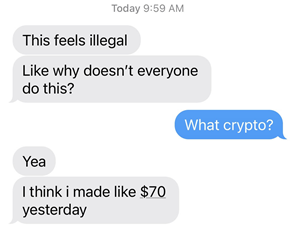 Disney ($DIS) - The Mouse House pounced a respectable 4.1% on Friday after settling the high-profile lawsuit with Scarlett Johansson. Quick recap: Johansson was big mad at Mickey for releasing the film she starred in, Black Widow, simultaneously in theaters and on Disney+, alleging it cut into her earnings. Boringly, the terms of the deal were not disclosed. Not boringly, this shows the transition away from theaters may not be as smooth sailing as we thought. Regardless, I hope Johansson is able to survive on the $20mm she originally got only from the movie.
What's Rotten
Moderna ($MRNA) - You can die a hero, or live long enough to see your stock price go to shit. Moderna is learning this lesson the hard way as shares in the biotech firm plummeted 11.4% on Friday - and certainly not without cause. You very well may have some Moderna-branded mRNA in your blood right now, but it looks like there will be alternatives to vaccines as Merck posted shockingly solid results for their Coronavirus antiviral pill. Analysts say this will reduce demand for vaccines and could spark further innovations in other treatment methods.
Credit Suisse - Shares may have been up Friday, but when officials raid your offices over the weekend, you know you're in trouble. Swiss bank Credit Suisse got a not-super-friendly visit from Zurich's head cantonal officer. Basically, CS is being super sus about their dealing with Greensill, the supply chain finance firm who went bust earlier this year. Swiss regulators are investigating links between the two firms in the collapse of a $10bn fund triggered by Greensill's implosion. Not much is known just yet, but when the Swiss start to enforce banking regulations, you know you done f*cked up.
Thought Banana:
Energy - Oh boy, energy is running low in the energy market right now. Natural gas, along with basically every other commodity, is facing a drastic shortage, driving prices to multi-year record levels recently. The perfect storm for bad news is swirling, as demand rises in the Northern Hemisphere heading into winter, the world experiences supply chain and distribution troubles, OPEC+ producing at intentionally low levels, an oil spill washing up on California beaches just yesterday, and much more. It's not good for anyone, but in Europe where phasing out coal and other energy sources has been faster than the U.S., its really bad. If you've put gas in your car lately, you know what I mean. Relief may begin to trickle soon as OPEC+ plans to meet and discuss potential increases in production, but its literally a cartel so you can never know for sure. From negative oil prices a year and a half ago, who would've predicted this is where we'd be now?
"Remember that stocks are never too high for you to begin buying or too low to begin selling." - Jesse Livermore
Happy Investing,
Patrick & The Daily Peel Team
Was this email forwarded to you? Sign up for the WSO Daily Peel here.