Time for some upgrades | The Daily Peel | 11/17/21
Silver Banana goes to...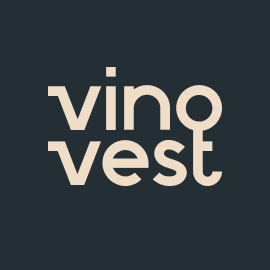 Market Snapshot
Markets came back to life yesterday, with clutch retail data giving Wall Street hope amid big, scary inflation. The Nasdaq led, gaining 0.76%, the S&P followed with a 0.39% bump, and the Dow rose 0.15%. 
Get ahead of inflation! Fine wines have beat the S&P and Dow over the past 20 years, are a great tool to diversify, and act as an inflationary hedge. It's never been easier than with Vinovest. What more can you ask for?  
Invest today before it's too late!
Let's get into it.
Macro Monkey Says
$1.2tn Upgrade - Wow, the U.S. Federal government actually stopped talking and finally did a thing for once! We can debate the effects until we're blue in the face, but round of applause for the reminder that sometimes, just sometimes, our federal overlords actually do their jobs. 
President Joey B officially signed the $1.2tn Infrastructure bill. We recently hashed out some details of the bill, and as little changed from the draft of the legislation, what we can talk about is expert-anticipated political effects now that the bill has been given the green light.
Recently, some of our state homies had important state and local elections. Notably, Virginia and New Jersey held gubernatorial elections, in which Democratic incumbent Phil Murphy kept the NJ crown and newcomer Glenn Youngkin, a Republican, stole the throne from an anticipated Democratic victory in Virginia. Both states voted blue in last year's presidential election (remember that?), but these recent elections for both states showed roughly a 10% swing in favor of Republicans. We're bipartisan at the Peel, but many analysts anticipate the lack of impactful legislation at the Federal level, given a Democratic controlled Executive and Legislative branch, soured the taste of the party in the mouth of the voters.
With the infrastructure bill, that very well could change. A certified ton of Congressional seats are up for reelection next fall. With looming questions over capital gains and other forms of potential tax reform, this is gonna be a big one. We got plenty of time until then, but certainly something to keep your eye on.
Gold Looks...Golden - The U.S. dollar has been around since 1792. 229 years is a long time, but it has nothing on the 2,600+ year history of gold as a currency, often leading investors to fly to the "safe haven" shiny rock when dollars start sh*tting the bed.
To be fair, USD has been in an uptrend since mid-May, but inflation would beg to differ. As our national currency loses value in terms of purchasing power via inflation, investors often flock to gold to avoid having their dry powder become worth less over time. You may have heard that inflation is running hot at the moment, and wouldn't you know it, gold prices are approaching a 5-month high. Shares in popularly traded Gold ETF GLD have ripped 5% in just under two weeks, a big move for this market, and a clear indication of Wall Street's inflationary jitters.
Of course, it just so happens that shares of GLD are down 0.72% on the day, with strong retail spending data showing that despite rising prices, Americans are still in a buying frenzy. Is buying random sh*t an inflation hedge too?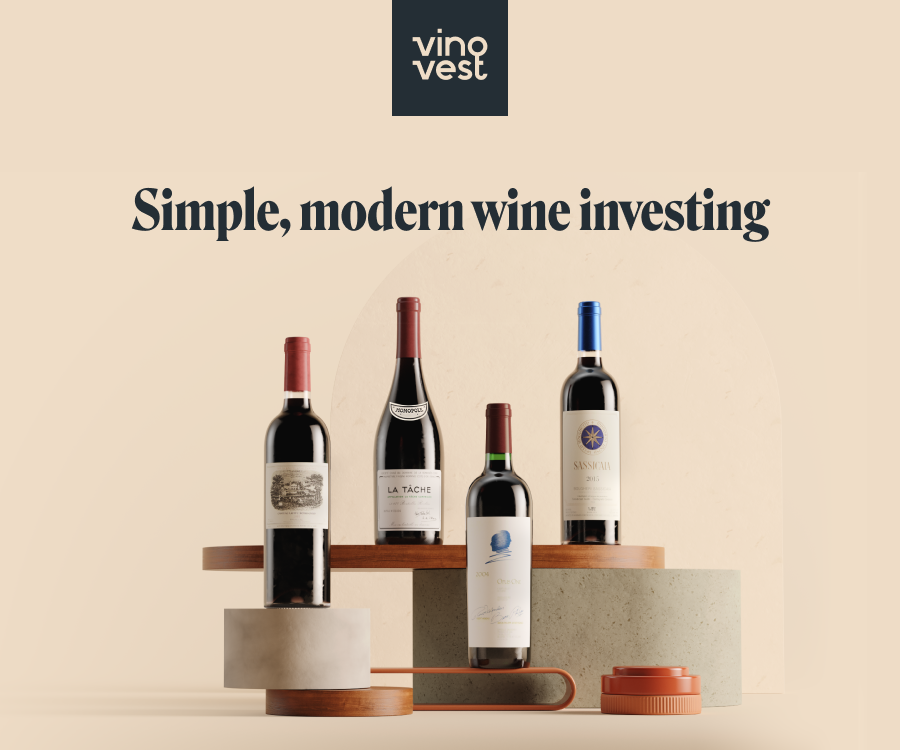 More investors than ever are investing in fine wine. Not only does it offer immediate portfolio diversification and a hedge against inflation, but fine wine has also outperformed the S&P 500 and Dow Jones over the past 20 years.
It's time to have your profits and drink them too.
What's Ripe
Peloton Interactive ($PTON) - Ownership dilution and a decrease in EPS are generally not good tidings for companies, but apparently Peloton is built different. In non-bizarro world, secondary share offerings dilute ownership by decreasing pro rata share of ownership for all investors and they decrease EPS metrics by increasing the S in the denominator. 
Nonetheless, Peloton rose 15.5% yesterday on the announcement of a $1bn stock offering. Don't get me wrong, sometimes equity offerings make sense, but not even two weeks ago did the CFO claim the firm doesn't "see the need for any additional capital raise." So take that as you may, I guess.
Home Depot ($HD) - Inflation, schminflation, Home Depot doesn't give a damn. Shares popped 5.7% yesterday on a Jason Momoa-strong earnings report. HD managed to increase sales by 9.8%, well above expectations, and earned $3.92/sh on those sales, a nearly 24% annual jump. All this comes while global supply chains are still having a stroke and inflation readings set a 30yr record, but who cares, consumers need their houseplants and 2x4s.
What's Rotten
Walmart ($WMT) - Like Home Depot, Walmart shredded expectations on their earnings report. Unlike Walmart, shares were not rewarded for it, not even a little bit. The Big Blue retailer earned an adjusted $1.45/sh on $140.5bn in quarterly sales, both of which beat expectations. Still, shares fell 2.6% on the day. While reasons for the fall aren't clear, investors likely see less growth than the guidance the company provided, and you know who to blame for that. Thanks, inflation. 
Activision Blizzard ($ATVI) - Yeah...this one's ugly. Shares in video game maker Activision Blizzard crashed 6.1% yesterday on basically the worst news that can come out for a company. Already undergoing investigation for alleged company wide sexual misconduct and discrimination, reports emerged claiming CEO Bobby Kotick knew of these on-goings and did nothing about it. Even worse, some of the allegations include the highest form of harassment possible and allege potential (failed) company coverups. Usually, we focus on financial scumbaggery here, but if these reports are true, we have even worse, Class A1 general human scumbaggery going on here.
Thought Banana:
Retail - In case you hadn't already noticed by our talking about Walmart and Home Depot, this is a big week for retail. Target reports later today, rounding out the big three, but yesterday we got a glimpse of the nation's retail sales performance for the month of October. In short, consumers weren't spooked by inflation at all. Sales at retail establishments rose the most since March, climbing by 1.7%. I said it once and I'll say it again, inflation, shminflation (sorry again, I'm cringing too), but as prices rise, consumers continue to buy. 
Seems a little wild, but when you factor in wage increases and, oh yeah, the absolute ocean of fiscal and monetary stimulus dished out over the past year and a half, it becomes a bit more sensible. Americans across the board are richer than ever before and homies working at McDonald's are making close to $20/hr in some geographies. While the increase has nothing on the gains in January or March, as seen in the chart below, the fact that the figures beat out every other month this year amid, I'll say it again, THE HIGHEST INFLATION IN 30 YEARS, it's pretty remarkable.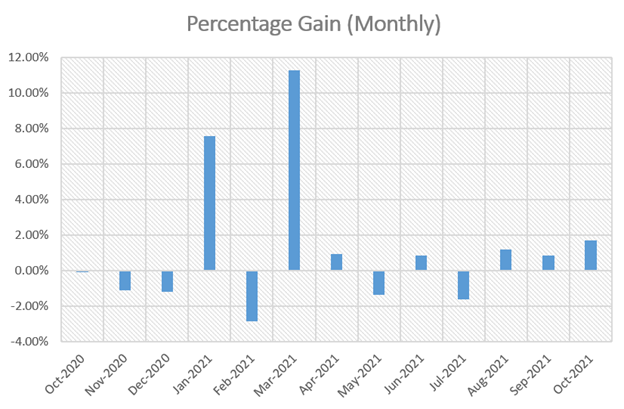 "A bull market is like sex. It feels best just before it ends" - Barton Biggs
Happy Investing,
Patrick & The Daily Peel Team
Was this email forwarded to you? Sign up for the WSO Daily Peel here.