Too Big to Fail? Well they did... | The Daily Peel | 9/17/21
Silver Banana goes to...

Market Snapshot
Like when your girlfriend is mad at you but doesn't want to say it, the market was giving off some heavy mixed signals yesterday. Confusing economic data largely drove the moves, which included a 0.13% gain for the Nasdaq, a drop of 0.16% for the S&P, and 0.18% for the Dow.
One thing you won't be confused about, is how to profit on the current market after checking out this presentation from Weiss Ratings. They've got an in-depth presentation and 28 page paper on "The K Wave" Economic Theory. Check it out before it's too late.
Macro Monkey Says
Spending - Clearly all of your degenerate gambling is paying off well, as consumer retail spending rose at a solid pace last month contrary to economist expectations. While predictions were for a 0.8% decline, spending increased by 0.7% against July, and 2.5% against recently revised July figures. Experts attribute the modest but surprising gains to back to school shopping as well as child tax credits kicking in, giving people a bit more wiggle room with their spending decisions. If you think you spent too much last month, don't worry. You didn't waste money, you grew the economy, and for that, we thank you for your service.
Government Traders - Nancy Pelosi's gains have absolutely destroyed yours over the last ever, but that may not last for long. The Federal Reserve recently announced its intention to re-examine and potentially make changes to rules around what officials can invest in. Okay fine, Nancy doesn't work for the Fed, but I can't imagine this won't impact political and other governmental officials trading patterns. Robert Kaplan and Eric Rosengren, Presidents of the Dallas and Boston Fed offices respectively, both bought and sold stocks and real estate in a suspiciously profitable way last year often yielding over $1mm. After coming under fire, as most of the assets sold could be tied to Fed decisions, both officials tucked their tails between their legs and announced sales of the assets and reallocation into broad based funds.
Is the Worst to Come? 28-Page Paper Says…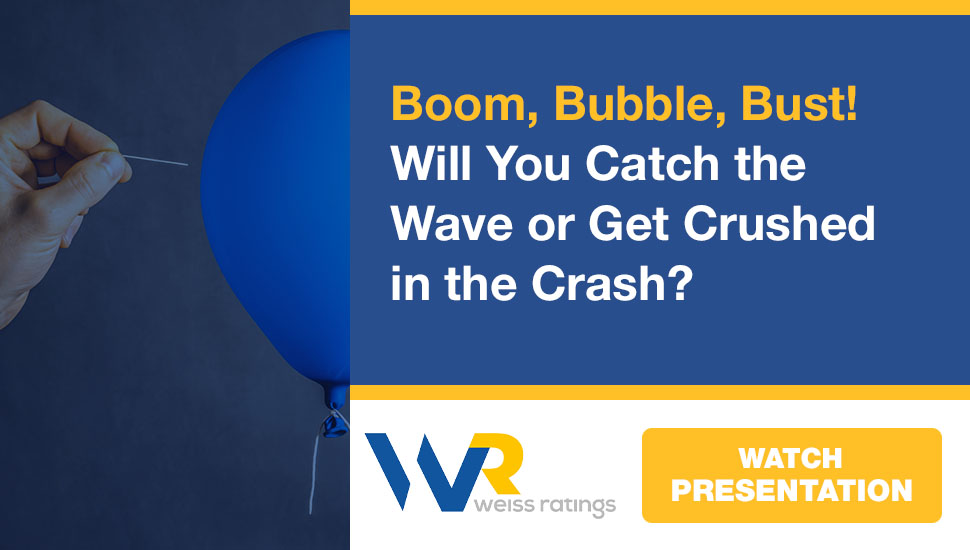 We are in the midst of an unprecedented, speculative bubble, which inevitably leads to an equally unprecedented collapse.
Even though the Dow keeps climbing … real estate values are hitting all-time highs … although things "seem" normal … they're not.
It's all outlined in this 28-page paper, and its impact on your money is unlike anything we've seen in our lifetimes. I tell you all about it in this presentation.
What's Ripe
Offerpad Solutions Inc. ($OPAD) - Global real estate markets are wild right now, and while Offerpad is killing it, we'll see below its not all sunshine and rainbows. Recently SPAC'd, Offerpad is already approaching meme-stock territory, but its 58.7% spike yesterday was for sure a welcome surprise. Some actual news was there, but $400mm in credit facilities doesn't seem like it justifies such a huge gain. Either way, iBuyers who buy and flip homes like day traders are having quite a moment in the sun.
Uranium - 10 years after Fukushima, nukes are cool again. Or at least, nuclear reactors are. In the aftermath of the Japanese reactor explosion back in 2011, nuclear fears spread like mad, as seen in the price of uranium below. As of yesterday, the spot price of uranium hit an 8-year high. Our understanding of nuclear physics has grown dramatically in the last ten years and looks like a top candidate for things like green energy and interplanetary travel. Still not too sure if I want a nuclear reactor in my furnace room though.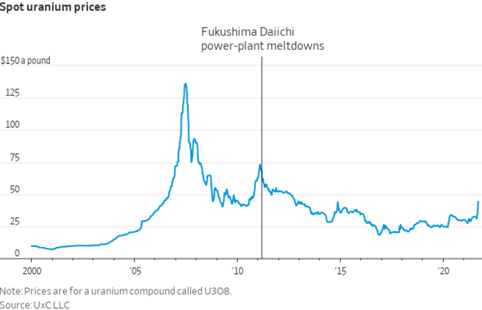 What's Rotten
China Evergrande Group (HK:$3333) - Okay we have to talk about this. China Evergrande Group, the "formerly" largest developer in the nation, is defaulting on its debt and screwing the country's economy. 75% of the firm's value has evaporated in the last year and the firm still owes over $300bn by one estimate. Read that again - three-hundred billion f*cking dollars. They can't even pay their current interest payments, $84mm of which is due on Monday. Meanwhile, homebuyers have no homes to move into and there is enough empty office space to almost cover all of Manhattan. As this company is China's epitome of the "too big to fail" trend we started here in the States, a controlled collapse seems likely. Shares fell 6.4% further and they were lucky it was only that much. The only certainty is that the company's CFO, Pan Darong, is having Xi-induced nightmares right about now.
Thought Banana:
OpenSea Insider Trading - Not quite sure when insider trading went from illegal to literally all the rage, but it appears that it isn't limited to public companies. Nate Chastain, Head of Products at OpenSea, has been flipping NFTs listed on the platform in such a blatantly obvious manner, I almost respect it. Chastain would simply become informed of what NFTs would soon be listed on the platform's front page, buy into a piece of them, and then sell once the price ripped on account of the front page listing. He wasn't even trying to hide it, or if he was, he certainly has some lessons to learn from Nancy. He made approximately 19 ETH total, or $67,200.34, which is pretty embarrassingly low if you ask me. Everything about this was straight up sad for Chastain and OpenSea as a whole, so we'll see what they do from here.
"The knowledge we get by tinkering, via trial and error, experience, and the workings of time, in other words, contact with the earth, is vastly superior to that obtained through reasoning, something self-serving institutions have been very busy hiding from us." - Nassim Taleb
Happy Investing,
Patrick & The Daily Peel Team
Was this email forwarded to you? Sign up for the WSO Daily Peel here.