Treasuries, Not Treasure | The Daily Peel | 12/14/21
Silver Banana goes to...

Market Snapshot
Markets decided to chill out a little bit Monday, with the S&P pulling back from all-time highs reached last week. All eyes are waiting on JPow and the results of the FOMC meeting this week. In anticipation, the Nasdaq fell 1.39% while the S&P lost 0.91% and the Dow shed 0.89%.
WSO Alpha averages 19.5% annually! Professional research is hard to come by and expensive, but it doesn't have to be. WSO Alpha has professional research, a 10 year-old portfolio to trade with, and more!
Let's get into it.
Macro Monkey Says
The Gangs All Here - JPow and the FOMC better dress to impress this week because they eyes of Wall Street and the investing world at large will be watching. The gang at the top of the U.S. economic structure, the Federal Open Market Committee, begins meeting later today and into tomorrow, with Powell's highly anticipated press conference coming late afternoon.
Basically, its all about inflation. For two months in a row, we've received CPI readings pushing well above 30-year highs. Analysts anticipate JPow's got a lot of explaining to do around this whole "transitory" bullsh*t he tried to sell us for several months. 
With that, analysts and experts largely anticipate a drastic acceleration of the Fed's asset purchase tearing process. Most suggest the speed of tapering will be doubled, finishing things up in roughly March of next year and allowing for rate hikes to come a tad earlier than expected.
Of course, the Fed has a dual mandate. The gang has to worry about achieving maximum employment at the same time as reigning in inflation, and with unemployment sitting at 4.2% with a 61.8% labor force participation rate, things are looking good. However, job openings remain high, in stark contrast to the unemployment rate, another likely area of focus for those lucky enough to grill Powell at the conference.
Treasuries, Not Treasure - If you're a treasury investor, there's a solid 90% chance you fall into one of these categories:
Boomers
Losers
People smarter than everyone else in finance
It doesn't really matter anyway because all those investors are earning the least on these securities that they have in 40 years. The driver here is the same as basically every other market in the world right now: inflation. Inflation eats away at fixed income returns like Pacman does to those poor dots. The loss of purchasing power via inflation makes future interest payments hold less value than they did prior. An easier way to think about this might be considering the real yield. Basically, take the nominally listed yield on a treasury product, subtract the annualized inflation rate, and boom there's you're real return. Spoiler alert: they're all negative.
Luckily, most of you reading this are young and don't have to worry about wealth preservation through fixed income assets for a long time. For now, its risk on, apes, although I'm sure don't have to tell you apes that.
Performance is EVERYTHING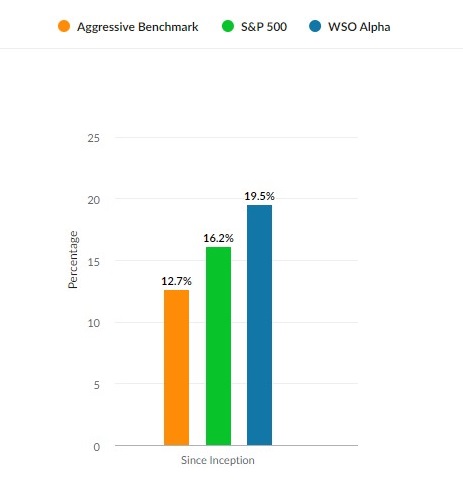 Despite being a red month, November saw the WSO Alpha portfolio positioned well.
Overall, the portfolio lost 3.93%
3 long positions were added to, with an additional $58,012.10 invested
1 new long position was opened, investing $38,107.50
1 long position was decreased for a gain of 97.6% on those shares
The broader market lagged with major categories trending downwards throughout the month
Check out Alpha and see what all the buzz is about!
What's Ripe
Arena Pharmaceutical ($ARNA) - It's a great day to get acquired, and no one knows that better than Arena Pharmaceuticals. Shares popped 80.4% yesterday on the announcement of a $6.7bn acquisition of the firm by none other than Pfizer. The young biopharma firm focused on small molecule drugs will add to Pfizer's cancer and inflammatory drug pipeline.
Peloton ($PTON) - Okay, so apparently being featured in a TV show can actually be a pretty big deal for your firm's stock price. Peloton just learned this first hand, with shares gaining 7.4% yesterday because of a…commercial? Recall from Friday's edition, Peloton was featured in a death scene in the reboot of Sex and the City (a show I definitely don't watch…I swear). Well, On Sunday, Peloton released a weird ad with the dead character (from the show I definitely don't watch) being very much alive and excited to ride his Peloton again. And, obviously, Ryan Reynolds jumps in the ad for a little narration, and let's be honest, there's nothing Ryan Reynolds can't save.
What's Rotten
Tesla ($TSLA) - Between the CEO - sorry, *technoking, damn autocorrect, selling shares in droves, a spike in competition within the EV market, and a secular transition away from growth stocks, it should be no surprise that Tesla shares are taking a dip. Arguably the most overvalued of the megacap stocks, yesterday's 5.0% loss brings the company's fall from its November 4th peak to just over 21%. Still, shares are up over 51% in the past year, so there's no reason for tears yet. You buying the dip?
Amazon ($AMZN) - Ever since CEO entrepreneur, Jeffrey Bezos stepped down from the Amazonian throne, the stock has basically stayed the same. Don't get me wrong, volatility is there, but as of yesterday's close, shares had moved only for a 3.4% loss since early July. Anyway, yesterday's 1.5% fall added slightly to that loss, largely driven by the tragedies of this weekend where a storm of tornadoes killed many Americans, including 6 Amazon warehouse employees in Edwardsville, Illinois. OSHA is probing the firm so we'll find out sometime in the next 6 months exactly what went on here.
Thought Banana:
Luck and Misery in 1 Transaction - Every action has its opposite reaction. And when one absolute monkey sold his Bored Ape NFT for 0.75 ETH instead of 75 ETH, his misery was certainly compensated by the euphoria inside of the person on the other side of the transaction. 
The monkey in question, maxnaut, attributes his horrific mistake to nothing more than a fat finger. The guy literally mistyped the price which, at the time, would've gone for $300,000. Instead, the lucky recipient pocketed the Bored Aped NFT for about $3,000 and paid an extra $34,000 to speed up the transaction - chump change in this racket. Immediately following this, the same bored ape that maxnaut sold at 99% below asking price listed for $248,000, meaning the transaction was clearly done by a bot on behalf of one lucky owner.
Imagine if that was you? We can't even find stocks or other normal assets at a discount anymore and this f*cker got a picture of a cartoon monkey for 99% off then sold it for almost a quarter of a million dollars. Damnit I love crypto.
"Liquidity is only there when you don't need it" - Old Proverb, The Devil's FInancial Dictionary
Happy Investing,
Patrick & The Daily Peel Team
Was this email forwarded to you? Sign up for the WSO Daily Peel here.