Tungsten Cubes | The Daily Peel | 10/28/21
Silver Banana goes to...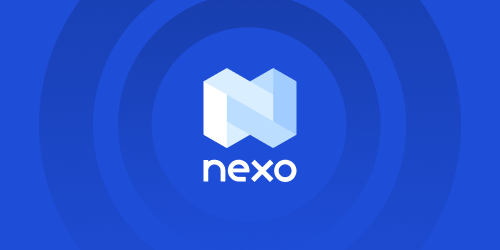 Market Snapshot
Big tech attempted to keep markets afloat yesterday, but to no avail. The markets mostly fell, with the Dow losing 0.74% and the S&P shedding 0.51%. Meanwhile, the Nasdaq squeaked out a gain of .12 points, or 0.00%. 
Crypto isn't just about buying and selling. With Nexo you can earn a fix rate by lending out your crypto, or if you need some cash, you can borrow using your crypto as collateral.
Earn up to 12% by lending or borrow for as cheap as 6.9% today, there's nothing to lose.
Let's get into it.
Macro Monkey Says
"F*ck You, Pay Me" - ...said the U.S government to the 700 wealthiest Americans. If you hadn't noticed, wealth inequality in the U.S. and globally has grown immensely since the pandemic began. Now, the Senate Finance Committee is proposing a quasi-wealth tax aimed at reducing this disparity...at least a little bit.
In addition to reducing the wealth gap, big dawg Joey B needs some cash to get going with his infrastructure and social spending plans. This proposed tax plan sure would help with that. Roughly 700 Americans would be affected by the new tax plan, as the levy applies to those who have assets worth >$1bn and have made >$100mm three years in a row. Based on the intricacies of the plan, the new tax would generate an expected $700bn in tax revenue, roughly $1bn from each member of the exclusive list.
The bulk of the tax bill would be aimed at unrealized gains within the portfolios of the ultrawealthy - a somewhat unprecedented method of engaging in a kind of wealth tax. The intricacies of the plan are, naturally, intricate, so we don't have time to go over all of them here. The important thing is, if there ever was a bad time to be a person with a superyacht, the time is now.
Confidence is Key - You wouldn't know it by their recent spending trends, but judging by confidence measures, consumers have been a bit timid lately. That trend finally changed in October.
Consumer spending tends to be roughly 60% of the U.S. GDP, so timid consumers spell bad news. Over the last three months, as Delta variant fears ramped up, confidence in the state of the economy has declined. Luckily, there is so much money going around (thanks JPow) that spending has kept up. Now, this past month's measure of consumer confidence creeped up for the first time since June, indicating that Main Street is laughing in the face of the inflation fears plaguing Wall Street and could be an indication of even further increased spending. Confidence levels rose from 144.3 in September to 147.4 in October, defying economists expectations, but hey, what else is new.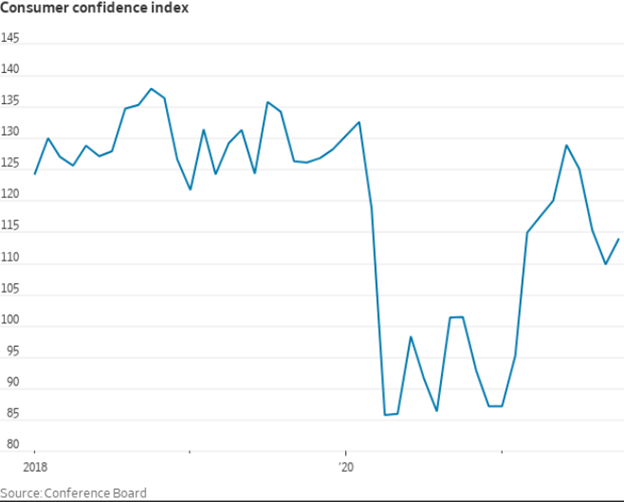 The Only Crypto Platform You'll Ever Need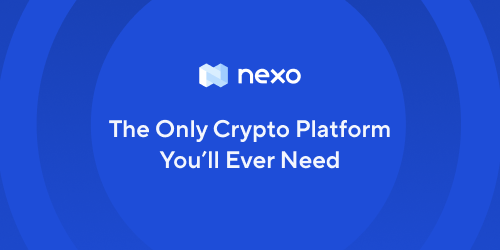 Nexo is a trusted and easy-to-use crypto platform where you can securely store your crypto and earn up to 12% per annum, paid out daily.
You can also buy, sell and swap one asset for another with more than 150+ exchange pairs to choose from.
And if you need cash but don't want to sell, you can place your crypto as collateral and borrow with rates starting from 6.9% APR.
2.5M+ people already trust Nexo with their crypto. So whether you're just getting started or searching for a better way to access crypto markets, start today with Nexo!
What's Ripe
Enphase Energy ($ENPH) - Enphase Energy really put the whole solar sector on its back yesterday, reporting higher than expected Q3 revenues and issuing guidance for higher growth expectations in Q4. Rising 24.7% on the day, Enphase beat across the board by wide margins. EPS led the beat, coming in 30% above expectations and breathing life into the entire sector. 
MegaTech ($MSFT, $GOOGL, $TSLA) - In a sea of red stocks, something is always working. Luckily for Nasdaq investors, Microsoft and Google's earnings were just so damn good they kept the party going. Tesla's recent release also continues to propel the share price to further and further records. Microsoft got a 4.2% boost while Google gained a bit more, up 5.0% on the day and Tesla continued its absolute tear with a 1.9% jump. I guess its good to be big tech, unless you rely on Apple's privacy laws to drive revenue...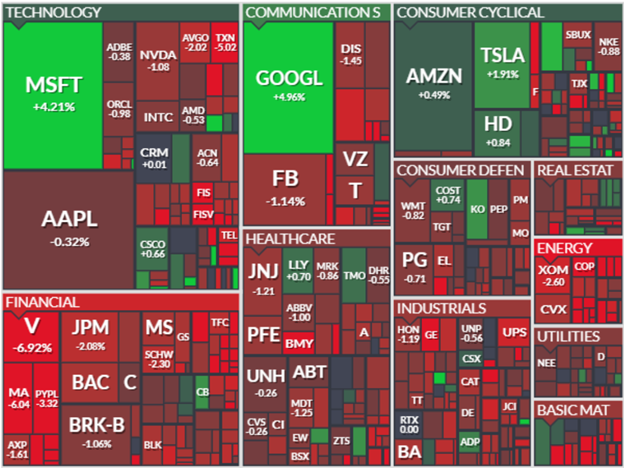 What's Rotten
Twitter ($TWTR) - Speaking of relying on Apple's privacy laws, Twitter got f*ckin' smoked yesterday, falling 10.8%. Jack and the crew missed across the board, not a great start. Then, the social site followed up with even worse forecasts for the rest of the year, citing Apple's privacy rule changes. However, analysts were quick to realize that Twitter is much less exposed to direct-response ads driven by cross-app tracking than peers, relying on in-site generated brand advertisements. In short, analysts called cap. 
Robinhood ($HOOD) - Watching Robinhood plummet 10.4% just made my day yesterday. Shares fell below the firm's IPO price intraday, unfortunate for Cathie Wood as Ark double-down on their Robinhood bet just days ago. The highlights? Revenue missed by 13.9% in only their second quarterly report ever, falling largely due to the perilous 78% drop in cryptocurrency trading revenues (not a typo). Meme trading isn't nearly as hip as it was 6 months ago, and Robinhood showed us that the hard way. Expect to see messages on your app from the firm begging you to yolo more options and crypto plays.
Thought Banana:
NFTs Enter Reality - Tungsten is a rare Earth metal used frequently in military applications, such as projectiles. NFTs are non-fungible tokens that represent scarce ownership of an asset, real or digital. I never would've guessed these things would come together, but if you've been on crypto-Twitter lately, you already know what I'm talking about.
As weird as it sounds, the new, way cooler NFTs are Tungsten Cubes - cubes made out of tungsten. A company called Midwest Tungsten has long sold cubes of the incredibly dense metal for many years now, but never have they seen demand like this. All the cryptoheads out there are dying to purchase the limited-edition 14-inch cube Midwest has begun to make. As usual with the digital currency crowd, there is absolutely no logic to be found here whatsoever. Presumably, it's another iteration of the Greater Fool strategy. The buyers appear to be using them for no more of a purpose than as a paperweight and have left reviews like the one I found on Amazon that says "yup, it's definitely heavy." Wow, you guys are great. 
"The intrinsic value of an asset is determined by the cash flows you expect that asset to generate over its life and how uncertain you feel about these cash flows."
- Aswath Damodaran
Happy Investing,
Patrick & The Daily Peel Team
Was this email forwarded to you? Sign up for the WSO Daily Peel here.