Unicorn Overpopulation | The Daily Peel | 9/7/21
Silver Banana goes to...

Market Snapshot
Confused markets closed the week on mixed economic data. The Nasdaq gained 0.21% on Friday, while the Dow dropped 0.21%, and the S&P barely moved, losing 0.03%.
This confusion is understandable as it's often said that investing is more of an art than a science, and with Masterworks that couldn't be more true. They take the art of diversification and outperformance ultra-literally. They offer investments in the formerly "suit-only" asset class of fine art, to everyday investors like you and me, so be sure to give them a look.
Let's get into it.
Macro Monkey Says
Jobs – The slow march towards pre-pandemic employment levels continued in August, albeit more gradually than economists anticipated. 235,000 Americans either finally got that job they were looking for or just decided to stop being bums and took one anyway. Regardless, we're happy. These brave souls brought the unemployment rate to a pandemic-era low of 5.2%, laughing in the face of unemployment benefits and the Delta variant. However, like Rocky said, it's not all sunshines and rainbows - leisure & hospitality jobs added exactly zero after averaging additions of 350,000 per month from January to July, according to the WSJ, indicating Delta and the resurgence of OG Corona may have slowed us down. With all this in our face, it's going to be a tough battle, but here's to another month of losing hundreds of thousands of jobless bums.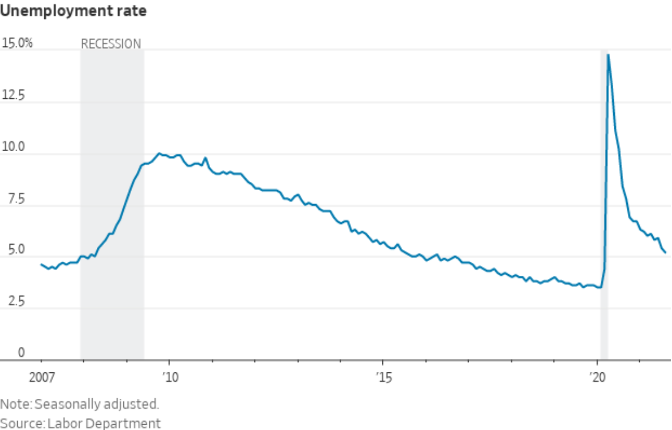 Unicorn Overpopulation – The global startup scene is on f*cking fire right now. VC funding globally for the month of August was a monstrous $48bn, slightly down from the record of $61bn set earlier this year, but still enormous compared to historical precedent. 41 new unicorns came into existence last month, bringing the number of these +$1bn startups to a level that's making people question if the designation even matters anymore. The U.S, China, and India are leading the way of innovation as investors are flush with cash from a near-perfect storm of a year for asset holders. One of the largest of these "unicorns", Databricks, received a valuation of $38bn in their latest funding round, larger than Pinterest, slightly smaller than T Rowe Price, and roughly equivalent to Dogecoin.
Fun fact: there's 18,998 exchanges trading crypto.
And, the total market cap of every cryptocurrency combined rose to $1.6T in 2021, per Goldman Sachs.
But, there's another massive alternative asset class primed for disruption.
Art.
In fact, the art world is 3.75x larger than every cryptocurrency combined.
The $6 trillion dollar question: how many platforms give you access?
One.
Masterworks.io opens the art investing world to everyday investors.
Why securitize the art market?:
Incredible potential: In 2017, a single painting sold for $450 MILLION
Access for all: fractional shares let you diversify your portfolio for a tiny portion of the normal purchase price
Massive growth: Total wealth in art projected to explode by another $1 TRILLION by 2026
Now, you can invest in works by your favorite artists like Banksy and Basquiat without needing millions.
We love what Masterworks.io does, so we partnered with them.
Want in? Daily Peel subscribers can skip their waitlist*
*See important disclosures
What's Ripe
Docusign ($DOCU) – Investors did what investors do, as Docusign gained 5.3% on Friday on a strong earnings beat. The digital document and signature company posted adjusted earnings 17.5% above expectations on $511.8mm in revenue, a 50% jump compared to last year. Although still operating on a GAAP loss, literally no one cares because the Holy Grail of line items, free cash flow, jumped 62%.
Digital Currencies – In another W for losers who talk about BTC at parties, crypto has been ripping upwards once again. At time of writing, BTC sits just above $50k and appears to be building small consolidation at this level, while ETH has gained 21% in 7 days alongside similarly absurd gains in other coins. Holders of SOL, LTC, FIL and VET can be particularly happy as they all saw a 25%+ gain over the same time period. This comes after August set a record for flows into the digital currency space, suggesting adoption from the big bois is coming and coming quickly.
What's Rotten
Robinhood ($HOOD) - Vlad is big sad lately as the SEC has publicly expressed their consideration of a ban of payment-for-order-flow (PFOF), aka Robinhood's lifeblood, sending shares down 2.56%. 80% of the firm's revenue come from PFOF channels and I don't know about you but having 4/5 of my company's revenue become illegal is not a spot I want to be in. The other 20% comes from a combination of Robinhood Gold, proxy rebates, and (presumably) stealing assets from users.
Thought Banana:
Opening the Gates – Believe it or not, Apple has made a decision that puts other people's interest over money. Insane, I know, but believe me, it's true. The mobile phone semi/total-monopolist has changed the way it charges media apps and sites for space on their App Store and operating platform. While taking 30% of all revenue was an absolute home run while it lasted, the smells of money attracted far too much attention from regulatory watchdogs. Now, users of apps like Netflix, Spotify, and alike can redirect users to an intracompany page to sign-up for subscriptions free of Tim Cook's rapacious grasp. Apple has also been methodically reducing commission rates and been subject to a new, more restrictive South Korean App Store law. With $65bn in segment revenue last year, these lower rates and evasions are gonna hurt, but then again, it is Apple.
"People don't buy stock; it gets sold to them. Don't ever forget that."
– Jordan Belfort
Happy Investing,
Patrick & The Daily Peel Team
Was this email forwarded to you? Sign up for the WSO Daily Peel here.