Well, that was quick | The Daily Peel | 10/25/21
Silver Banana goes to...

Market Snapshot
Markets closed lower on Friday, capping off a week of modest gains heading into another 5-days of nonstop big time earnings. The Dow was the only gainer on the session, with a 0.21% increase, while the S&P slipped a slight 0.11% and the Nasdaq fell 0.82%.
Get professional research and access to a portfolio with an average annual return of 19.6%. WSO Alpha has got all you need to start gaining; premium research, a 10 year-old portfolio to trade with, and more!
Unlock the entire portfolio here!
Let's get into it.
Macro Monkey Says
The Usain Bolt of Regulations - After much controversy, senior Fed officials, board members, policymakers, and even JPow himself are no longer allowed to:
Purchase individual stocks,
Hold individuals bonds,
Hold agency securities (e.g. ACMBSs, AMBSs, etc.), or
Enter derivative trades
These drastic and honestly admirable new changes come just weeks after the Presidents of the Boston and Dallas Fed branches were caught in 4k with their trades, and just days after we found out JPow was acting up too. Unlike most things in Washington this moved quickly and is widely agreed upon as good and reasonable regulations. 
On the other hand, members of Congress like Nancy Pelosi, who trades in the leagues of Jim Simons and Peter Lynch, do not face similar restrictions. To no surprise, people on social media smelled and called bullsh*t, proposing similar measures be applied to Congressional policymakers as well. Good luck to all the TikTok traders tracking Nancy's every move if this goes into effect!
Fire Up The Printers - "Pretty much there" is the way our governing overlords describe the state of coming to an agreement on the highly anticipated spending and infrastructure bills. The target of $2tn or less is significantly lower than the initial $3.5tn that was proposed, but Congress took their time and finally realized that if we're gonna "Build Back Better" we need to actually start building at some point. Although no headline number was revealed, Congressional Democrats met at Joey B's Delaware house and presumably hashed out the needed changes to reach a deal. Reporters asked Speaker Pelosi if voting on these efforts could be expected this week, to which she answered "that's the plan."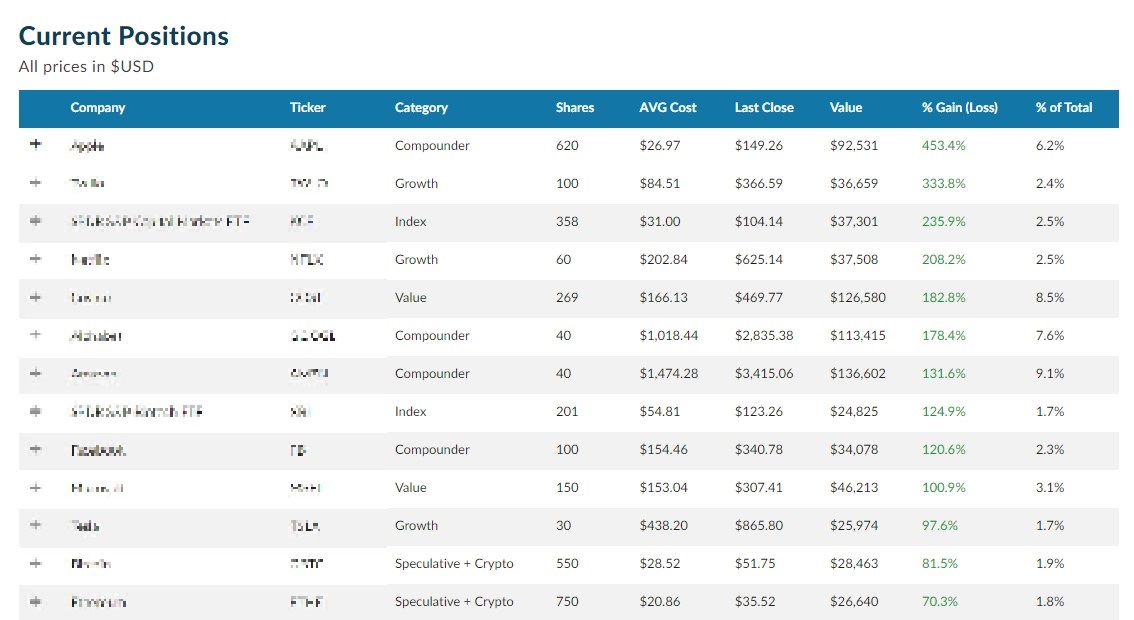 The WSO Alpha portfolio is still up over 300%.
This is THE portfolio you don't want to miss. WSO Alpha has
Historically outperformed the S&P, Nasdaq, and Dow
An unmatched Risk/Reward profile
Professional research reports
And more!
What's Ripe
Digital World Acquisition Corp ($DWAC) - Former President Trump's SPAC is going up, big. Shares closed up 107.03% on Friday to end the week up a yuge 847%. The former President's goal of taking on all of big tech simultaneously will be a challenge, but investors appear to be on boar - just kidding, the rise can likely be entirely attributable to hype around the market debut. Something tells me no one from Zuckerberg to Evan Spiegel is very nervous right now, but Trump and the other executives certainly cashed in, so credit where credit is due...for now. 
American Express ($AXP) - Being at or near an all-time high is all the rage right now, and American Express refused to be excluded. Intraday trading on Friday reached the highest level ever for the firm as Amex cards are certified valid by Millennials and Gen-Z, with card spending surging 38% in the last quarter. All in all, the firm had a much better than expected quarter, boosting shares 5.4% to close the week. 
What's Rotten
Digital Advertising ($FB, $GOOG, $SNAP, $TWTR) - Like we alluded to on Friday, Snap shares plummeted after hours on Thursday and they sure stayed down, falling 26.7% to close the week down almost 30%. They weren't alone though, Facebook and Twitter both fell roughly 5.0% and Google sank 3.0% too. Basically, Snap ratted on everyone in their Q3 release, citing supply chain issues leading to companies to spend less on digital advertising. True or a case of not going down alone, we'll find out next week when some of the others reveal their numbers. 
Intel ($INTC) - Following in Snap's footsteps, Intel pulled the supply chain defense to excuse their horrific earnings causing a massive dive in their share price of 11.7% on Friday. Although revenue was somewhat in line, weakness in PC sales and data center margins seized the day in analysts eyes. Meanwhile, fellow chip makers Nvidia and AMD marginally gained on the day.
Thought Banana:
Pork Kidney - Science and scientists are incredible and every now and then, they release new innovations that just humiliate everyone else who's not a scientist. In the latest edition of this trend, scientists and surgeons out of NYU Langone Health in New York successfully transplanted a kidney grown and formerly existing inside of a pig, into a human patient. The human patient may have been brain dead, but this could be the birth of a new generation of organ transplantation involving genetic modification, an amazing feat with a plethora of potential implications. I can't give you any tickers to play this breakthrough with, but maybe just step back from the options chain for a second and appreciate how remarkable the age of modern science we live in is today. With that said, who wants to put some cash on the next genetically modified animal organ? I got $50 on monkey stomachs. 
"If you are going to be a great investor, you have to fit the style to who you are."
- Michael J. Burry
Happy Investing,
Patrick & The Daily Peel Team
Was this email forwarded to you? Sign up for the WSO Daily Peel here.