Free Month
Contribute to the database and get 1 month free* Full online access!
Contribute and get 1 month free!
1 week free for intern submissions
Most Popular
WSO Premium
Full database access + industry reports: IB, PE, HF, Consulting
$8.08 per month billed annually
...or $19 month-to month
Includes All Industry Reports
25k Interviews, 39k Salaries, 11k Reviews
IB, PE, HF Data by Firm (+ more industries)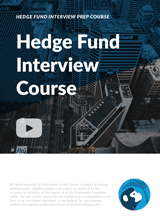 Hedge Fund Interview Course
814 questions across 165 hedge funds. Crowdsourced from over 500,000 members.
11 Detailed Sample Pitches and 10+ hours of video.
Trusted by over 1,000 aspiring hedge fund professionals just like you.
Total Avg Compensation
January 2021 Investment Banking
2nd Year Analyst (89)

$151

3rd+ Year Analyst (19)

$150

Intern/Summer Associate (91)

$144

1st Year Analyst (351)

$132

Intern/Summer Analyst (300)

$82