Your Free LBO Modeling Test
is in Your E-mail!
To learn more about our full private equity interview course with 8 more LBO Modeling Test and 2,447 questions across 203 private equity funds + many more cases + template, etc, please scroll down. Crowdsourced from over 500,000 members.Private Equity Guide has everything you'll ever need to land the most coveted jobs on Wall Street. Interview Prep
And trusted by over 1,000 aspiring private equity professionals just like you. The WSO
learn more below
Want to Ace Your Interview?
Crack the Code

... 

First You Have to

Private equity is one of the most competitive industries in finance. You know it. I know it. Everyone knows it.

Not only does it promise huge salaries and bonuses (even more than investment banking), but it's also less hours, less stress and more interesting work... the promised land where top investment bankers and consultants go to build a lucrative career.

But getting in the door is much harder than you think...

... because the PE industry can pick the best of the best and the secrets to getting in are guarded like Fort Knox.
Getting an Private Equity job is
not about acquiring the skills to DO the job

... It's about

acquiring the skills to GET the job.
And these are NOT the same thing.
Because what most buyside professionals will never tell you is that everything you've learned so far is practically useless when it comes to interviewing...
Technical knowledge you learned in your IB interviews alone won't cut it...
Great deal experience on your resume and a high GPA isn't enough...
Great connections won't get you the job you want...
And even many of those in highly respected IB groups across the street still don't make the cut...
Your
interviewer's job isn't only to find the best candidates

... It's to weed out the worst. They'll

stress test you, confuse you

and will do everything they can to quickly

crack you

so they can move onto the next eager professional in line.
They'll evaluate your technical acumen...
Throw tough LBO Modeling tests and cases at you with almost impossible time limits...
Hit you with complex brain teasers designed to trick you...
Test your knowledge of the industry and their fund...
And they'll tax your ability to function under pressure and think on your feet...
They'll probe everything about you:
Your body language and voice tone...
Assess your character...
Judge your presentation skills and ability to sell an investment ...
Your ability to both lead and follow...
And they'll decide if you're high status enough to make it at their fund...
Quite simply, the
private equity interview process is a nightmare

that will eat you alive if you don't know how to navigate it.
---
The Only Way to Crack This Code is to
Learn It

from

Those Who Have Walked Your Path

Before.

The best way to learn anything is to simply follow in the footsteps of those who have done it successfully. And not just a few people, but thousands of interviewers, analysts and private equity veterans who have successfully navigated this process and have gone on to lucrative careers across the top funds.

Only then will you know all of the little tricks, secrets and shortcuts to acing your interview and beating your competition: the tens of thousands of other finance "rock stars" who are competing for your job.

And once you have this knowledge, what seemed like a gauntlet will be a walk in the park.

Where others are confused and intimidated, you'll be calm, cool and collected.

When others are cramming at the last minute, you'll be totally prepared for anything they can throw at you.

And when others are working in the back office or stuck working 90 hour weeks, you'll be climbing the ladder at a PE fund.

But first, a word of warning...
FACT: Less Than 1% of Applicants Get a PE Job...
... Only Those with an
EDGE

Get In.

That's right. Out of every 1,000 applicants, less than 10 will get the job. The other 99% will wash out and never be heard from again.

That's 6x lower than the acceptance rate at Harvard. You do the math.

Think it can't be you? Think again. These PE funds have access to thousands of motivated investment bankers, top consultants, technical geniuses and finance "rock stars", all just like you... all beating down their door.

Most never get in.

Instead they end up left out in the cold, wandering the finance wilderness...

Dreaming of the buyside...

Thinking maybe they should start their own business... or jump to a corporate finance gig to escape, even if it means less pay...

And yes, still living with roommates until their late 20s to save money.

I've seen it more times than I can count.

And it's all because they're unprepared.
Many relied on their technical abilities but

didn't have the network or the behavioral skills

to make it through...
Others had great pedigrees and connections but

couldn't solve the tricky brainteasers and complex deal mechanics

that come up in every interview...

Some even were top bucket analysts from the most prestigious investment banks

in the country but found themselves forever looking in from the outside.
One of my best friends was a top ranked analyst at a prestigious bulge bracket, with a 3.9 from a target school. But he failed the PE interview process.
Even with a top MBA several years later, he still couldn't break in... Now he works in a corp fin group making half what the PE track would have landed him. He'll never be a private equity professional, and he'll live with the pain of regret for the rest of his life, wondering what if...
The Bottom Line is This:
To Land in Private Equity, You Must Know Everything...
... And That Means Going to the
One Place

That Has Everything.
Introducing...
The Wall Street Oasis
Private Equity Interview Prep Course
The Insider's Guide on How to Land the
Most Prestigious Jobs on Wall Street... Including our famous PDF Guide, PE LBO Modeling Tests and So Much More...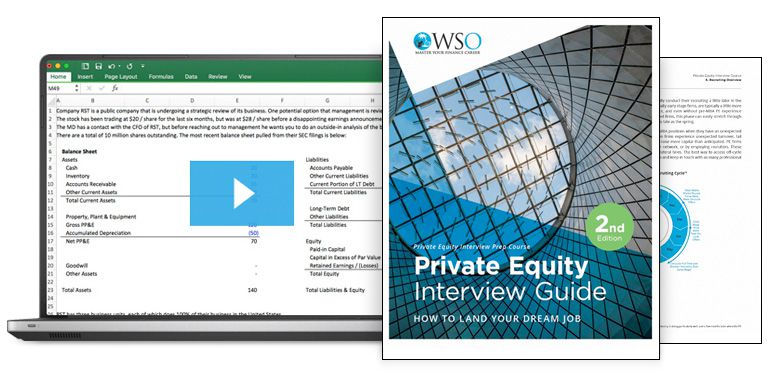 Here's Just Some of What You'll Get in version 2.0:
Master ALL of the Concepts

Private Equity funds aren't looking for robots… they want to know that you understand the industry, that you can solve problems, handle stress, manage a team and are a fit for their firm… You'll discover how to master all of these concepts - even if you only have a few days to prepare...

Nail the LBO Modeling Tests

With 9 Detailed LBO Modeling Tests and 15+ hours of video solutions be ready to handle any variation and any level of complexity… so you won't leave a single stone unturned and will be 100% prepared for anything they throw at you...

Master the Case Interview

With 10+ Hours of Private Equity Cases, you'll discover exactly how to walk through your own deals with confidence... and prove you're cut out for private equity...

Build a High Impact Network

With 15+ Hours of video tutorials… for LinkedIn, Emailing and Cold Calling… so you can get 3x your response rate, land more interviews and get support from PE professionals on the inside, even if you are not from the traditional IB or consulting background...
Research Specific PE Funds

You'll have access to over 2,000 private equity interview questions across 400+ PE funds organized by position, so you can focus your preparation on what matters most...

Prepare Quickly and Level Up

With Detailed Industry and Recruiting History, showing you exactly what you need to know in order to demonstrate a true passion for the industry… master the key concepts and stack your learning for maximum preparation in the shortest amount of time possible...

Get Exclusive Inside Info on 200+ PE Funds

With the WSO Company Database, you'll get exclusive data on compensation, interviews and employee reviews for hundreds of funds… access thousands of interview insights… so you'll know exactly which firms and positions are right for you...

See how PE veterans have done it with the WSO Video Library

You'll discover how professional private equity investors have answered the very same questions you'll be asked with 50+ hours of private equity-specific videos… Watch detailed Q&A's and sample cases… so you can see exactly what works and what doesn't...
Our customers have landed positions at all of the top PE megafunds, including:

don't let one missed question cost you $250,000 ...
get the course that will prepare you better than anything else.
The WSO Private Equity Interview Prep Course 2.0 takes you way beyond anything else. While others claim to give you everything you need, the truth is they only cover a handful of the most common questions and have basic LBO modeling tests. Even worse, they're usually written by one guy who's been out of private equity for years…
Hardly what we'd call "comprehensive"...
And there's an even BIGGER problem with this approach:
It's totally outdated.
Private equity is constantly changing. What worked even last year is no longer effective. Your interviewers are smart… and they're constantly changing their questions and tactics for one reason: to put you under stress and see what you're made of.
That's why the WSO course is crowdsourced from thousands of currently practicing private equity professionals… people who live and breathe this industry - day in and day out… who can tell you what's changing firsthand… and will keep you up-to-date on everything you need to ace the interview process and land that job.
And what you really need is this:
---
You Need to

Know Everything

Other guides boast that they have "hundreds" of questions. We have thousands. WSO covers 2,447 questions across 203 private equity funds. Over 50 hours of PE specific video… Sourced from thousands of data points… all so you can cover every base, prepare for any scenario… and walk into the room with total confidence...

You Need Something that's

Crowdsourced and Validated

Other prep guides look good, but the truth is most are written by one guy with only one perspective telling what they think is "right" from their dated experience YEARS ago… The WSO PE prep course was born straight from the source and is still updated every year: Crowdsourced for over a decade from over 100 million unique visitors and 500,000 members... with inside information from thousands of actual interviewers, associates and PE veterans....and validated by over 1,000 aspiring private equity professionals just like you who have taken this course...

You Need to Learn

How to Interview

Not How to Memorize

To succeed you must do more than just memorize some technical questions and learn some "fit" concepts… You really need inside knowledge on the recruiting process, PE fund nuances and hidden recruiting tactics… Learn from our roster of thousands of actual interviewers, associates and PE veterans, so you can nail the interview process with confidence.

You Must

Project Total Confidence

Interviewers can smell fear from a mile away. Without the proper body language, the precise tone of voice and the right attitude, your interview could be over before it begins. We've surveyed hundreds of actual PE interviewers to show you exactly how to act - and what you must avoid - so you can stand out from the crowd of wannabes and crush your competition...
How do I know this?
Because I've been down this path before...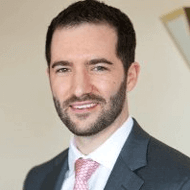 My name is Patrick Curtis, and I'm the founder of Wall Street Oasis. Not that long ago, I was in your position. I had a stellar GPA from a prestigious school, was a top ranked analyst at a top investment bank and had great deal experience on my resume. I was confident, flying high and ready to ace my PE interviews…
Except I didn't.
During my first interview, I found out the harsh truth… I was blindsided by a complex LBO modeling test. I did ok, but I knew they were watching the clock and I knew that some candidates had probably done it faster.
I could see that the interviewers weren't impressed.
I knew I was screwed… and I knew that my chance was gone. Instead, I had to sit there, sweating through my suit, red-faced while he dragged me through the ringer, quizzing me on every little detail from the transactions I worked on in investment banking.
This same scenario repeated again and again... And this doesn't include the hundreds of times I got hung up on, blown off by recruiters or outright rejected.
While the top analysts in my class were landing great private equity associate gigs with huge salaries and better hours, I was one step away from having a bunch of sad options: 1) do another back-breaking year in IB as a 3rd year analyst 2) jump to some boring corporate finance gig or 3) move in with my parents to reassess what I wanted to do with my life.
(In fact, more than half of my analyst class never even made it to the PE interview process, most because they never finished their two years in banking)
After months of failure, I finally decided to suck it up and take a hard look in the mirror. I realized I was totally out of my element and needed help. I went back and analyzed each one of my failures and reconstructed everything I'd done wrong.
And then I got a mentor… An associate that had made the successful jump to PE to take me under his wing and show me the ropes.
Finally, after 100 hours of additional work over 5 weeks, I had one last opportunity…
The work paid off. I landed just 1 available associate spot out of hundreds of applicants for Tailwind Capital's New York office.
After 2 years in banking, I had successfully moved into private equity, doubled my salary and even ended up breaking into Wharton business school for my MBA 4 years later.
This course is the result of my tough private equity interview experiences. With the help of our 500,000+ members, we've created the only crowdsourced Private Equity Interview Prep Course on the market. I know firsthand how hard it is to break into PE… and I also know what happens if you miss your window.
And with the help of our members - and of the thousands of industry veterans, associates and interviewers who have contributed to this guide - it's my hope that you can avoid the pitfalls I experienced, land the job you want and catapult yourself to the lucrative career that's waiting for you.
So…
here's what you're going to get:
Module 1
The WSO Private Equity Recruiting Guide
Knowing the recruiting tactics as well as acing the technical and fit questions in the PE interview process are all a critical part of giving yourself the best odds… You WILL be quizzed on these questions – and your interviewers expect detailed and accurate responses. This 200+ page PDF is easily the most comprehensive guide on the market… We've got every base covered, so you'll be prepared no matter what your interviewers throw at you.

200+ page PDF guide sourced from 2,000+ PE interview insights...

30+ of the most common technical questions and 15 of the most common fit questions from the top funds, with explanations and sample answers, so you'll be prepared for every scenario…

10+ hours of videos, including sample questions, cases and deal walkthroughs, so you can see exactly how PE veterans actually do their job…

Detailed Review of 3 Financial Statements as well as the links between statements... so you can master tricky accounting questions…

Master the 10 most common PE Brainteasers so you can demonstrate the one skill your interviewers are looking for: the ability to solve difficult problems under pressure…

The 6 critical stages of how the industry operates including deal process, lifecycle and common diligence topics so you can demonstrate superior understanding vs your competition of how PE deals actually work…
20+ Videos from actual private equity professionals so you can see how to structure responses to the toughest questions...

3 Statement Sample Financial Model... so you can master the accounting basics you're guaranteed to be tested on...

7 main paths on how to build a background attractive to PE from undergraduate students, pre-MBA bankers & consultants + more... so you can focus on what you need to change to land PE interviews...

How to work with recruiters, so they are working with you, not against you...

Detailed explanations of LBO (leveraged buyout), Discounted Cash Flow and other valuation techniques so you can master the exact valuation methods used by IB and PE firms...

Evaluating an offer: the 3 Main Questions you need to ask yourself, so you can make sure you maximize upward mobility, job security and exit opps before signing on the dotted line...

And much, much more...
Module 2
9 LBO Modeling Tests - Realistic Practice
Technical and fit questions are only half the equation... Most candidates ignore the crucial LBO Modeling tests that help your interviewers answer one critical question: "Do you have the modeling chops to cut it?" But… this isn't something can you fake. You have to demonstrate it - by not just getting the right IRR and MOIC on the test, but making your model shine and doing it fast. The only way to make sure you pull this off is to have realistic practice. These 9 LBO Modeling Tests will help you master this challenging part of your private equity interviews.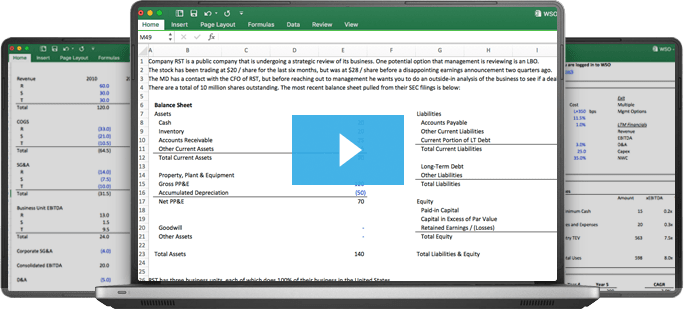 3 sets of three LBO modeling tests with differing levels of complexity, to make sure you understand how to build a simple 30 minute LBO model to an extremely complex 3+ hour model...

15+ hours of video solutions, so you go step by step to make sure you understand how to complete all 9 tests successfully if you get stuck…

Nuanced differences across the tests so that you know no matter what type of modeling test you get - you'll know exactly how to answer it…

Detailed explanations of why a deal would be attractive or not, to a PE fund, all included in the video solutions…
How to approach a complex Sources & Uses set-up so that you get off on the right foot …

How to set up a detailed your Results Page with pivot tables and variations to show you understand the levers that would make the deal more or less attractive for a potential investment...

The best way to avoid common modeling pitfalls so you can submit your model with confidence knowing that a simple sign error doesn't ruin your chances...

4 additional PE Cases with detailed template files and models so that you can get even more practice and direct advice from actual PE professionals

And much, much more...
Module 3
networking mastery
Want to get the job? First you have to get in the door. But without a great network, nobody will know who you are. Even if your resume is great, it will end up lost in the pile of wannabe's, and your chances of landing even an informational interview will be almost zero. In this 71-page guide, we'll reveal everything we know about the fine art of networking… so you can meet the people who can get you what you want most: the job.

150+ Copy-and-Paste Questions for you to ask in an both informational and job interviews...

15+ hours of videos with insider strategies for successful networking...

14 Templates for LinkedIn, Email and Cold-Calling so you can easily build a rock-solid network, even if you hate meeting people face-to-face...

3 Polished WSO Resume Templates, pulled straight from our famous Resume Review service. Each template is based on thousands of successful resumes/CV's. Whether you're an undergrad, an experienced applicant or have deal experience, you'll have the pitch perfect Resume/CV...

The right way to network, so your resume is seen by those who matter - and not lost under a pile of wannabes…
21 things you must STOP doing right now so you can avoid networking failure...

How to increase your cold email response rate 3x with our 8-step resume guide...

The 8 proven negotiating steps so you can secure the best offer...

Our plug-and-play template so you can nail the critical 90 Second Elevator Pitch…

How to land critical info interviews without ever meeting anyone in person...

148 questions you can ask in your interviews so you can make a great impression – without sounding like a fraud...

And much, much more...
Don't take our word for it
Here are just a few of the
1,000 candidates

who have taken this course...

"I come from a non-target background and managed to make it into banking, but only after close to a year of networking and hustle. I knew that the odds were against me again for PE recruiting so I started networking and trying to land as many interviews as possible only after 1 year at a boutique investment bank. I had made it to 2nd and final rounds at a few funds, but no offer. The first interview after going through this course I made it to the final rounds and got an offer! I think this package made the difference - in fact, one of the LBO modeling tests I got in the 2nd round was almost identical to one of the 1 hour LBO ones in the package. Having that modeling practice and the confidence going into the interview is priceless."

Result: Pre-MBA Associate @ MM Private Equity Fund in New York

​​"Excellent course for anyone hoping to break into the PE industry."

Title: Vice President @ The Carlyle Group in New York

"This PE course provides a comprehensive, easy to understand review of not only the interview process, but, a background of Private Equity in general and the fundamentals involved. It makes a great transition from "big picture" concepts to detailed analysis in the LBO modeling tutorial. I came from a "non-traditional" background (consulting), and felt very prepared in my interview regarding industry knowledge, business model, and technical skill. I'm very pleased to report that I received an offer within 2 weeks of going through the course. It is easily worth the cost, and I will recommend it to close friends and colleagues. Thanks for an excellent resource."

Chris R.

Result: Post-MBA Associate @ Elite PE Fund in Boston

"Most guides that try to demystify PE recruiting tend to be extremely utilitarian and focused which counter intuitively limits how useful they are. This guide provides spot-on advice as well as the industry context required for the advice to be useful. This is the single best resource I've seen for PE recruiting (And in fact a lot of the buy-side in general)"

Result: Investment Professional @ Sagard Capital

"WSO's private equity interview course is an essential competitive advantage for anyone trying to break into PE. It provides candidates with both the quantitative and the qualitative skills they need to stand out from the crowd. This is the one resource serious candidates shouldn't risk being without."

Result: Principal @ Hanover Partners

The guide has been extremely valuable to me. It got me from zero to sixty in PE knowledge to help me get a job in PE as a consultant who knew very little about the industry. Furthermore, I still keep referring to it as a PE professional to date when I want to see how some items get modeled out. Thanks for the guide and the great help. I'm an ambassador for the guide to all my friends and if I can ever help out let me know. Thanks

Result: Investor @ Growth Private Equity Firm in California
Bonus Modules:
Mock Deals, Sample Cases,
Proprietary Fund Intel and More...
bonus 1: WSO Video Library - 12 Month Access
Get unlimited access to 100+ videos over 60+ hours, including mock interviews, detailed finance Q&A's, sample deals and real-world scenarios… all from our veteran private equity mentors. It is the most comprehensive video library on the market, so you can out-prepare and outperform your competition...
50+ hours of exclusive PE videos, with more added each month...
100+ videos - including:

Recorded mock interviews

so you can see what works and what doesn't...

32 Q&A videos with experienced Professionals

from our Mentor Team...
Sample Deals so you can

see how veteran private equity professionals have handled real-world scenarios...

10+ Template files: PPT and Excel files you can download and use to study...
Videos for the industry and position of your choice, including:

PE Analysts
PE Associates
Sub-Industry Specifics
Highlights of just some of what you'll have access to:

Private Equity Case: Utility Services
Growth Equity PE Recruiting
How to Prep for a PE Megafund Interview
Co-investments and Fund of Funds Overview
Your IB deals in a PE interview setting
Transitioning from IB to Private Equity
Growth Equity Investing Webinar
TMT Investing - Everything you need to know
Leveraged Loans Market Overview
Linkedin, Cold-Emailing & Networking Tactics
Networking in Europe
Recruiting Strategies for Internationals
Consulting to MM Private Equity
PE Investment Director: Week in the Life
And much more...
bonus 2: WSO company database - 12 Month Access
You've done all the prep and studied all the questions, but how do you know which funds, which positions and what salaries you should target? If you're using another prep guide, the answer is simple: you won't. With the WSO Company Database, you'll be able to find inside intel on compensation, position, employee reviews and the most common questions asked... so you'll know which firm is right for you.
2,447+ insights across 203 Private Equity Funds...
Coverage of over 200+ firms..
Exclusive data on compensation by firm, division, city , position, benefits and bonus size..
100+ employee reviews to get the real juicy details on what it's really like on the inside...
---
1. Salary & Bonus Detail
Know how much you can expect to make at thousands of firms, across dozens of positions…
Quickly scan hundreds of companies for the min, max and media avg base salary and cash bonus by position...

2. Proprietary Company Insight
Compare companies across a variety of metrics, including overall rating, interview experience, relative compensation, diversity in recruiting, percent of interns getting offers and the top schools, majors and degrees targeted by each firm.
View quantified, percentile rankings of each firm - by position…
3. Inside Intel on
Any

Private Equity Fund
Uncover what other candidates were asked in prior interviews at the same firm, so you'll be totally prepared…
Get insights about the most difficult questions, so that you'll past even the the toughest of tests…
Know what to expect before you walk in the door, so you'll be ready when that offer comes...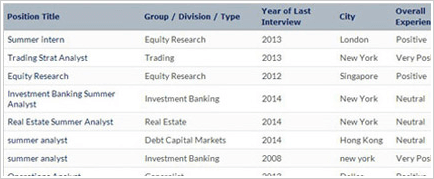 How Much is Your
Private Equity Future Worth?
What You Get
Value

Module 1: WSO Private Equity Recruiting Guide

200+ pages, 10+ hours of video, 10 PE brainteasers, full coverage of Critical PE recruiting strategies...

$449

Module 2: 9 LBO Modeling Tests

9 Tests including 15+ hours of video, 3 at each level of difficulty so you can level up...

$449

Module 3: Networking Mastery Guide

150+ copy & paste questions to ask on your interviews, 14 templates for LinkedIn, Email & Cold-Calling, 3 proven WSO Resume Templates and more...

$349

Bonus 1: WSO Video Library - 12 Month Access

50+ hours of PE specific videos: webinars, sample deals, 10+ PPT & Excel Templates and more...

$249

Bonus 2: WSO Company Database - 12 Month Access

2,447+ interview insights across 203 private equity funds, Coverage of over 100 firms, Exclusive data on compensation, interviews & employee reviews and more...

$299

TOTAL VALUE

$1,795
Consider this your first investment
in a long career...
After all, you've likely already spent tens of thousands of dollars on college (and perhaps tens of thousands more on an MBA)... When you land your coveted private equity job,
you'll be making well over $200,000...
...over $400,000 if you have an MBA...
And that's just the beginning of a long and very LUCRATIVE career that could easily net you millions...especially once you get carry.
We could easily charge thousands of dollars and your ROI would still be huge…
At a fraction of that price, the ROI is even better... a few hundred in exchange for millions of dollars down the line. When you do the math, it's a no brainer.
And that doesn't include the time you'd have to spend figuring all of this out. Even if you used the volumes of free information inside the WSO PE forum, you'd still have to find it, organize it, vet it, test it and systematize it to get it to work.
That would take months - maybe even years… and at that point, you will have missed your window, blown your opportunity and your chances of ever getting a job in PE will be slim to none.
All while watching your friends and classmates ride the elevators to the penthouses of private equity and doing the types of deals you read about in the Wall Street Journal…
The WSO Private Equity Interview Prep Course gives you everything you need to nail your interviews, crush your competition and land the prestigious PE job you've always wanted… quickly and easily.
But we're not going to charge you thousands...
$1,795
We won't even ask for half of that..
$898
Instead..
Get Unlimited Access to the
WSO Private Equity Interview Prep Course for
83% off
$1,795
...or get access today for only $53.99
Secure checkout
100% Unconditional Money-Back Guarantee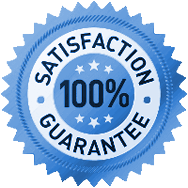 12 Month Risk-Free Guarantee
Your investment is protected by our 12-Month Risk-Free Guarantee. If, for any reason, you don't think the WSO Private Equity Interview Prep Course is right for you, just send us an email, and we'll refund every penny. No questions asked. In short, you get a great return on your investment, or you get your money back. It's that simple.
Your Choice is Simple.
If you're reading this, you're here for a reason: because you want to be one of the very few who gets an Private Equity job… and because you need help doing it.
Your opportunity really is limited… you have one good shot. If you don't land a PE job, your chances of breaking into the buyside are slim to none, because the funds will know you're damaged goods. Don't believe me? Talk to my friend who is stuck in a corporate finance gig after he failed his PE interviews.
Because the hard truth is that Wall Street is literally flooded with millions of people just like you and me: college hot shots, finance wizards, math geniuses and even IB analysts at top banks with great live deal experience… and most of them still end up on the outside looking in.
The private equity funds have the pick of the litter, and only those who are superbly prepared, who have mastered all the concepts and who understand the subtle nuances of interviewing will get the job.
Do that, and you'll gain entrance to a world few people will ever glimpse.
So…
What do you want to be doing? Living in a penthouse, working on multibillion dollar deals and climbing the elite ladders of finance?
Or living with your parents, selling mortgages in the suburbs and watching your friends having the lucrative career that should have been yours.
The choice really is yours. And your opportunity really is limited.
Don't waste it. Click here to get instant access and get started on your career as a private equity investor.
1,000+ people can't be wrong...
Join the other successful candidates and get started:
Secure checkout
100% Unconditional Money-Back Guarantee

Remember...
This is your last chance to land that coveted Private Equity job.
Less than 1% of applicants ever get accepted into private equity. Will you be one of them?... or will you just be another statistic who ends up working in a corporate finance or working 80+ hours per week for an investment bank until you're 30?
We'll give everything you need so you can you land the PE position you want... how to master the recruiting nuances, ace the LBO modeling tests and build a rock-solid network... Our mentors will guide you through the PE interview gauntlet... and we'll unlock the door to one of the most exclusive, secretive and lucrative professions in the world.
You'll be getting the only Private Equity Interview Prep Course that's been crowdsourced from 500,000 members, thousands of actual interviewers, associates and PE veterans and thousands of data points.
And with 2,447 questions across 203 funds with 50+ hours of video instruction, it is, quite simply, the most comprehensive course you can get. Period.
You'll get our:
WSO Private Equity Recruiting Guide:

200+ pages, 10+ hours of video, 10 PE brainteasers, full coverage of Critical PE recruiting strategies...

9 LBO Modeling Tests:

9 Challenging Tests including, 15+ hours of video, 3 at each level of difficulty so you can level up...

Networking Mastery Guide:

150+ questions to ask on your interviews, 14 templates for LinkedIn, Email & Cold-Calling and 3 proven WSO Resume Templates...

WSO Video Library - 12 Month Access:

60+ hours across 100+ videos, including Q&A's and sample deals from our PE mentors...

WSO Company Database - 12 Month Access:

Proprietary intel taken from 2,447+ insights across 203 Private Equity Funds...
But your window of opportunity really is limited. If you fail to land a PE job, funds will know you're damaged goods and they won't touch you with a ten-foot pole. It really is make or break time - not just for this job, but quite possibly, for your entire career and maybe even your life.
I'm not exaggerating... Landing a job and building a career in Private Equity is the ultimate goal in finance everyone dreams of... a launchpad to earning millions in carry ... not to mention working on multibillion-dollar deals and access to a world few ever get to see.
So...
You can try to do this all yourself and then pray you get the job, or...
You can stand on the shoulders of the PE veterans who have come before you, learn their secrets, shortcuts and all their tricks so you nail your interviews, crush your competition and be one of the few who gets into the ultra-exclusive door of private equity.
Sign up now, and I'll see you on the inside...
Join the 1,000 candidates just like you
who have already taken this course:
Secure checkout
100% Unconditional Money-Back Guarantee