Land an Elite Investment Banking Job...
with the Most Comprehensive IB Interview Prep Course in the World.
7,548 questions across 469 investment banks. Crowdsourced from over 500,000 members.Investment Banking Course has everything you'll ever need to start your career on Wall Street. Interview Prep
And trusted by 20,000 aspiring investment bankers just like you. The WSO
get started now
Want to Ace Your Interview?
Crack the Code

...

First You Have to

Investment banking is one of the most sought after jobs on Wall Street. You know it. I know it. Everyone knows it.

Not only does it promise huge salaries and bonuses, but it's also the key stepping stone to anywhere you want to go in your career... Private Equity, Hedge Funds or higher up the ladder in IB.

But getting in the door is much harder than you think...

... because Wall Street guards its secrets like the Federal Reserve guards its gold.
Getting an Investment Banking job is
not about acquiring the skills to DO the job

... It's about

acquiring the skills to GET the job.
And these are NOT the same thing.
Because what most Wall Streeters will never tell you is that everything you've learned so far is practically useless when it comes to interviewing...
Technical knowledge alone won't cut it...
A high GPA isn't enough...
Great connections won't get you the job you want...
And even those with highly coveted internships don't make the cut...
Your
interviewer's job isn't to find the best candidates

... It's to weed out the worst. They'll

stress test you, confuse you

and will do everything they can to

crack you

.
They'll evaluate your technical acumen...
Hit you with complex brain teasers designed to trick you...
Test your knowledge of the industry and their bank...
And they'll tax your ability to function under pressure and think on your feet...
They'll probe everything about you:
Your body language and voice tone...
Assess your character...
Judge your presentation skills and presence in front of clients and colleagues...
Your ability to both lead and follow...
And they'll decide if you're high status enough to make it at their bank...
Quite simply, the
Investment Banking Interview process is a gauntlet

that will eat you alive if you don't know how to navigate it.
---
The Only Way to Crack This Code is to
Learn It

from

Those Who Have Walked Your Path

Before.

The best way to learn anything is to simply follow in the footsteps of those who have done it successfully. And not just a few people, but thousands of interviewers, analysts and investment banking veterans who have successfully navigated this process and have gone on to lucrative careers across Wall Street.

Only then will you know all of the little tricks, secrets and shortcuts to acing your interview and beating your competition: the tens of thousands of other finance "rock stars" who are competing for your job.

And once you have this knowledge, what seemed like a gauntlet will be a walk in the park.

Where others are confused and intimidated, you'll be calm, cool and collected.

When others are cramming at the last minute, you'll be totally prepared for anything they can throw at you.

And when others are working in the back office at a community bank, you'll b e climbing the ladder at an investment bank.

But first, a word of warning...
FACT: Less Than 2% of Applicants Get an IB Job...
... Only Those with an
EDGE

Get In.

That's right. Out of every 1,000 applicants, less than 20 will get the job. The other 98% will wash out and never be heard from again.

That's 3x lower than the acceptance rate at Harvard. You do the math.

Think it can't be you? Think again. Wall Street has access to thousands of rocket scientists, technical geniuses and finance "rock stars", all just like you... all beating down their door.

Most never get in.

Instead they end up left out in the cold, wandering the finance wilderness... Working in a back office...
Selling home loans at a community bank... Crunching numbers as an accountant...

And yes, living with their parents.

I've seen it more times than I can count.

And it's all because they're unprepared.
Many relied on their technical abilities but

didn't have the network or the behavioral skills

to make it through...
Others had great pedigrees and connections but

couldn't solve the tricky brainteasers and complex finance problems

that come up in every interview...

Some even had 4.0's from the most prestigious target schools

in the country but found themselves forever looking in from the outside.
One of my best friends was a finance savant, with a 3.9 from a target school. But he failed the interview process, and now he sells mortgages at a local bank. He'll never be an investment banker, and he'll live with the pain of regret for the rest of his life, wondering what if...
The Bottom Line is This:
To Get the Job, You Must Know Everything...
... And That Means Going to the
One Place

That Has Everything.
Introducing...
The Wall Street Oasis
Investment Banking Interview Prep Course
The Insider's Guide on How to Land One of the
Most Prestigious Jobs on Wall Street...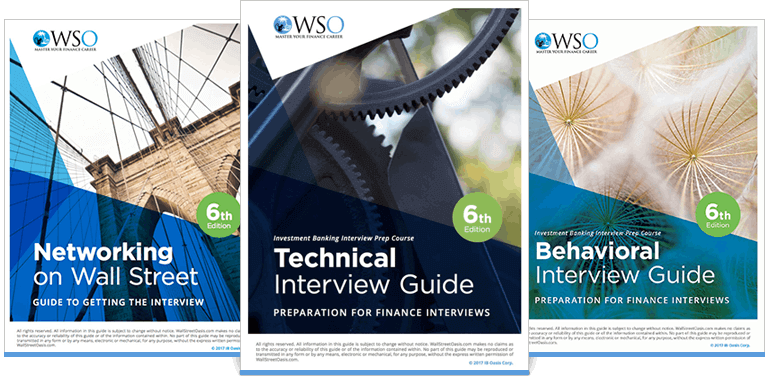 Here's Just Some of What You'll Get in version 6.0:
Master ALL of the Concepts

Investment banks aren't looking for robots… they want to know that you understand the industry, that you can solve problems, handle stress, are good in front of clients and are a fit for their firm… You'll discover how to master all of these concepts - even if you only have 1 day to prepare...

Nail the Technical Questions

With 203+ questions and 10+ hours of videos across the 11 Key Technical categories… including 17 brainteasers, 20 charts and 184 Flash Cards for easy learning and retention… and 32 video Q&A's from banking veterans… so you won't leave a single stone unturned and will be 100% prepared for anything they throw at you...

Master the Behavioral Interviews

With 127 detailed questions and answers across the 5 "Fit" categories, you'll discover exactly how to master the body language, tone and attitude for any interview... and prove you're cut out for investment banking...

Build a High Impact Network

With 150+ questions and 15+ Hours of video tutorials… the 148 questions to ask your interviewer and 3 proven resume templates and 14 templates for LinkedIn, Emailing and Cold Calling… so you can get 3x your response rate, land more interviews and get support from bankers on the inside...
Get Bank and Position Specific Information

You'll have access to 515 of the most common interview questions organized across the top 33 investment banks, by position, so you can focus your preparation on what matters most...

Prepare Quickly and Level Up

With Rushed and Normal Timelines, showing you exactly what you need to know depending on how much time you have… and our Beginner, Intermediate and Advanced Paths so you can master the key concepts and stack your learning for maximum preparation in the shortest amount of time possible...

Get Exclusive Inside Info on Any Bank

With the WSO Company Database, you'll get exclusive data on compensation, interviews and employee reviews for hundreds of banks… access thousands of interview insights… so you'll know exactly which firms and positions are right for you...

See how IB veterans have done it with the WSO Video Library

You'll discover how professional bankers have answered the very same questions you'll be asked with 60+ hours of investment banking-specific videos… Watch recorded mock interviews, 32 detailed finance Q&A's and sample deals… so you can see exactly what works and what doesn't...
Our customers have landed positions at every major investment bank, including:

don't let one missed question cost you $150,000 ...
get the course that will prepare you better than anything else.
The WSO Investment Banking Interview Prep Course 6.0 takes you way beyond anything else. While others claim to give you everything you need, the truth is they only cover a few hundred questions. Even worse, they're written by one guy who's been out of investment banking for years…
Hardly what we'd call "comprehensive"...
And there's an even BIGGER problem with this approach:
It's totally outdated.
Investment Banking is constantly changing. What worked even last year is no longer effective. Your interviewers are smart… and they're constantly changing their questions and tactics for one reason: to put you under stress and see what you're made of.
That's why the WSO course is crowdsourced from thousands of currently practicing Investment Bankers… people who live and breathe this industry - day in and day out… who can tell you what's changing firsthand… and will keep you up-to-date on everything you need to ace the interview process and land that job.
And what you really need is this:
---
You Need to

Know Everything

Other guides boast that they have "hundreds" of questions. We have thousands. WSO covers 7,548 questions across 469 investment banks. Over 60 hours of IB specific video… Sourced from tens of thousands of data points… all so you can cover every base, prepare for any scenario… and walk into the room with total confidence...

You Need Something that's

Crowdsourced and Validated

Other prep guides look good, but the truth is most are written by ONE guy with only ONE perspective telling what they think is "right" from their dated experience YEARS ago… The WSO prep course was born straight from the source and is still updated every year: Crowdsourced for over a decade from over 100 million unique visitors and 500,000 members... with inside information from thousands of actual interviewers, analysts, associates and IB veterans....and validated by over 20,000 aspiring bankers just like you who have taken this course...

You Need to Learn

How to Interview

Not How to Memorize

To succeed you must do more than just memorize some technical questions and learn some "fit" concepts… You really need inside knowledge on the recruiting process, banking nuances and hidden recruiting tactics… Learn from our roster of thousands of actual interviewers, analysts and IB veterans, so you can nail the interview process with confidence.

You Must

Project Total Confidence

Interviewers can smell fear from a mile away. Without the proper body language, the precise tone of voice and the right attitude, your interview could be over before it begins. We've surveyed hundreds of actual IB interviewers to show you exactly how to act - and what you must avoid - so you can stand out from the crowd of wannabes and crush your competition...
How do I know this?
Because I've been down this path before...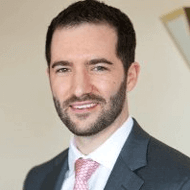 My name is Patrick Curtis, and I'm the founder of Wall Street Oasis. Not that long ago, I was in your position. I had a stellar GPA from a prestigious school, was a top athlete and held strong leadership positions. In short, I was confident, flying high and ready to ace my interviews…
Except I didn't.
During my first interview, I found out the harsh truth… I was blindsided by a completely unexpected question. I had no idea what to do, so naturally I tried to B.S.
But my interviewer saw right through it.
I knew I was screwed… and I had nowhere to hide. Instead, I had to sit there, sweating through my suit, red-faced and humiliated, while he dragged me through the ringer.
This same scenario repeated again and again… And this doesn't include the hundreds of times I got hung up on, blown off or outright rejected.
While my friends were landing great banking jobs with huge salaries, I was one step away from the ultimate indignity: selling mortgages at a community bank and moving back in with my parents.
(In fact, one of my friends graduated from the top his class at Georgetown, but failed the interview process and ended up selling Carnival Cruise packages to Midwestern tourists. I'm serious.)
After months of failure, I finally decided to suck it up and take a hard look in the mirror. I realized I was totally out of my element and needed help. I went back and analyzed each one of my failures and reconstructed everything I'd done wrong.
And then I got a mentor… An alum to take me under his wing and show me the ropes.
Finally, after 130 hours of additional work over 6 weeks, I had one last opportunity… the last round of interviews…
The work paid off. I landed just 1 of 12 coveted spots at Rothschild's New York office.
After 2 years, I moved into private equity, doubled my salary and was finally living the high life.
This course is the result of that experience. With the help of our 500,000+ members, we've created the only crowdsourced Investment Banking Interview Prep Course on the market. I know firsthand how hard it is to break into IB… and I also know what happens if you miss your window.
And with the help of our members - and of the thousands of industry veterans, analysts and interviewers who have contributed to this guide - it's my hope that you can avoid the pitfalls I experienced, land the job you want and catapult yourself to the lucrative career that's waiting for you.
So…
here's what you're going to get:
Module 1
Technical question mastery
Technical questions are a critical part of every finance interview… You WILL be quizzed on these questions – and your interviewers expect detailed and accurate responses. In this 110-page PDF is the most comprehensive guide on the market… We've got every base covered, so you'll be prepared no matter what your interviewers throw at you.

110-page PDF guide sourced from 3,000 technical IB interview insights...

203+ technical questions from the top 30 banks, with variations, explanations and answers, so you'll be prepared for every scenario…

10+ hours of videos, including mock interviews, sample questions and deal walkthroughs, so you can see exactly how IB veterans have answered the same questions you'll be asked…

Coverage of each of the 11 Technical Categories (Accounting, Finance, Valuation, Stocks, Bonds, Interest Rates, Currencies, Options, Derivatives and Mergers & Acquisitions)... so you can master the key industry concepts…

Master the 17 most common Brainteasers so you can demonstrate the one skill your interviewers are looking for: the ability to solve difficult problems under pressure…

20 Charts so you can visually understand critical technical concepts…
32 Video Q&A's from actual investment bankers so you can see how to structure responses to the toughest questions...

3 Statement Sample Financial Model... so you can master the accounting basics you're guaranteed to be tested on...

1-page cheat sheets for each financial statement so you can master the connection between each one...

Current events-related questions with explanations, so you'll be on top of the most relevant issues that are commonly quizzed...

Detailed explanations of LBO (leveraged buyout), Discounted Cash Flow and other valuation techniques so you can master the exact valuation methods used by IB and PE firms...

184 Flash Cards, so you can test and verify your knowledge before you walk into the interview room...

And much, much more...
Module 2
behavioral question mastery
Technical questions are only half the equation... Most candidates ignore the crucial behavioral part that help your interviewers answer one critical question: "Are you a fit for our bank?" But… this isn't something can you fake. You have to demonstrate it - by your body language, tone of voice, attitude and the way you frame your own story to make them believe you're the perfect fit for their firm. The Behavioral Fit Guide shows you exactly how to master this part of your interview.

100+ of the most common behavior & fit questions from actual interviews in the Top 30 Banks, including explanations, sample answers and detailed advice so you'll know how to respond to each one...

10+ hours of videos, so you can see actual examples of what to do and what to avoid…

The One Question that is guaranteed to come up in Every Interview - and exactly how to answer it…

The 3 types of impressions you MUST make, and how to strike exactly the right tone in any interview situation…

148 questions to ask your interviewer so you can demonstrate the knowledge and awareness few other candidates will possess…

How to demonstrate credibility so you interviewers know they can trust you with clients, executives and other VIP's...

The best way to answer the 5 trickiest Fit Questions so you can ace the part of the interview that trips up most candidates...
The easiest way to develop rock solid confidence before you walk into the room…

How to instantly identify the type of question you're being asked so you can perfectly map your answer to fit it…

How to pass the infamous "Airport Test" that can make or break your candidacy…

The right way to use body language, voice tonality and attitude so you'll look great in any situation…

The proven way to take any question, reframe it and use it to highlight your superior candidacy, even if you've never heard it before…

How to answer the difficult and scary Group Preference Questions that come up in every interview...

The simple method for taking your own, authentic story and reframing it so your interviewers see you as the highest status candidate...

And much, much more...
Module 3
networking mastery
Want to get the job? First you have to get in the door. But without a great network, nobody will know who you are. Even if your resume is great, it will end up lost in the pile of wannabe's, and your chances of landing even an informational interview will be almost zero. In this 71-page guide, we'll reveal everything we know about the fine art of networking… so you can meet the people who can get you what you want most: the job.

150+ Copy-and-Paste Questions for you to ask in an both informational and job interviews...

15+ hours of videos with insider strategies for successful networking...

14 Templates for LinkedIn, Email and Cold-Calling so you can easily build a rock-solid network, even if you hate meeting people face-to-face...

3 Polished WSO Resume Templates, pulled straight from our famous Resume Review service. Each template is based on thousands of successful resumes/CV's. Whether you're an undergrad, an experienced applicant or have deal experience, you'll have the pitch perfect Resume/CV...

The right way to network, so your resume is seen by those who matter - and not lost under a pile of wannabes…
21 things you must STOP doing right now so you can avoid networking failure...

How to increase your cold email response rate 3x with our 8-step resume guide...

The 8 proven negotiating steps so you can secure the best offer...

Our plug-and-play template so you can nail the critical 90 Second Elevator Pitch…

How to land critical info interviews without ever meeting anyone in person...

148 questions you can ask in your interviews so you can make a great impression – without sounding like a fraud...

And much, much more...
Don't take our word for it
Here are just a few of the
20,000 candidates

who have taken this course...

"Without a doubt, the WSO IB Interview Course 100% helped me. I bought it a few days before my interview and used it to cram. A few of the questions I was asked were directly lifted from the course guides...as a result of prepping with the packet, I got the job in [BBs] corporate banking energy team in Houston. Our team maintains the relationship with the clients and provides bank debt instruments such as RCFs, term loans, bridge loans, etc."

Result: Analyst @ BB in Houston

​​"Both of the fit and technical modules of the course were incredible. The fit portion was especially helpful for understanding what the job precisely entails and how the industry works. I was then able to clearly evaluate my own experiences and make the appropriate connections so that I could highlight the skills I could contribute. The technical module was also great since I hadn't taken any finance courses prior to recruiting, so it helped me focus on the more important aspects to have a better understanding."

Result: Internship @ Macquarie Group in New York

"This course helped me so much! All of the modules were great, but what I found most valuable was the firm-specific advice! In terms of results, I'm now a first year IB analyst in London!"

Oliver P.

Result: Analyst @ Elite Boutique Investment Bank in London

The WSO guides were extremely helpful. The technical guide covered all interview questions I was asked essentially and the behavioral guide is what made the difference and set me apart from other candidates.

Result: Summer Analyst @ Wells Fargo in North Carolina.

I would say the technical section and dummy models were the most helpful sections. I am very happy because I managed to get an internship at Barclays, London sitting in [industry group] M&A which converted to a full time offer starting in Feb 2017!

Result: Summer Analyst @ Barclays in London

The WSO IB Interview Pack helped immensely in my recruiting / interview prep. It was one of the main reasons I got in. It helped me a lot with the confidence aspect. Confidence in that I know what the job entails, what questions would be asked etc.

Result: Analyst @ Investment Bank M&A in South Africa

This was my main study guide and I landed the exact job I wanted, so obviously it was a great investment. The packet was excellent in helping me understand balance sheets, all that technical stuff. I went through 2 months of training afterwards at [BB bank] so I understand the packet even better (almost 100% now)...ha! More specifically, I got a job in Credit Risk covering Hedge Fund clients at JP Morgan.

Result: Credit Risk Analyst @ JP Morgan in New York
Bonus Modules:
Mock Deals, Sample Interviews
Proprietary Bank Intel and More...
bonus 1: WSO Video Library -12 Month Access
Get unlimited access to 100+ videos over 60+ hours, including mock interviews, detailed finance Q&A's, sample deals and real-world scenarios for a full 12 months… all from our veteran IB mentors. It is the most comprehensive video library on the maket, so you can out-prepare and outperform your competition...
60+ hours of exclusive IB videos, with more added each month...
100+ videos - including:

Recorded mock interviews

so you can see what works and what doesn't...

32 Q&A videos with experienced IB Professionals

from our Mentor Team...
Sample Deals so you can

see how veteran bankers have handled real-world scenarios...

20+ Template files: PPT and Excel files you can download and use to study...
Videos for the industry and position of your choice, including:

IB Analysts
IB Associates
Group & Division Specifics
Highlights of just some of what you'll have access to:

Best Practices for Technical Interviews
Technical Interview Prep
Transitioning from IB
Banking Fit Interviews
The 3 Secrets to breaking into S&T
Leveraged Loan Markets
Mastering the S&T Interview
Working for a market IB
How to decide between IB and S&T
Experience as an analyst at Goldman
How to go from a non-target school to a Bulge Bracket IB
Going from Engineering to Banking
How a Middle Market M&A Process Works
IPO's: How they're sold and valued…
And much more...
bonus 2: WSO company database - 12 Month Access
You've done all the prep and studied all the questions, but how do you know which banks, which positions and what salaries you should target? If you're using another prep guide, the answer is simple: you won't. With the WSO Company Database, you'll be able to find inside intel on compensation, position, employee reviews and the most common questions asked... so you'll know which firm is right for you.
7,548+ insights across 469 Investment Banks...
Coverage of over 1000+ firms..
Exclusive data on compensation by firm, division, city , position, benefits and bonus size..
1,000+ employee reviews to get the real juicy details on what it's really like on the inside...
---
1. Salary & Bonus Detail
Know how much you can expect to make at thousands of firms, across dozens of positions…
Quickly scan hundreds of companies for the min, max and media avg base salary and cash bonus by position...

2. Proprietary Company Insight
Compare companies across a variety of metrics, including overall rating, interview experience, relative compensation, diversity in recruiting, percent of interns getting offers and the top schools, majors and degrees targeted by each firm.
View quantified, percentile rankings of each firm - by position…
3. Inside Intel on
Any

Bank
Uncover what other candidates were asked in prior interviews at the same firm, so you'll be totally prepared…
Get insights about the most difficult questions, so that you'll past even the the toughest of tests…
Know what to expect before you walk in the door, so you'll be ready when that offer comes...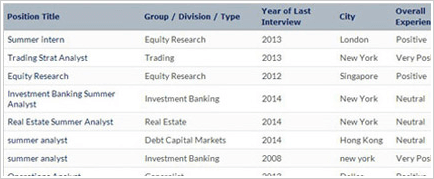 How Much is Your
Investment Banking Future Worth?
What You Get
Value

Module 1: Technical Question Mastery Guide

203+ questions, 10+ hours of video, 17 brainteasers, coverage of each of the 11 Technical Categories and more...

$449

Module 2: Behavioral Question Mastery Guide

100+ behavior & fit questions, 10+ hours of video, 148 questions to ask your interviewer and more...

$399

Module 3: Networking Mastery Guide

150+ questions to ask on your interviews, 14 templates for LinkedIn, Email & Cold-Calling, 3 WSO Resume Templates and more...

$349

Bonus 1: WSO Video Library - 12 Month Access

60+ hours of IB specific videos: webinars, mock interviews, 32 Q&A's and sample deals, 20+ PPT & Excel Templates and more...

$249

Bonus 2: WSO Company Database - 12 Month Access

7,548+ insights across 469 IB firms, Coverage of 1,000+ firms, Exclusive data on compensation, interviews & employee reviews and more...

$299

TOTAL VALUE

$1,745
Consider this your first investment
in a long career...
After all, you've likely already spent tens of thousands of dollars on college (and perhaps tens of thousands more on an MBA)... When you land your coveted Investment Banking job,
you'll be making well over $100,000...
...over $300,000 if you have an MBA...
And that's just the beginning of a long and very LUCRATIVE career that could easily net you millions.
We could easily charge thousands of dollars and your ROI would still be huge…
At a fraction of that price, the ROI is even better... a few hundred in exchange for millions of dollars down the line. When you do the math, it's a no brainer.
And that doesn't include the time you'd have to spend figuring all of this out. Even if you used the volumes of free information inside the WSO forum, you'd still have to find it, organize it, vet it, test it and systematize it to get it to work.
That would take months - maybe even years… and at that point, you will have missed your window, blown your opportunity and your chances of ever getting a job in IB will be slim to none.
All while watching your friends and classmates ride the elevators to the penthouses of investment banking, private equity and hedge funds…
The WSO Investment Banking Interview Prep Course gives you everything you need to nail your interviews, crush your competition and land the prestigious IB job you've always wanted… quickly and easily.
But we're not going to charge you thousands...
$1,745
We won't even ask for half of that..
$875
Instead.. 
Get Unlimited Lifetime Access To The
WSO Investment Banking Interview Prep Course for
89% off
$1,745
...or get access today for only $69
Secure checkout
100% Unconditional Money-Back Guarantee for 12 Months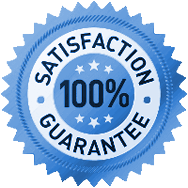 12 Month Risk-Free Guarantee
Your investment is protected by our 12-Month Risk-Free Guarantee. If, for any reason, you don't think the WSO Investment Banking Interview Prep Course is right for you, just send us an email, and we'll refund every penny. No questions asked. In short, you get a great return on your investment, or you get your money back. It's that simple.
Your Choice is Simple.
If you're reading this, you're here for a reason: because you want to be one of the very few who gets an Investment Banking job… and because you need help doing it.
Your opportunity really is limited… you have one good shot. If you don't land an IB job, your chances of breaking into the industry are slim to none, because the banks will know you're damaged goods. Don't believe me? Talk to my friend who was selling Carnival Cruise packages after he failed his interviews.
Because the hard truth is that Wall Street is literally flooded with millions of people just like you and me: college hot shots, finance wizards, math geniuses and even IB interns with actual deal experience… and most of them still end up on the outside looking in.
The banks have the pick of the litter, and only those who are superbly prepared, who have mastered all the concepts and who understand the subtle nuances of interviewing will get the job.
Do that, and you'll gain entrance to a world few people will ever glimpse.
So…
What do you want to be doing? Living in a penthouse, working on multibillion dollar deals and climbing the elite ladders of finance?
Or living with your parents, selling mortgages in the suburbs and watching your friends having the lucrative career that should have been yours.
The choice really is yours. And your opportunity really is limited.
Don't waste it. Click here to get instant access and get started on your career as an investment banker.
20,000 people can't be wrong...
Join the other successful candidates and get started:
Secure checkout
100% Unconditional Money-Back Guarantee

Still not convinced?
Hear from more
people like you

who have achieved

incredible results...

"This guide is a great resource for anyone going into investment banking interviews. The questions in this guide helped me successfully land the full-time job I have today! I can honestly say after preparing the questions in this guide I almost never received a question I hadn't seen before or wasn't ready to answer due to the suggestions the WSO guide provided."

Result: 1st Year Analyst, Goldman Sachs, Sales and Trading

"The WSO package was very helpful preparing for interviews. All of the questions that were asked were covered in the materials. I secured an offer at a boutique investment bank and stayed there for about a year and a half. I even then used the prep material to subsequently secure a job at a VC/PE firm where I am currently at."

Result: Senior Analyst @ Investment Bank in Chicago

"The IB Interview Prep pack was perfect - really covered all the bases. I landed a job at [bulge bracket bank] in [large UAE city] - only analyst position for 3 years to follow. 1 out of 480 applicants."

Result: Analyst @ BB IB in UAE

"The WSO IB prep pack was far and away the most helpful resource relative to the other packs available out there. The questions and answers were well thought out and prepared me for a much broader range of questions than the others. Can't say I was over prepared, but it sure felt like it!

Also, the results were great. I landed offers from both BBs and boutiques. Obviously accepted the offer from my top choice."

Associate @ Investment Bank in Houston

"What I loved about the Prep Pack was that it taught me how to tackle many different types of interview questions, not only IB questions. Thanks to it, I got multiple internship offers. I got 2 offers at investment banks. 2 offers from the Big 4 (in the corporate finance department). Also one offer at a asset management firm and a financial consulting firm and from a MBB firm. I also landed one additional final round interview at another Investment Bank."

Result: Multiple Offers from IB's
Remember...
This is your last chance to land that coveted Investment Banking job.
Less than 2% of applicants ever get accepted into Investment Banking. Will you be one of them... or will you just be another statistic who ends up working in a back office somewhere or selling mortgages at a community bank?
We'll give everything you need so you can you land the IB position you want... how to master the technical questions, ace the behavioral questions and build a rock-solid network... Our mentors will guide you through gauntlet that is interview process... and we'll unlock the door to one of the most exclusive, secretive and lucrative professions in the world.
You'll be getting the only Investment Banking Interview Prep Course that's been crowdsourced from 500,000 members, thousands of actual interviewers, analysts and IB veterans and tens of thousands of data points.
And with 7,548 questions across 469 banks with 60+ hours of video instruction, it is, quite simply, the most comprehensive course you can get. Period.
You'll get our:
Technical Mastery Guide:

203+ questions, 10+ hours of video, 17 brainteasers and coverage of each of the 11 Technical Categories...

Behavioral Mastery Guide:

100+ behavior & fit questions, 10+ hours of video and 148 questions to ask your interviewer...

Networking Mastery Guide:

150+ questions to ask on your interviews, 14 templates for LinkedIn, Email & Cold-Calling and 3 proven WSO Resume Templates...

WSO Video Library - 12 Month Access:

60+ hours across 100+ videos, including mock interviews, Q&A's and sample deals...

WSO Company Database - 12 Month Access:

Proprietary intel taken from 7,548+ insights across 469 Investment Banks...
But your window of opportunity really is limited. If you fail to land an IB job, banks will know you're damaged goods and they won't touch you with a ten-foot pole. It really is make or break time - not just for this job, but quite possibly, for your entire career and maybe even your life.
I'm not exaggerating... Landing a job in Investment Banking is the stepping stone to the career in finance everyone dreams of... a launchpad to private equity, hedge funds and the IB executive suite... not to mention multibillion-dollar deals, lucrative salaries and access to a world few ever get to see.
So...
You can try to do this all yourself and then pray you get the job, or...
You can stand on the shoulders of the IB veterans who have come before you, learn their secrets, shortcuts and all their tricks so you nail your interviews, crush your competition and be one of the few who gets into the ultra-exclusive door of investment banking.
Sign up now, and I'll see you on the inside...
Join the 20,000 candidates just like you
who have already taken this course:
Secure checkout
100% Unconditional Money-Back Guarantee