REAL ESTATE MODELING BOOTCAMP - 4 HOURS
The Wall Street Oasis
Introducing...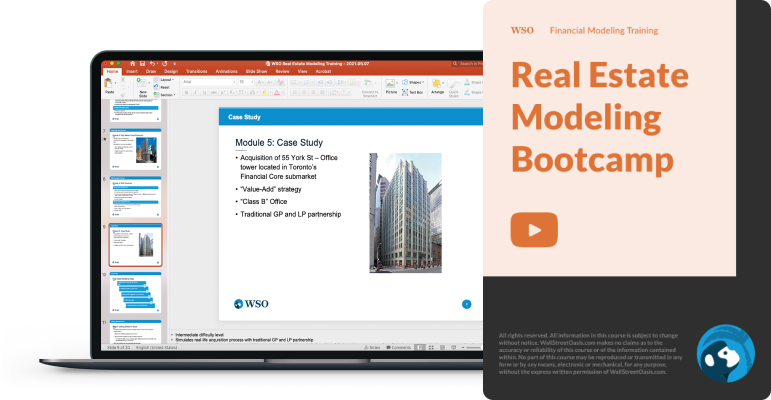 WHAT YOU'LL GET IN THIS VIRTUAL BOOTCAMP
Get Taught by The Best
Taught and vetted by actual industry professionals. Understand key real estate modeling theory and mechanics and learn the three primary types of CRE strategies and the structuring deals. Course content is continually reviewed and updated.
Master Excel Shortcuts
Learn how to save time and enhance productivity, establishing trust and stability of senior team members by demonstrating an excellent grasp of Excel. As an analyst or associate, you will "own" the model.
Best Practices
Learn the things you should and should not do on the job to make sure you're presenting yourself and your work in front of colleagues and senior team members in the best light possible. We go over common mistakes and errors analysts and associates make starting out and give tips to put yourself in a better light.
Case Study
Put everything you learned in practice with a step-by-step walkthrough of the 55 York St. Acquisition case study. You will learn and apply the five steps of Real Estate Modeling, use a third-party software called Argus, calculate key metrics, and conduct sensitivity analysis. We wrap the case study up by providing our final investment thesis to the investment committee.
All Upcoming WSO Live Bootcamps
| | | | | |
| --- | --- | --- | --- | --- |
| | Private Equity Interview 1-Day Bootcamp OPEN NOW - Only 30 Seats | January 29, 2022 - 10:00AM EST | $497 | View |
| | Financial Modeling & Valuation 2-Day Bootcamp OPEN NOW - Only 30 Seats | February 26 - 27, 2022 - 10:00AM EST | $997 | View |
| | Financial Modeling & Valuation 2-Day Bootcamp OPEN NOW - Only 30 Seats | April 2 - 3, 2022 - 10:00AM EDT | $997 | View |
Our students have landed and thrived at positions across all top Real Estate firms, including:

Don't Take Our Word For It
Here are just a few of the candidates who have been trained for RE modeling by WSO...
"I like the course in general. It gives a good overview of real estate modeling with interesting examples. The course gave me insight in how to categorize incomes and expenses in a neat and structured way."
"Not having any exposure to Real Estate Financial Modeling, I found the videos to be helpful to listen to, Austin does a great job explaining what he does in each video segment. As someone who just graduated in May and taking no real estate courses in college (majored in Finance), it was easy to understand...Overall the course was great, it's very informative and saved me a lot of time from not having to look up in-depth and try to read how to make a financial model for different properties."
"I really enjoyed the course because of how detailed the modeling was and that the instructors provided a number of different cases covering a wide range of asset classes. The instructions were easy to understand, and speaking as someone who had worked in real estate in the past, I can testify that the models are detailed and practical in the actual work of a real estate fund."
"Since I have very little prior knowledge of real estate modeling, this first course already helped me to understand the basic concepts of this modeling approach. The instructor has a very good way of explaining the excel build and the links between different parts of the model."
 
How Much is Your
Finance Career Worth?
What You Get

Value

WSO Real Estate Modeling Bootcamp

4 hours of live instruction taught by an elite Real Estate professional...

$997

Interactive Modeling Case Study from Real life with Templates

Realistic practice drilling the concepts with an actual modeling test you see in the toughest RE interviews...

$449

TOTAL VALUE

$1,446
1
Consider this your first investment
in a long career...
After all, you've likely already spent tens of thousands of dollars on college (and perhaps tens of thousands more on an MBA)... When you land your coveted real estate job,
you'll be making well over $200,000...
But we're not going to charge you thousands...
$1,446
We won't even ask for half of that..
$723
Instead.. 
Attend the 4-Hours Real Estate Modeling Virtual Bootcamp For 86% Off
Secure checkout

Frequently Asked Questions