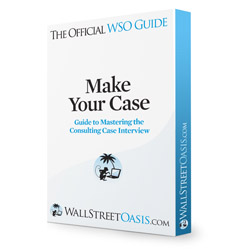 Make Your Case: Master Consulting Case Interviews
NEW 2014 VERSION WITH REAL CASES & QUESTIONS FROM ACTUAL INTERVIEWS - BY FIRM AND POSITION! This 195 page guide is the only tool you will need to master consulting case interviews. This guide was created to provide prospective management consultants a thorough review of the consulting case interview process so they can successfully land that competitive position at McKinsey, Bain, BCG and other top consulting firms.
Written by a current McKinsey consultant, this publication includes not 4, 6, or 8 consulting practice cases, but a full 11 original cases found only in this WSO guide. We included 11 challenging consulting practice cases so that by the time you are done preparing with this guide, you will have mastered the art of the consulting case interview and will stand out as an exceptional candidate. This is an electronic pdf so you get everything immediately and can start studying right away.
Start Your Case Interview Prep Here
Make Your Case was written with the following goals in mind:
Easy to Use - The most important part of consulting case interview prep is practice, practice, and more practice. The 11 original practice cases found in this guide were created from real case interviews from the top management consulting firms. Make Your Case was written with one key piece of insight that other consulting guides miss: quality consulting case practice only comes from a well-prepared interviewer. This guides simple consulting case interview format allows the most inexperienced interviewer give you the practice you need.
Efficient - Make Your Case was written for the on-the-go prospective consultant. We know that your time is already limited, so why add anything to your schedule that is unnecessary? The WSO guide gives you a Plan of Action so you can organize your preparation around your already busy schedule.
Essentials - The publication includes frameworks, math problems, and industry overviews . . . Make Your Case gives you the essential tools so that you'll be comfortable tackling any of these issues during a consulting case interview. By surveying management consultants across various top firms, the guide extracts the frameworks, math problems and industry information that are vital for your success.
Make Your Case includes:
11 Challenging Consulting Practice Cases to sharpen your case interview skills
100+ actual questions and cases asked in real interviews at the top 10 consulting firms
5 critical frameworks to help you tackle consulting case interviews, plus 7 other frameworks reviewed in detail
Detailed review of the consulting case interview structure and case types to expect
10 math fundamentals you need to know
Plan of Action to structure your preparation
Interviewer instructions to guide beginners on how to give you a valuable mock case interview
Make Your Case is the most efficient, essential, and easy to use consulting case interview guide on the market. If you're tired of sorting through hundreds of pages of interview guides, look no further. WSO strips out all the unnecessary and superfluous information to give you what you need to succeed. This guide gives you the tools to deliver a structured, creative and engaging performance in an interview so that you can MAKE YOUR CASE!
Start Your Case Interview Prep Here
Testimonials:
This guide is an accelerator for anyone preparing for management consulting case interviews. It is packed full of unique insights because the author harvested contributions from recent MBA grads who succeeded through the case interview process and are now working at the best firms in the world! It's like getting coached by an insider – READ IT! I'll have a copy on my desk.
—Associate, McKinsey & Company, Montreal
The Wall Street Oasis guide to consulting case interviews is exceptionally well structured and highly relevant to the case interview process. It clearly explains how to approach the case interview and provides interviewees with the most important tools and frameworks to succeed in a case environment. The examples closely mirror those of real cases and help interviewees to get comfortable using frameworks to solve complex business problems. I only wish I had read through this prior to interviewing!
— Former Associate, Bain & Company, Boston
The Wall Street Oasis guide is the most complete blueprint to mastering the consulting case interview on the market. This guide provides a powerful framework, real-world anecdotes, and sage advice necessary in order to differentiate yourself from the crowd. I recommend this guide to anyone interested in working for a top consulting firm.
— Consultant, Deloitte, Chicago
This Wall Street Oasis guide will be an incredible resource for anyone considering a career in consulting.
— Former Associate, Bain & Company, San Franscisco