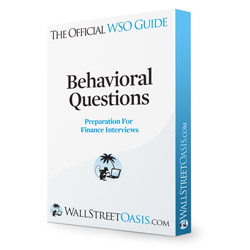 WSO Behavioral Interview Guide

Please read our recent big announcement about our guides by clicking here.
Updated and Revised! This 63-page guide of behavioral interview tips is a compilation of over 100+ of the most common behavioral interview questions and answers you should know before stepping into your first Wall Street interview. Unlike other behavioral interview guides, we give you with detailed advice and specific sample answers. This behavioral interview guide was created to provide prospective financiers a thorough review of how to craft their story and how to answer the most common fit interview questions on Wall Street. This is an electronic pdf so you get everything immediately and can start studying right away (unless you pay with an echeck which can take 3-4 days to verify). This type of finance job interview is different from a traditional interview in that rather than anticipating what you might do in a professional situation in the future, they instead ask you questions about how you handled situations in the past. To learn how to master this type of job interview, check out our guide for tons of helpful behavioral interview tips and advice.
Get the Fit Guide to Your Inbox Now
New features of the second version include:
Expanded general behavioral interview tips and preparation
New questions
Sample answers to every single question
More advice on how to respond
Additional advice on asking the interviewer questions and over 30 sample questions to ask.
IB Prep Pack: Save $20 & Buy 3 Guides in 1
IB Prep Pack includes the Technical Interview Guide, Behavioral Interview Guide and Wall Street Networking Guide.
Behavioral interview questions are part of almost every finance interview. There are certain questions you can always expect to get but often candidates are unsure of the best approach. In this behavioral interview guide we not only give you specific guidance but we also provide specific examples. That is the difference between this guide and others. A sample response of what an interviewer is looking for is provided for every question. In this difficult market and competitive industry it is important to gain any edge you can, and these behavioral interview tips are the place to start. If you put in the time to review, this guide will give you that edge.
Types of questions that are included in this guide:
The One Question You WILL Get In Your Interview
Industry
About You
Situational
Tricky
Other
Good luck and please let us know if you have any suggestions for improving the Behavioral Interview Guide by sending an e-mail to [email protected].
Get the Fit Guide to Your Inbox Now
Testimonials:
All I can say is I wish I had the Wall Street Oasis Behavioral Guide before I went into my banking interviews. I was well prepared for some of the fit questions that came my way, but others challenged me. With the extensive number of questions in this guide and the sample answers, I would have felt prepared to handle almost anything.
— 2nd Year Analyst, Credit Suisse, Mergers and Acquisitions
I have purchased the Technical, Behavioral and Networking guides. All of them are great! I bought the Vault guides for $25 or $30 or whatever, but I think these guides are actually better.
— NewIBHire27
The WSO Behavioral Guide was an amazing tool. It helped me land 2 offers (IBD and S&T, both bulge brackets) with very positive feedback. I would definitely recommend it to my peers.
— Hannah N.
I've owned several interview prep guides, this being my second WSO guide (first was for Technical Interviews), and the products that WSO has produced are by far the best ones I've seen. The Behavioural Guide covers most, if not all, of the questions you'll get in an interview (I recently interviewed with an elite boutique, some of the questions I was asked were almost identical to the ones in the guide). I will tell you up front that you should not expect the "perfect" answer to each and every single fit question you'll be asked, because the guide does not provide them. What it does provide, however, is the FRAMEWORK that you need to formulate your own, genuine, answer -- this is what interviewers are looking for! Overall, I am very satisfied. Combine this with the tech guide, and you'll be set for 90-95% of the questions thrown your way during interviews.
— Mez B.
I didn't read Wall Street Oasis Technical and Behavioral Interview guides until after my first year in my MBA program, and frankly they contained everything I had spent the last year learning to get a job on the Street. I highly recommend them to anyone preparing for an interview, finance or other. It's a heck of a lot cheaper than an MBA (not to mention faster and more to the point).
— MIT Sloan MBA, Class of 2009
I got the guide the night before my interview, and reviewed all the questions and answers. When these questions came up in the interview, I completely aced them and landed an S&T offer in my sophomore year!
— Moses
The behavioral guide was just as useful as the technical guide. A lot of people don't focus as much on the behavioral section of interviews, but interviewers really have an idea of what they want to hear in answers. This guide provided great tips on words to mention, stories to tell, and gave an example of a "good" response for almost every question.
— Scott M.
IB Prep Pack: Save $20 & Buy 3 Guides in 1
IB Prep Pack includes the Technical Interview Guide, Behavioral Interview Guide and Wall Street Networking Guide.