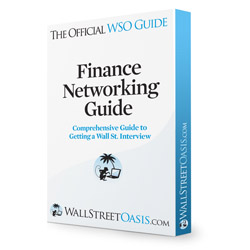 WSO Networking Guide
UPDATED VERSION: Inside the WSO Finance Networking Guide, you'll get a comprehensive, all-inclusive roadmap for maximizing your networking efforts (and minimizing embarrassing blunders).
Networking Mastery Starts Here
This info-rich book is packed with 71 pages of detailed strategies to help you get the most of your networking, including:
148 Copy-and-Paste Questions for you to ask in an interview (both informational and actual interviews)
How to navigate LinkedIn and Cold Calling/E-mailing with success including 14 message templates
8 easy-to-follow tips to make sure your resume makes a great first impression
3 Polished WSO Resume Templates (Word files) from our famous Resume Review service included (one for undergrads, another for experienced applicants and another for experienced applicants with deal experience)
21 things you should be doing RIGHT (and right NOW) for networking success
How to AVOID networking failure
How to make a huge impression at business conferences
8 crucial steps to make sure you are negotiating your offer properly
A plug-and-play template for that crucial 90 Second Elevator Pitch

As a reminder, this guide is an electronic pdf so you get everything immediately and can start reading right away.
IB Prep Pack: Save $20 & Buy 3 Guides in 1
IB Prep Pack includes the Technical Interview Guide, Behavioral Interview Guide and Wall Street Networking Guide.
Testimonials:
I was tired of the typical advice from my advisor, and decided to get my hands on the WSO Networking Guide. It has been paying dividends since. It was easy to understand and offered practical advice I could use for every setting. I not only found my 'style', but it helped me land my current job. A+ material WSO. Will definitely recommend it to my friends.
— Chris
After a few years in finance, what I've realized is that most important skill you can have on Wall Street nowadays is the ability to sell yourself. The networking guide is a Bible for how to meet the right people and, more importantly, maintain those connections.
— Daniel
The WSO Networking Guide is perfect for anyone who wants to network more effectively. Like many people, I was worried that I may not be networking as well as I could, and this guide definitely helped me step up my game. Many of the tips and ideas from it helped me land my current job. If you have any doubts about your networking skills, buy this guide!
— Michael
By applying the years of experience of WSO contributors, the Networking Guide helped me get a leading edge over other applicants. More specifically, the WSO Networking Guide assisted me in polishing my resume, cover letter, and interpersonal skills.
— Giorgio
The information found in this guide is practical and very useful. It is definitely a resource that I turn to in my job search, and I would recommend it to anyone looking to gain an edge in their job search.
— Albi H
The Networking on Wall Street guide is so detailed that even the most socially awkward person can't mess up. From social cues to letter formatting, every aspect of making a positive, lasting impression is covered. What I especially like is that the content is direct and simple, helping you easily apply it. Immediately after finishing, I used one of the cold calling templates to secure a meeting with an alumni in my industry of interest. It doesn't get much better than that.
— Jake Z
The WSO Networking Guide has shed light on some of my poor networking habits that I would have not known otherwise. I recommend this guide because it helped build confidence in my networking skills, which will leave a strong impression in the eyes of employers.
— Harry D
I used this guide to learn how to cold email and ask alumni for possible internships, it was very difficult especially since it was my sophomore year. But the guide helped me learn how to approach these people and ultimately helped me in securing an interview!
— Moses
From utilizing Linkedin to networking with alumni, I have found the WSO networking guide to be a great compilation of networking tips and templates. This guide is truly a must have for job seekers in the finance industry.
— Alan C
Although I have been working in investment banking for a while, the networking guide was useful for the lesser known nuances of investment banking networking. I also gained a better idea of how to network with professionals from other industries such as private equity, venture capital, and hedge funds. For these reasons, I was able to successfully secure a buy-side offer recently.
— Kevin