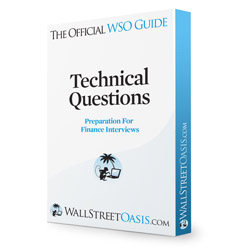 WSO Technical Interview Guide
Please read our recent big announcement about our guides by clicking here.
Updated and revised! This 110+ page guide is a compilation of the most common technical questions encountered in Wall Street interviews.
The Fourth Edition includes 50 more questions, 7 more common brainteasers, 16 new and expanded charts and a 3 statement Sample Financial Model built to illustrate the typical valuation methodologies used in investment banking and private equity firms. The guide is an electronic pdf and the model is an Excel file so you get everything immediately and can start studying right away.

Get the Tech Interview Guide to Your Inbox Now
The 4th Edition Includes:
Sample Financial Model - 3 financial statements, DCF and other valuation techniques
250+ of the most Common Questions With Sample Answers
Common Brainteasers and Solutions
30+ easy to read charts to help you remember what you read
Income Statement, Balance Sheet, and Cash Flow Basics
One page tutorials on how to read each of the financial statements
Current events related interview questions and explanations (including the European Financial Crisis and Mortgage Crisis)
Detailed LBO (leveraged buyout) explanation
IB Prep Pack: Save $20 & Buy 3 Guides in 1
IB Prep Pack includes the Technical Interview Guide, Behavioral Interview Guide and Wall Street Networking Guide.
UPDATE:Wall Street Oasis has also released a new supplement to the technical guide in the form of flash cards! We provide you with 184 questions and answers from the technical guide to help you prepare in the best format possible. The flash cards are part of the guide PDF which you can print on any double-sided printer, cut out the cards, and begin studying right away!
Technical questions are part of almost every finance interview. While the level of difficulty of these questions vary from firm to firm, you will undoubtedly be quizzed on technical questions in at least one round of interviews. Detailed and accurate responses will more likely impress your interviewer and help you land the job. In this difficult market and competitive industry it is important to gain any edge you can. If you put in the time to review, this guide will give you that edge.
Good luck! Please let us know if you have any suggestions for improving the Technical Guide by sending an e-mail to [email protected].
Types of questions that are included in this guide:
Accounting, Finance and Valuation
Stocks
Bonds and Interest Rates
Currencies
Options and Derivatives
Mergers and Acquisitions
Brainteasers
and Other
Get the Tech Guide to Your Inbox Now
Testimonials:
Just got the new technical guide. By far much better than vault. Very detailed (80+ pages) with charts, graphs, etc. I'll be reading this at least once this summer in prepping for fall interviews.
— banker88
The WSO technical guide is awesome! I landed a FT Citi IBD job with it!
— R.S.
Just bought the guide, and I can say that it really goes into a lot of detail to introduce and expand on certain concepts.
—- Sisak
I bought the Vault guide and there is a lot of fluff, this guide is straight to the point. Question, explanation, sample response. It was amazing. Going into my interviews and superdays, I almost never got a single question that I hadn't seen before, or wasn't able to work my way through.
— Scott M.
The new Wall Street Oasis Technical Guide provides questions and easy to understand answers for all the questions I typically ask when interviewing a candidate. The additional questions expand the guide, and the new charts are an added bonus for easily remembering the crucial concepts. If a student really knows all the questions in this guide, they are sure to nail the technical section of their interview.
—Vice President, Goldman Sachs, Sales and Trading
I bought it as well! Pretty awesome simple format...walks you through the answers and then gives you an example of what exactly what to say in an investment banking interview. Breaks it down from beginner to intermediate to advanced questions for investment banking interviews and S&T.
— slkyswtbllr05
I'd like to thank you - I just bought the investment banking interview guide and it's absolutely amazing.
— Goon
The book is fantastic! It's got the questions and answers that you need to know. It also has a very easy to use format...
— Kaba Modern
Thumbs up on technical interview guide. It was definitely helpful.
— Jamie Dimon (WSO username, not the actual Jamie Dimon)
This guide is a great resource for anyone going into investment banking interviews. The questions in this guide helped me successfully land the full-time job I have today! I can honestly say after preparing the questions in this guide I almost never received a question I hadn't seen before or wasn't ready to answer due to the suggestions the WSO guide provided.
— 1st Year Analyst, Goldman Sachs, Sales and Trading
Just got the technical guide today. Nice breakdown of beginner/intermediate/advanced questions depending on your background.
— Mez
I didn't read Wall Street Oasis Technical and Behavioral Interview guides until after my first year in my MBA program, and frankly they contained everything I had spent the last year learning to get a job on the Street. I highly recommend them to anyone preparing for an interview, finance or other. It's a heck of a lot cheaper than an MBA (not to mention faster and more to the point).
— MIT Sloan MBA, Class of 2009
The technical investment banking interview guide is great. Detailed.
— Fudbox
I have found the guides to be very thorough and highly relevant for individuals looking to prepare for finance interviews and internships.
— - Junkbondswap
I have purchased the Technical, Behavioral and Networking guides. All of them are great! I bought the Vault guides for $25 or $30 or whatever, but I think these guides are actually better.
— NewIBHire27
The WSO Technical Guide has been extremely helpful. It's written in an easy-to-read format with plenty of examples and simple explanations. Being from a non-target with minimal background in finance, the guide acted as my bible throughout the SA recruiting period. Without it, I would not have been able to land the offers I did. It was instrumental to my success.
— Arnav G.
I just wanted to commend WSO for producing such a great product. I bought the WSO technical interview guide for finance interviews and it was easily the best 30 dollars I have spent in a long time. I attend a liberal arts school and was able to land a job with Prudential Fixed Income Investment Management, who usually only hires finance/accounting majors.
—Marc
My sister gave me you technical interview prep guide when I was a junior at Lehigh - coming from a "non target school", I blew away interviewers with what I'd learned and got an internship (and subsequently a full time offer) from UBS as a high yield desk analyst.
— Rekha
The first time I heard about Wall Street Oasis and their interview guides was following a first round summer analyst Investment Banking interview. I was interviewing with an analyst who came from a non target school just like me and in asking what resources he recommended in prepping for the Super Day, the only thing he suggested was the Wall Street Oasis technical interview guide. He said every question in his interview was covered in that guide and thanks to Wall Street Oasis, I was extended a summer analyst spot for that IB program. An alum at that bank actually said my interviewers thought I was very technical. Out of all the online interview prep resources I worked with, the best had to be Wall Street Oasis' technical guide. It is honestly the only resource you'll need in preparing for any finance interviews.
— Sabrina
Didn't think I would get a response. I come from a non-target in NYC and used your interview guides to prepare for my superday at a BB. I received an SA offer the very next day. So huge props to Wall Street Oasis and thanks again!
— Pete
IB Prep Pack: Save $20 & Buy 3 Guides in 1
IB Prep Pack includes the Technical Interview Guide, Behavioral Interview Guide and Wall Street Networking Guide.