How Much Austerity Do We Need?
O
Points)
on 5/28/12 at 10:50pm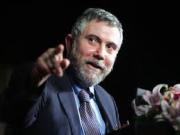 I've never been one to embrace austerity. The word sounds so unpleasant, as if one were forced to swallow a bitter-tasting pill that produces nausea, dry skin, and rapid weight gain--all this while promising to cure a disease that feels more benign than the remedy's side effects.
Paul Krugman, Nobel laureate of The New York Times, doesn't like austerity either. He's written column after column, and now a book, attempting to persuade the European Union, the United States, and Great Britain, among others, to adopt a more "growth-oriented" approach. I think "growth-oriented" means "spending more of the government's money."
Here is an excerpt from Mr. Krugman's May 27 column:
Yes, Virginia, Cameron/Osborne are sharply tightening fiscal policy in the face of a depressed economy.
Finally, about America — yes! We're doing a lot of austerity! Not as much as Britain, I think (although the numbers are hard to parse), but when you count in state and local government we're doing a lot of contraction. But that doesn't reflect deliberate policy, certainly not on Obama's part; it reflects deadlock in Washington and the fiscal woes of state and local governments.
The point is that Britain is choosing to emulate both the United States and the troubled nations of Europe when it doesn't have to — all in the name of an economic theory that was foolish two years ago, and completely discredited now.
However, not everyone believes that we're behaving in such an austere manner. One such naysayer is Veronique De Rugy, who believes that governments may include spending cuts in their original plans to stimulate their economy, but, more often than not, those spending cuts never occur. Ms. De Rugy is a Mercatus Center economist who writes a blog called "The Corner."
This is what the blog www.reason.com, of which Ms. De Rugy is also a contributor, had to say about this issue:
Characters such as Paul Krugman keep saying that austerity - by which they usually mean significant cuts in government spending - has been tried in Europe and has simply tanked the economies over there (and here). De Rugy has consistently made a few related points that Krugman, folks at the Wash Post and Economist, and elsewhere, have gotten around to acknowledging. Most European countries tried what's called "a balanced approach" to reducing debt and deficits. That is, they raised taxes (rarely a good idea and a really bad one during a weak or contracting economy as it punishes activity) while either cutting relatively small amounts of spending or simply promising to cut spending while in fact raising it.
And this is Ms. De Rugy in her own words on May 21:
Then what? In this piece in the LA Times on Friday, I argued that European countries should stay away from the "balanced approach" to austerity, that is, some spending cuts coupled with counter-productive tax increases. Tax increases (private-sector austerity), especially in times of economic contractions, are never a good idea or a good way to promote growth. That's true even in a Keynesian model. Yet, we aren't hearing anti-austerity advocates complain loudly that Europeans are raising taxes. Where are the headlines saying, "Europe needs to stop raising taxes"? Instead, we read that spending, and the lack of it, is to blame for austerity. Maybe that's because acknowledging that austerity through spending cuts and tax increases has produced terrible results in Europe makes it hard to continue calling for tax increases–even if only on the rich–in the the US's weak economy.
Obviously, I disagree that stimulus through spending should be pursued in Europe. Instead, along with cutting taxes, failing European governments should cut government spending. This form of austerity accompanied by the "right policies" (according to Harvard's Alesina that's easy monetary policy, liberalization of goods and labor markets, and other structural reforms) is more likely associated with economic expansions rather than with recessions. As I explained before, this makes intuitive sense: Austerity based on spending cuts (austerity in government) signals that a country is serious about getting its fiscal house in order in a way that taxing and more spending does not.
So there you have it. One side argues that we're too austere. The other side argues that we're not austere enough. For those of us in the "not austere enough" camp, the Obama budget proposal is yet another example of balanced austerity at work (or not at work). From now until 2017, spending goes up and projected revenue goes up right along with it. And the goal is for deficit spending to be within 3% of GDP. I wish us luck.