Insider trading or plain old deductive reasoning?

Points)
on 8/16/11 at 8:17pm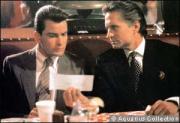 I want to be surprised. Astonish me, pal, new info, don't care where or how you get it, just get it.
I'm going to make you rich, Bud Fox, rich enough you can afford a girl like Darien. This is your wake up call, pal. Go to work.
Oliver Stone may have intended for Gordon Gekko to be the devil incarnate, but one thing that always surprised me is why he actually ended up in jail. Nowhere in the movie did he tell Bud to do any of the unscrupulous things that he did. Surprise me doesn't translate to steal info on mergers by impersonating a janitor, and as far as I'm concerned, following a guy around and deducing that he'll buy Annacott Steel isn't privileged information at all.
Unfortunately, this seems to be the case with the SEC's newest target as well.
The SEC is now suing fund manager Toby Scammell for insider trading after his Marvel call options netted him over 190 grand when it was taken over by Disney, citing that he got inside information from his girlfriend who was an extern for Disney at the time. The SEC alleges that he had access to his girl's blackberry as well as literature on the deal, helping him figure out that Disney was in the midst of a major acquisition, and that she unknowingly divulged when it would happen when she said that the project will be done in time for them to attend a wedding.
Thing is though, it was pretty much an open secret back then that Disney was out to takeover Marvel, it was just a matter of when and for how much. Seeing that he figured out the when part in a totally unrelated conversation doesn't qualify as material information if you ask me, and guessing that the price would be between $45-$50 seems pretty logical for a company that traded at $41 at its peak as well - a bit low even.
What about you monkeys? Do you think this guy traded on insider info? Or did he just make a couple good guesses?
Scary things happen when you take away the SEC's porn man...
People like Coldplay and voted for the Nazis, you can't trust people Jeremy