Why CEOs Should Stay Out of Politics

Points)
on 5/10/12 at 6:51pm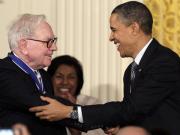 In the past few months I've read various articles—see here, here and here—asking whether Warren Buffett and Berkshire Hathaway are past their prime. Looking at Berkshire's fundamentals, the obvious answer is no. Net income per share has doubled since 2002, while $86 billion has been spent on investments in the past 5 years alone. So what's changed?
Warren Buffett got political. Ok, he's always been a little political, but after introducing the Buffett Rule, he has dug himself into a dangerous hole. Buffett is one of the most respected investors of all time (my personal favorite), yet in the past year, his very public stance on taxing the rich has stirred up controversy in all corners of the country. More importantly, it has alienated conservative investors and future business partners.
From Slate

The Buffett Rule fuels a perception that the Berkshire boss has chosen sides - not just on taxes, but in a take-no-prisoners political battle being waged far from America's heartland. That isn't necessarily good for Berkshire. The company's stock has underperformed the S&P 500 index this year, a disturbing trend that is already making shareholders cranky. Throw in a piece of contentious legislation bearing Buffett's name that looks designed solely to score points on the campaign trail and it could tip the scales for many investors.
Should CEOs steer clear of controversial political issues? As a shareholder, how would you feel if the head of your company was so vocal over issues like abortion, gay rights and tax hikes?
At Berkshire's recent annual meeting, far too many questions focused on the Buffett Rule and its implications. Those are questions that could have been better spent focusing on the primary business activities of the company itself—takeovers, new investment opportunities, etc. Similarly, Goldman CEO Lloyd Blankfein has admitted that he has already lost one major client over his stance on gay marriage, which he supported in a series of YouTube spots a few months ago.
On the flip side, investors who shy away from great companies because of petty political divisions could be missing out on future returns. Berkshire is a company with a very bright future headed by one of the most intelligent investing minds in history. A shareholder may disagree with the Buffett Rule and sell, but that just means there will be more cheap shares for everyone else. But as the political issue more heated and divisive, more and more people will sell. That could be a problem.
So what do you think? Could CEOs' political convictions alienate investors and end client relationships? Would you sell shares of a company too involved in politics?
See my WSO blog
"The only thing that interferes with my learning is my education." Albert Einstein