PRIVATE EQUITY INTERVIEW BOOTCAMP - 1 DAY
The Wall Street Oasis
Introducing...
The Insider's Bootcamp on How to Land the
Most Prestigious Job on Wall Street...
Limited to 15 Seats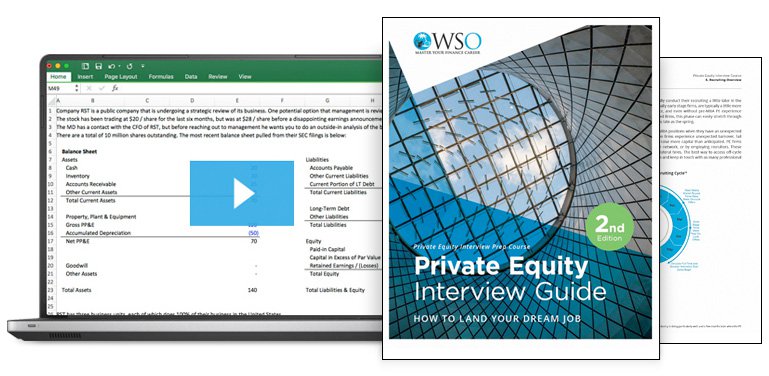 WHAT YOU'LL GET IN THIS VIRTUAL 1 DAY BOOTCAMP
Master ALL of the Concepts
Private Equity funds aren't looking for robots… they want to know that you understand the industry, that you can solve problems, handle stress, manage a team and are a fit for their firm… You'll discover how to master all of these concepts - even if you only have a few days to prepare...
Research Specific PE Funds
You'll have access to over 2,000 private equity interview questions across 400+ PE funds organized by position, so you can focus your preparation on what matters most...
Nail the LBO Modeling Tests
With 9 Detailed LBO Modeling Tests and 15+ hours of video solutions be ready to handle any variation and any level of complexity… so you won't leave a single stone unturned and will be 100% prepared for anything they throw at you...
Prepare Quickly and Level Up
With Detailed Industry and Recruiting History, showing you exactly what you need to know in order to demonstrate a true passion for the industry… master the key concepts and stack your learning for maximum preparation in the shortest amount of time possible...
Master the Case Interview
With 10+ Hours of Private Equity Cases, you'll discover exactly how to walk through your own deals with confidence... and prove you're cut out for private equity...
Get Exclusive Inside Info on 200+ PE Funds
With the WSO Company Database, you'll get exclusive data on compensation, interviews and employee reviews for hundreds of funds… access thousands of interview insights… so you'll know exactly which firms and positions are right for you...
Get Taught by The Best
Actual private equity professionals… that close deals at some of the top funds in the world lead this bootcamp -- so that it's grounded in reality and you're ready for recruiting...
See how PE veterans have done it with the WSO Video Library
You'll discover how professional private equity investors have answered the very same questions you'll be asked with 50+ hours of private equity-specific videos… Watch detailed Q&A's and sample cases… so you can see exactly what works and what doesn't...
All Upcoming WSO Live Bootcamps
WSO Private Equity Interview Bootcamp - Video Preview
Grid items
Intro, overview, what's an LBO
Hear From One Of The Main WSO Instructors
Our customers have landed positions at all of the top PE megafunds and MM firms, including:

Don't Take Our Word For It
Here are just a few of the 1,000 candidates who have been trained for PE interview prep by WSO...
"I come from a non-target background and managed to make it into banking, but only after close to a year of networking and hustle. I knew that the odds were against me again for PE recruiting so I started networking and trying to land as many interviews as possible only after 1 year at a boutique investment bank. I had made it to 2nd and final rounds at a few funds, but no offer. The first interview after going through this course I made it to the final rounds and got an offer! I think this package made the difference - in fact, one of the LBO modeling tests I got in the 2nd round was almost identical to one of the 1 hour LBO ones in the package. Having that modeling practice and the confidence going into the interview is priceless."
​​"Excellent course for anyone hoping to break into the PE industry."
"This PE course provides a comprehensive, easy to understand review of not only the interview process, but, a background of Private Equity in general and the fundamentals involved. It makes a great transition from "big picture" concepts to detailed analysis in the LBO modeling tutorial. I came from a "non-traditional" background (consulting), and felt very prepared in my interview regarding industry knowledge, business model, and technical skill. I'm very pleased to report that I received an offer within 2 weeks of going through the course. It is easily worth the cost, and I will recommend it to close friends and colleagues. Thanks for an excellent resource."
"Most guides that try to demystify PE recruiting tend to be extremely utilitarian and focused which counter intuitively limits how useful they are. This guide provides spot-on advice as well as the industry context required for the advice to be useful. This is the single best resource I've seen for PE recruiting (And in fact a lot of the buy-side in general)"
"WSO's private equity interview course is an essential competitive advantage for anyone trying to break into PE. It provides candidates with both the quantitative and the qualitative skills they need to stand out from the crowd. This is the one resource serious candidates shouldn't risk being without."
"The guide has been extremely valuable to me. It got me from zero to sixty in PE knowledge to help me get a job in PE as a consultant who knew very little about the industry. Furthermore, I still keep referring to it as a PE professional to date when I want to see how some items get modeled out. Thanks for the guide and the great help. I'm an ambassador for the guide to all my friends and if I can ever help out let me know. Thanks"
Get the Private Equity Certification
After completing the course, all students will be granted the WSO Private Equity Interview Certification. Use this certificate as a signal to employers that you have the PE knowledge to immediately add value to your team. 
Demonstrate that you are an expert in LBO modeling and the PE deal process.  Easily share to LinkedIn and other social media sites to highlight your skills and strengthen your profile as a candidate.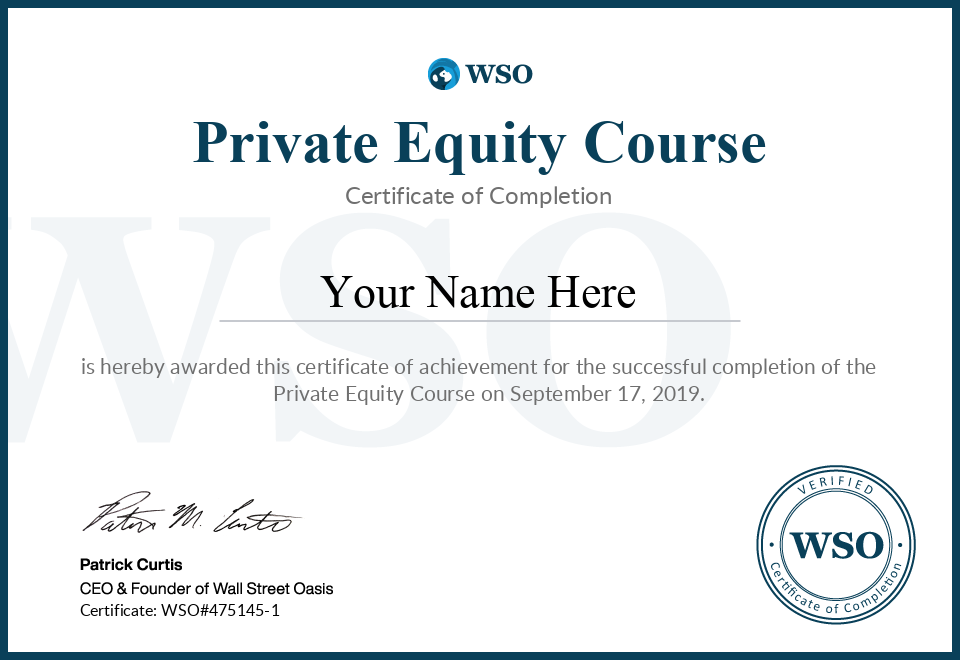 How Much is Your
Private Equity Future Worth?
What You Get

Value

WSO Private Equity Interview Bootcamp

1 day, 8 hours of live instruction gives an intense and focused plan to ace your PE interviews

$997

WSO Private Equity Interview Course

PE Bootcamps include lifetime access to the WSO PE Interview Course: 200+ pages, 10+ hours of video + critical PE recruiting strategies...

$449

9 LBO Modeling Tests

9 Tests including 15+ hours of video, 3 at each level of difficulty so you can level up...

$449

4 More Real Cases and Tests from ACTUAL Funds

20 minute LBO modeling drills + 2 UMM and 1 Megafund test from previous recruiting cycles (more every month + crowdsourcing through WSO)

$397

Networking Mastery Guide

150+ copy & paste questions to ask on your interviews, 14 templates for LinkedIn, Email & Cold-Calling, 3 proven WSO Resume Templates and more...

$349

24 Months of Unlimited Elite Support from Actual Finance Pros

Have a technical question? Easily drop a comment into any lesson and get a response from a pro within 48hrs.

$300

Bonus 1: WSO Video Library - 12 Month Access

50+ hours of PE specific videos: webinars, sample deals, 10+ PPT & Excel Templates and more...

$249

Bonus 2: WSO Company Database - 12 Month Access

2,447+ interview insights across 203 private equity funds, Coverage of over 100 firms, Exclusive data on compensation, interviews & employee reviews and more...

$297

TOTAL VALUE

$3,487
1
Get Unlimited Lifetime Access To The PE Interview Course + Attend the 1-Day Private Equity Interview Virtual Bootcamp For 86% Off
Secure checkout

Frequently Asked Questions