ELITE MODELING PACKAGE
The Wall Street Oasis
Introducing...
300+ detailed video lessons, 50+ modules, 30+ exercises across 6 jam-packed courses taught by elite practitioners  
To Help You Thrive in the Most Prestigious Jobs on Wall Street...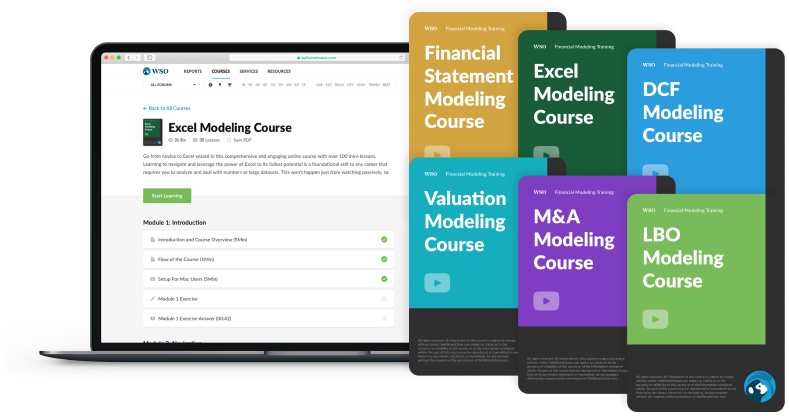 HERE'S JUST SOME OF WHAT YOU'LL GET IN THIS PACKAGE
Excel Modeling Course (110+ video lessons)
In this course, we take you from a beginner in Excel to an absolute Excel master with over 100 lessons to help make sure you build a proper foundation for the more advanced financial modeling courses later.
Financial Statement Modeling (60 Video Lessons)
In this course, we use 60 video lessons and a case study with Nike, Inc. to walk you through how to build a fully functional 3-statement model.  This includes a robust capstone exercise to make sure you are comfortable applying what you learn to any other company.
LBO Modeling Course (115+ video lessons)
In this course, we continue with our Nike, Inc. case study and walk you through a complex LBO Model with over 115 video lessons, and cover critical concepts for private equity professionals.  Includes up to date modules on taxes, recaps, rollups and more... so that you can gain every edge and aren't learning from outdated courses.   
Valuation Modeling (170+ video lessons)
In this course, we use 170+ video lessons to help give you a strong foundation in both trading comparables analysis and precedent transaction analysis with a realistic case study using Nike Inc. ...so that you can understand the nuances of valuation on the job and how an actual investment banker uses these analyses in the real world…
M&A Modeling (60+ Video Lessons)
In this course, we use 60+ video lessons to help give you a strong understanding of purchase accounting and modeling for M&A transactions using Nike Inc. as our case study ...so that you can understand the nuances of M&A on the job by learning directly from an elite M&A investment banker…
DCF Modeling (50+ Video Lessons)
In this course, we use 50+ video lessons to help give you a strong understanding of DCF Modeling using Nike Inc. as our case study and unpacking this common valuation methodology so that you can truly understand both the theory and practical uses for the job…
Our students have landed and thrived at positions across all top Wall Street firms, including:

Video Preview
Grid items
Trading Comps Analysis Output
Cash Flow From Operations
Financing Assumptions: Leverage Ratios
Calculating Cash Flow Available for Debt Service
Don't Take Our Word For It
Hear From Our Students
Wall Street Oasis has trained over 63,000 students at elite corporate and educational institutions for over a decade. 
The information was very relevant and useful.
copelandet
A great course to better understand DCFs. Even if you have only a passing interest in finance or will just rely on analysts to provide you DFCs, everyone should take this course. It provides just the right amount of detail to provide a comprehensive knowledge base of DCF and takes you through the process.

A solid use of time and great value for money - especially if purchased within the bundles.
Nominal
If you have little or no experience in constructing LBO models, this is one of the most complete finance career related program that you can opt for. The instructor left no stones unturned in teaching the fundamentals of the LBO as well as many of the assumptions and details that goes into building an LBO model. This program with its theoretical knowledge along with its real life application will potentially level you up before you apply for you dream job. Thank you WSO! Always looking forward to learn more!
Akash
The Return on Investment is very high and I highly recommend people buy the course if they want to go into the field of finance.
ahmed
The LBO modeling review was very effective and helpful - there are an abundance of videos to watch and take you through each step of designing an LBO. Think the one of the most beneficial pieces are the handful of case studies provided to practice after the course
apisheh
Excellent course with numerous tutorial videos and resources.
TRT
The Excel course was very useful, as was the one on LBOs.
TKMH
The course was great. I would you only add more practice problems.
arwmosaad
Financial Statement Modeling Course
Very in-depth course that does a great job covering everything you'd need to know to feel comfortable with LBO's. Instructor was great and gave a lot of tips that I use on a daily basis.
Matt
Highly recommend, learned a ton and would do it again!
Jamar
I really enjoyed the structure of the course and all the golden nuggets in it - it builds nicely and gradually from the simple to the complex! The quizzes after each module are great to practice what was learnt. And the cheeky monkey that pops in and out every now and then makes the course more fun;)
Velizara DK
Great Modeling class. Easy to follow videos and knowledgable teacher
M&A First Year at MM
The course explained the concept very well. Extremely helpful.
Robert Lee
Absolutely loved the course was comparing and contemplating should i or should i not get the course but glad i went through with it!! Would recommend 10/10.
Criro
Informative and well organized
Mumbles
Fantastic!
Guilherme Pettene
Financial Statement Modeling Course
Great job by Patrick and team! The course was highly beneficial, focused on the right topics and made it possible for me to become fast enough to crush all my timed modeling tests.
Themorethebetter
Was a simple easy to follow course. Similar to other financial course programs but slightly better
crimsoncap
Course is great for beginners.
thatIBkid
Financial Statement Modeling Course
Essential for a career in finance, teaches you in a user friendly way a strong foundation of skills that you will not succeed without in the world of finance! 10/10 would recommend
FibonacciMan
Financial Statement Modeling Course
great modeling course for the financial statements
apisheh
Financial Statement Modeling Course
Fantastic course, great instructor, and very useful.
Joey
Financial Statement Modeling Course
Great course - was very helpful going step by step through DCF; landed an offer at major MM hedge fund
TH
The course is awesome and help me prepare well for MS Accounting.
AnnieN
I thought it was very good and module quiz helped test understanding
Caroline.F
So precise and performing that I started using these models for my job
nicola.nicber
Valuation Modeling Course
Organized and concise. More time is spent putting the material into practice alongside the instructor.
Mumbles
Valuation Modeling Course
It´s like a different software with this course
Guilherme Pettene
It is a great course. I have been studying over the last months all the courses, including DCF modeling, M&A modeling and others.

The theory explanation is straight to the point and clear. I could understand all the concepts to build a complex financial modeling.

Currently I'm working at a M&A company in Brazil, and what I've learnt in this course is very useful for my daily tasks.

I do recommend this course.
joaovmorales
The course is straight to the point on the main topics of an M&A transaction. I do believe that WSO worths a lot.
The teacher explain complex topics in a simple way.
João Vitor-Morales
This course gives you an in depth look at relative valuation. It is one of the best courses on the market to gain a deep understanding of comps. I took it after a year on the job to further understand the subject.
customer
Valuation Modeling Course
Great experience to cover all the basics needed to be prepared for an internship in IB
MZ
Great Way to build foundational skills for a career in IB or PE, 10/10 recommend!
FibonacciMan
It's the best bang for your buck. Compared to other equally popular courses on the street, this one is really good and up to date with Excel versions.
Erick Quinteros
A great course for building foundational skills in valuation, 10/10 would recommend!!
FibonacciMan
Valuation Modeling Course
I Chose the modelling course because everybody knows that you don't learn excel at school, you need to practice by yourself. The course takes you step by step from the most bac financial statement construction to detailed DCF financial modelling. Even if you don't know anything about excel everything is very clear. I was scared that I would lack some excel proficiency when I first started my M&A internship last September but thanks to this class I was even helping my intern peers when they were struggling and impressed the analysts and associates in charge of me. Moreover, being proficient in excel modelling helped me focus on other tasks and occasionally finish sooner in the evening
Victor
Excellent content, narration, and examples to model financial statements and supporting schedules. I learned so much, this is very effective training
Larry
Financial Statement Modeling Course
very helpful modeling course
apisheh
Explain very well the main concepts about excel, what is essencial for financial modeling
João Vitor-Morales
It is worth the time and the money
customer
Helpful guide compares to those found online
Ezequiel
very helpful program
apisheh
Really useful course. I learned a lot during the course, on building models, types of valuation, etc. Recommend this wholeheartedly as well as their other good courses (Modeling package and interview package for the industry you are targeting).
Nabil Hanif
Valuation Modeling Course
As a new joiner to the PE space from strategy and audit, this course got me up to speed on all the considerations that go into modeling for LBOs. It was especially helpful due to the increased PE activity in the current market (low-interest rate, lots of distressed deals due to covid, etc). My boss was extremely happy that I hit the ground running. Thank you WSO team for making such useful courses! I've used their other courses before this and like always, I've never been disappointed.
Nabil Hanif
The course is pretty comprehensive and probably covered 95% of what I did with Excel during my internship. The keyboard shortcuts in particular boosted my efficiency and I even taught a few to some of my senior colleagues! Note that VBA/macros aren't covered. The timed tests sprinkled in between really helped cement the concepts I learned and be able to apply them immediately. I plan on reviewing the material from time to time to aid in better retention and especially before interviews. The short format of the videos made it easier to stay focused so I would say it's a worthwhile investment of time and money.
WheyDay
Great Course very useful and applicable to M&A work, great way to build foundational skills!
FibonacciMan
With the course I could understand in a deep way how to develop complex analysts in valuation theme
João Vitor-Morales
Valuation Modeling Course
Good follow-on to the financial modeling course and a useful reference when completing the LBO course. Appreciated the concrete examples and the clarity of instruction.
CJ the funky h…
Valuation Modeling Course
Helped for school and work
artofinception
As a financial auditor, this is a very important skill. Knowing how each financial statement is interlinked with the other and how changes in one can affect the others helps to analyse and understand the many relationships that make a company.

However, despite this being of second nature to me, I decided to check out the WSO financial statement modeling course as part of the Elite Modeling package while planning my move to investment advisory. Needless to say, like the other WSO courses, this was a well-planned out course from which even a seasoned professional like me could take away a lot. Knowing various standards that are used in the finance and investment community helps to blend in with the pros.

Would definitely recommend getting not just this but the whole elite modeling package if that's still on offer. Thanks WSO team! :)
Nabil Hanif
Financial Statement Modeling Course
Super easy to follow and I suggest doing the whole thing 2-3 times before hitting the desk if IB is your ultimate goal (or ultimate goal in the short-term lol). I go back to it to refresh my memory and get up to speed. I am also going to re-do the whole thing soon before I hit the desk in a month. If you do that before going to Business School and you don't have a background in Finance, you will be golden. Highly recommend!
ChimpaniHungry…
Financial Statement Modeling Course
As a practitioner, I didn't have to do any M&A models. This course helped with understanding how to build and work in an M&A model which is great if you are applying for corporate development jobs or dealing with strategic acquirers in your engagement.
customer
I could understand the relationship among the three financial statements and how is the impacted in each statement.
João Vitor-Morales
Financial Statement Modeling Course
Easy to follow, extremely well thought out, and relevant to anyone looking to explore a career path in finance.
awijaya
Financial Statement Modeling Course
provides all the steps in an easy to follow format
apisheh
Valuation Modeling Course
Great in terms of practical application in Excel. Would have liked more content on the three statements itself.
FI_Trader
Amazing tools and resources !
nicola.nicber
Great content, narrator, pace, and quizzes. I learned a ton in this course!
Larry
I had very moderate experience with excel when I was in University. This course has been extremely helpful in teaching me excel in an applicable way so that I can excel at my role as an analyst.
bnguyen
Best beginner couse to financial modelling. Very practival

Avinash Vijay
Financial Statement Modeling Course
Expensive, but worth it if you're serious about learning these skills.
likemopresti
Financial Statement Modeling Course
This product teaches you exactly what you need to know to be successful in your PE interviews and job.
John
A fantastic and very thorough overview of everything you need to be a successful Excel user--I felt very confident starting a job in management consulting that my Excel skills would be sufficient.
bansea
An accessible walk-through LBO modeling with industry instructors.

Received this as part of a bundle (fantastic value, I might add), and this was the perfect walk through for someone that knows theoretically what an LBO is, but wants a nuts and bolts perspective. Very accessible and quickly brings you up to speed. A very high yield course.
Nominal
With courses like this one, WSO bridges all the stuff you might learn (or not) in a classroom about M&A to real world applications. Great course.
Erick Quinteros
Before this course, I had a slight idea of how to model. This course made every piece fall into its place for me. Totally recommend it.
Erick Quinteros
Financial Statement Modeling Course
Worth every penny. I would have honestly paid more for the knowledge I gained from this course. It has saved me so much time and made me the go-to guy at work for anything excel. This is a no-brainer for anyone getting into financial services. But honestly is excellent for anyone who just wants to be an excel guru! Wall street oasis is incredible and produces nothing but excellent material to learn from.
Austin S.
An absolute must for anyone on school/early career looking to break out ahead of their peers/colleagues.
Alex B.
This was really helpful. My only feedback is maybe there a few modules that were a little extra like not needed on a day to day.
ellie
This guide has all you need to go from beginner to a pro at Leveraged Buyout Modeling. Really informative and easy to follow. Thanks WSO!


M&A First Year at MM
This product really helped to get a deeper understanding of financial modeling than I'd had of two years on the job in corporate finance.
elliott.venker
Financial Statement Modeling Course
The course is very straight forward and easy to follow! It will teach you how to construct your first LBO model and a process to be used when practicing different models. The instructor walks very thoroughly through each of the sections speaking to the implementation and background of an LBO model.

There are questions at the end of each section that could be improved upon, but it's a modeling course not exam prep so it is understanable.

Overall, I would recommend this course to someone interested in learning LBOs.
Cummingschaddm
Detailed step by step course which helped me understand the core concepts
BrownChad