VENTURE CAPITAL BOOTCAMP - 4 HOURS
The Wall Street Oasis
Introducing...
An Intense 4-Hours Bootcamp to Help You
Build a Strong Foundation in Venture Capital
Limited to 15 Seats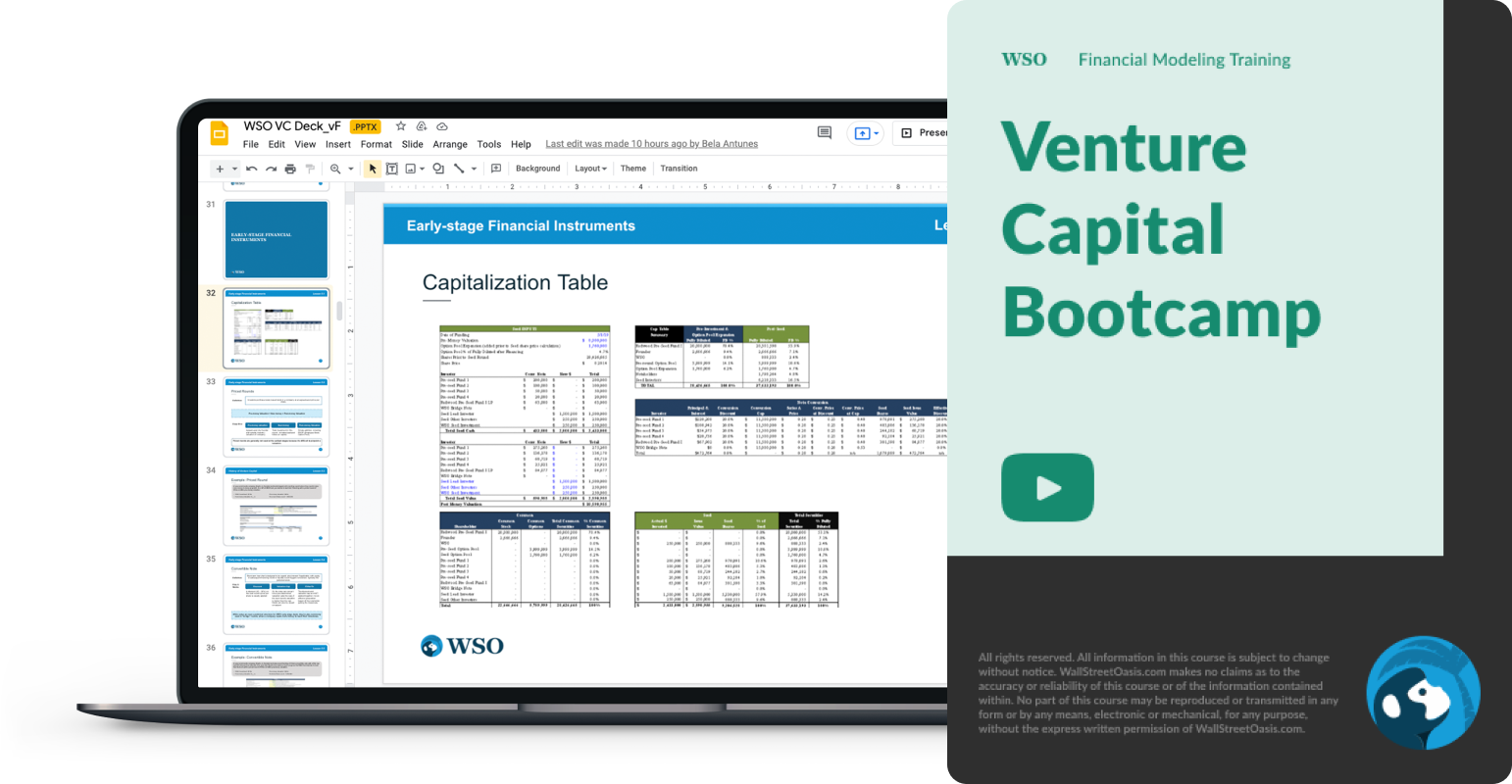 WHAT YOU'LL GET IN THIS VIRTUAL BOOTCAMP
Early-stage Fin Instruments
We will show you different kinds of venture capital financial instruments. Learn about priced rounds and valuations, convertible debt, convertible equity, venture debt, etc.
Term Sheet (Control + Econ)
Learn what a term sheet represents and understand the uses and differences of Economics and Control when it comes to term sheets.
Term Sheet (Modeling)
Go through some important topics of term sheet, like pre-money valuation, ESOP, founder vesting, dividends, liquidation preference, Optional/Automatic Conversion, and anti-dilution.
Term Sheet (Rights + Provisions)
Dive deep into important points that need to be considered in the term sheet, like voting rights, protective provisions, redemption and management rights, registration, among others. Understand each of them in detail.
Due Diligence (Must-Haves)
Learn how the process of due diligence works, and the must-have points, like the product, value proposition, business model, market, team, and evidence.
Due Diligence (Finer-Points)
Take deep dive into the process of due diligence, highlighting ARR builds, B2B software, and cohort analysis.
All Upcoming WSO Live Bootcamps
Don't Take Our Word For It
Here are just a few of the candidates who have been trained for Venture Capital by WSO...
At a high level, I think it covers a lot of the key topics one would need to both understand VC as well as get prepared for an interview. Narration is great, the instructor seems approachable and explains things in an easy to use manner. I think it's definitely something that would be additive to someone preparing/interviewing for an entry level VC role.
Just wanted to say I really enjoyed the venture course on WSO. Really insightful and was able to get through it in two days with the format!
WSO delivers the most comprehensive VC course that I've seen to-date. From detailed deal structures to big picture investment concepts, this course provides a fundamental basis from which one can take on relevant VC job functions from day one.
How Much is Your
Finance Career Worth?
What You Get

Value

WSO Venture Capital Bootcamp

4 hours of live instruction taught by an elite Venture Capital professional...

$997

Interactive Exercises + Cap Table Modeling

Realistic practice drilling the concepts taught to actual VCs so that you can hit the ground running Day 1...

$449

TOTAL VALUE

$1,446
1
Attend the 4-Hours Venture Capital Virtual Bootcamp For 86% Off
Secure checkout

Frequently Asked Questions