The Wall Street Oasis
Introducing...
The Insider's Guide on How to Land the
Most Prestigious Jobs on Wall Street...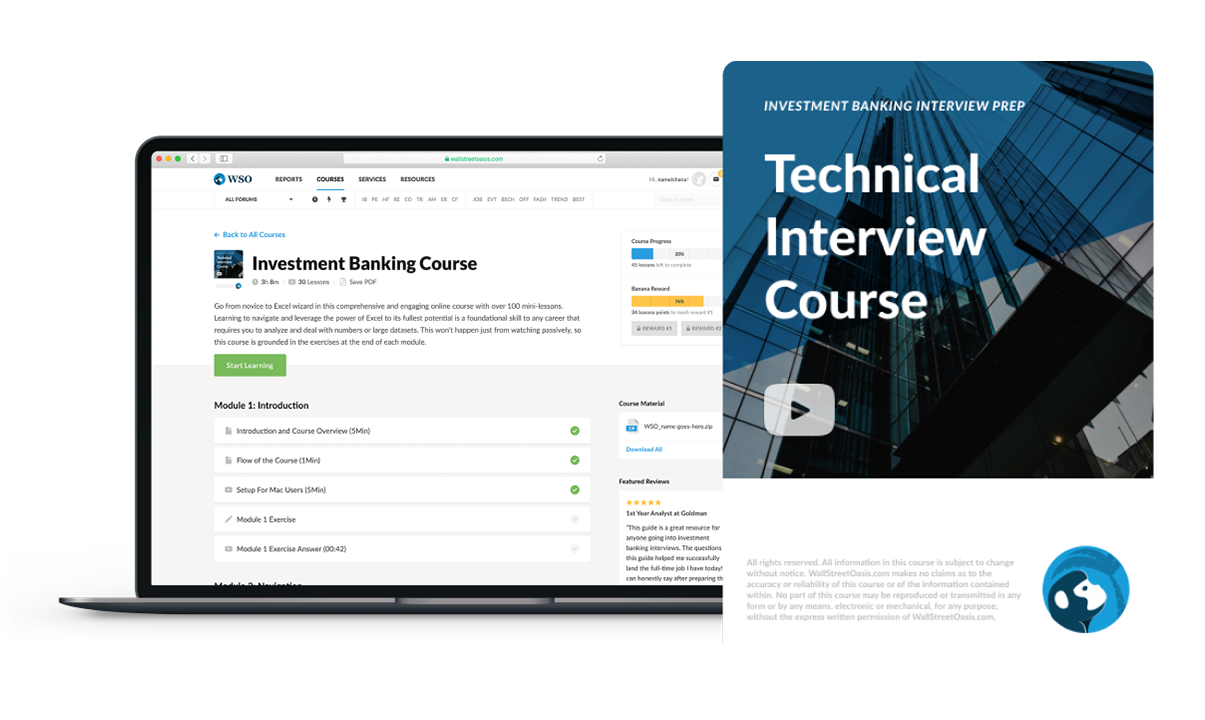 HERE'S JUST SOME OF WHAT YOU'LL GET IN VERSION 6.0:
Master ALL of the Concepts
Investment banks aren't looking for robots… they want to know that you understand the industry, that you can solve problems, handle stress, are good in front of clients and are a fit for their firm… You'll discover how to master all of these concepts - even if you only have 1 day to prepare...
Get Bank and Position Specific Information
You'll have access to 515 of the most common interview questions organized across the top 33 investment banks, by position, so you can focus your preparation on what matters most...
Nail the Technical Questions
With 203+ questions and 10+ hours of videos across the 11 Key Technical categories… including 17 brainteasers, 20 charts and 184 Flash Cards for easy learning and retention… and 32 video Q&A's from banking veterans… so you won't leave a single stone unturned and will be 100% prepared for anything they throw at you...
Prepare Quickly and Level Up
With Rushed and Normal Timelines, showing you exactly what you need to know depending on how much time you have… and our Beginner, Intermediate and Advanced Paths so you can master the key concepts and stack your learning for maximum preparation in the shortest amount of time possible...
Master the Behavioral Interviews
With 127 detailed questions and answers across the 5 "Fit" categories, you'll discover exactly how to master the body language, tone and attitude for any interview... and prove you're cut out for investment banking...
Get Exclusive Inside Info on Any Bank
With the WSO Company Database, you'll get exclusive data on compensation, interviews and employee reviews for hundreds of banks… access thousands of interview insights… so you'll know exactly which firms and positions are right for you...
Build a High Impact Network
With 150+ questions and 15+ Hours of video tutorials… the 148 questions to ask your interviewer and 3 proven resume templates and 14 templates for LinkedIn, Emailing and Cold Calling… so you can get 3x your response rate, land more interviews and get support from bankers on the inside...
See how IB veterans have done it with the WSO Video Library
You'll discover how professional bankers have answered the very same questions you'll be asked with 60+ hours of investment banking-specific videos… Watch recorded mock interviews, 32 detailed finance Q&A's and sample deals… so you can see exactly what works and what doesn't...
Our customers have landed positions at every major investment bank, including: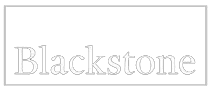 Don't Take Our Word For It
Here are just a few of the 20,000 candidates who have taken this course...
"I couldn't be any happier with the material as the questions that I was asked during my 12+ interviews came directly from the study guides. Thank you sooo much, you guys really helped change my life!"
"Without a doubt, the WSO IB Interview Course 100% helped me. I bought it a few days before my interview and used it to cram. A few of the questions I was asked were directly lifted from the course guides...as a result of prepping with the packet, I got the job in [BBs] corporate banking energy team in Houston. Our team maintains the relationship with the clients and provides bank debt instruments such as RCFs, term loans, bridge loans, etc."
​​"Both of the fit and technical modules of the course were incredible. The fit portion was especially helpful for understanding what the job precisely entails and how the industry works. I was then able to clearly evaluate my own experiences and make the appropriate connections so that I could highlight the skills I could contribute. The technical module was also great since I hadn't taken any finance courses prior to recruiting, so it helped me focus on the more important aspects to have a better understanding."
"This course helped me so much! All of the modules were great, but what I found most valuable was the firm-specific advice! In terms of results, I'm now a first year IB analyst in London!"
The WSO guides were extremely helpful. The technical guide covered all interview questions I was asked essentially and the behavioral guide is what made the difference and set me apart from other candidates.
I would say the technical section and dummy models were the most helpful sections. I am very happy because I managed to get an internship at Barclays, London sitting in [industry group] M&A which converted to a full time offer starting in Feb 2017!
The WSO IB Interview Pack helped immensely in my recruiting / interview prep. It was one of the main reasons I got in. It helped me a lot with the confidence aspect. Confidence in that I know what the job entails, what questions would be asked etc.
This was my main study guide and I landed the exact job I wanted, so obviously it was a great investment. The packet was excellent in helping me understand balance sheets, all that technical stuff. I went through 2 months of training afterwards at [BB bank] so I understand the packet even better (almost 100% now)...ha! More specifically, I got a job in Credit Risk covering Hedge Fund clients at JP Morgan.
Get the Investment Banking Interview Course Certification
After completing the course, all students will be granted the WSO Investment Banking Interview Course Certification. Use this certificate as a signal to employers that you have the technical Excel and Modeling skills to immediately add value to your team. 
Demonstrate that you have put in the work outside of university courses to make yourself more efficient and master the most critical program for success in finance careers.  Easily share to LinkedIn and other social media sites to highlight your skills and strengthen your profile as a candidate.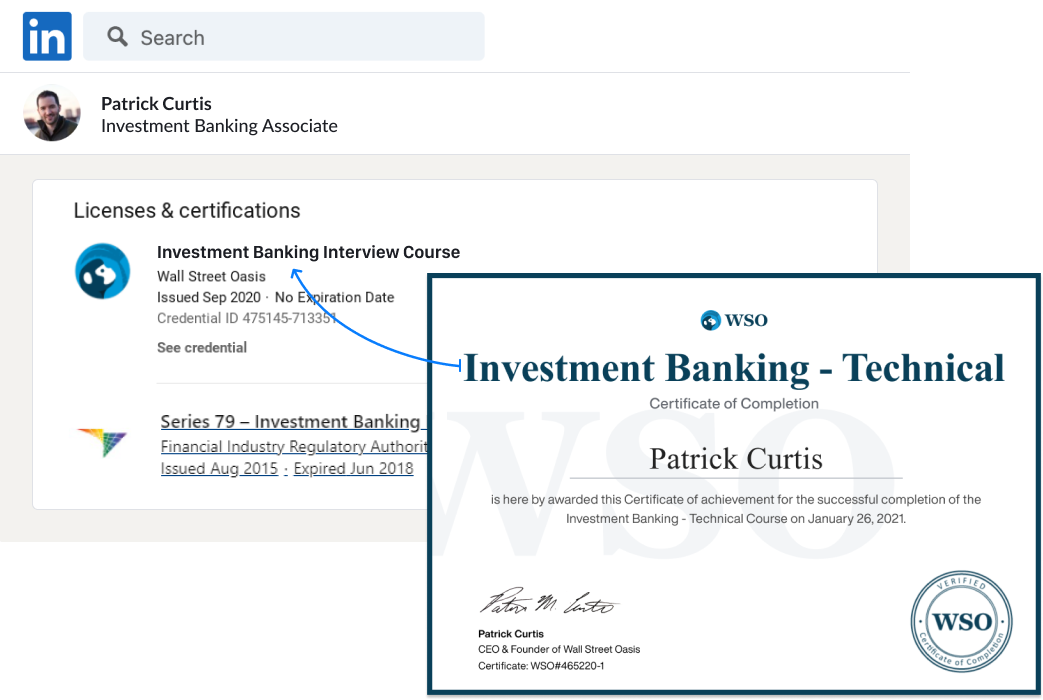 How Much is Your
Investment Banking Future Worth?
What You Get

Value

Module 1: Technical Question Mastery Guide

203+ questions, 10+ hours of video, 17 brainteasers, coverage of each of the 11 Technical Categories and more...

$449

Module 2: Behavioral Question Mastery Guide

100+ behavior & fit questions, 10+ hours of video, 148 questions to ask your interviewer and more...

$449

Module 3: Networking Mastery Guide

50+ questions to ask on your interviews, 14 templates for LinkedIn, Email & Cold-Calling, 3 WSO Resume Templates and more...

$349

Bonus 1: WSO Video Library - 12 Month Access

60+ hours of IB specific videos: webinars, mock interviews, 32 Q&A's and sample deals, 20+ PPT & Excel Templates and more...

$249

Bonus 2: WSO Company Database - 12 Month Access

7,548+ insights across 469 IB firms, Coverage of 1,000+ firms, Exclusive data on compensation, interviews & employee reviews and more...

$299

TOTAL VALUE

$1,745
1
Consider this your first investment
in a long career...
After all, you've likely already spent tens of thousands of dollars on college (and perhaps tens of thousands more on an MBA)... When you land your coveted Investment Banking Job,
you'll be making well over $100,000...
...over $300,000 if you have an MBA...
And that's just the beginning of a long and very LUCRATIVE career that could easily net you millions.
We could easily charge thousands of dollars and your ROI would still be huge…
At a fraction of that price, the ROI is even better... a few hundred in exchange for millions of dollars down the line. When you do the math, it's a no brainer.
And that doesn't include the time you'd have to spend figuring all of this out. Even if you used the volumes of free information inside the WSO IB forum, you'd still have to find it, organize it, vet it, test it and systematize it to get it to work.
That would take months - maybe even years… and at that point, you will have missed your window, blown your opportunity and your chances of ever getting a job in IB will be slim to none.
All while watching your friends and classmates ride the elevators to the penthouses of Investment Banking, Private Equity, and Hedge Funds...
The WSO Investment Banking Interview Prep Course gives you everything you need to nail your interviews, crush your competition and land the prestigious IB job you've always wanted… quickly and easily.
But we're not going to charge you thousands...
$1,745
We won't even ask for half of that..
$875
Instead.. 
Get Unlimited Lifetime Access To The WSO Investment Banking Interview Prep Course For 89% Off
$1,745
$197
...or get access today for only $69
Secure checkout
100% Unconditional Money-Back Guarantee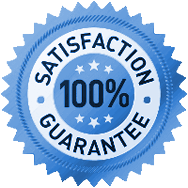 12 Month Risk-Free Guarantee
Your investment is protected by our 12-Month Risk-Free Guarantee. If, for any reason, you don't think the WSO Private Equity Interview Prep Course is right for you, just send us an email, and we'll refund every penny. No questions asked. In short, you get a great return on your investment, or you get your money back. It's that simple.