OKeeffe and OMalley
Return to Company Database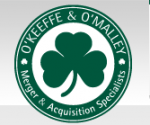 Industry:
O'Keeffe & O'Malley is a Kansas City based Investment Banker specializing in Mergers & Acquisitions. We assist business owners seeking assistance in selling and buying businesses and the many areas that relate to growing and exiting a business. Services include preparing business valuations, developing an exit plan, preparing a business to sell, effectively merging and selling businesses, conducting acquisition searches, locating financing for a business, enhancing businesses to make them worth more and many other advisory/consulting services.
Since 1984 O'Keeffe & O'Malley has represented hundreds of business owners in helping them sell usually their largest asset and often their retirement proceeds. We are generalist in the type of business we work with, but the majority of our focus is representing businesses in the manufacturing, wholesale/distribution, and service sectors. Our clients are typically small to mid-size companies in the $2-$50 million range.
Usually, selling a business is a once in a lifetime occurrence. With our advice and direction, business owners can maximize their proceeds by utilizing our 27 years experience in applying the do's and don'ts of the selling and buying businesses. We add tremendous value to our clients that will benefit you greatly.
Location:
6240 W. 135th St., Suite 200
Overland Park
,
KS
,
66223
United States
Phone: 913-648-0185
Fax: 913-273-0080