Corn Hits Record High
ST
Points)
on 7/31/12 at 8:08am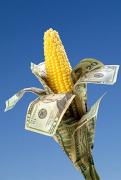 Corn hit a record high yesterday amid a worsening drought affecting 90% of the nation's crop. I have to admit I haven't really been paying attention, because I haven't traded corn since 1999. Of course I'd seen the news about prices, but I never paid attention to the actual price per bushel. When they said it was hitting highs I just assumed they were talking about $6 or so. I was absolutely floored when I read that corn touched $8.17 a bushel yesterday.
To put this in perspective, when I was regularly trading ag products, corn was generally between $3-$3.50 a bushel. It didn't really move a whole lot, but you could make some decent money if you traded size (true of everything, I suppose). Each 5,000 bushel contract yielded $50 for every penny move in the right direction, and I remember initial margin being ridiculously low at the time (for some reason $800 sticks in my mind). So if you caught a 10-cent move in the right direction, you made $500 for every $800 you invested. Not too shabby.
Today, initial margin on corn is a more reasonable $2,025, because the delivery value of 5,000 bushels is now over $40,000. Still, that's a ton of leverage (~20x) which can mean big money if you're on the right side of the trade, or financial prison rape if you're not.
Are any of you guys actively trading the grains right now? Our old rallying cry was, "Beans in the TEENS!" back in the day, and I noticed soybeans hit $16.17 a bushel yesterday. Incredible.
This does not bode well for the grocery aisle. Now that pretty much everything America consumes (from soda pop to AAA batteries) contains high-fructose corn syrup, prices are going to rise across the board. Not to mention all the ethanol nonsense. You throw corn subsidies into the mix and you've got a recipe for consumer disaster.
It's almost a perfect storm when you think about it: the Fed inflates the shit out of the dollar at the same time Mother Nature destroys much of America's most important crop. All we need now is a rail strike.
It'll be interesting to see the impact this has on household finances. Corn is almost as important as crude oil today. Hopefully some of you are making money on this.