Don't Worry, Be Happy (Or At Least Pretend To Be)

Points)
on 7/12/12 at 10:57pm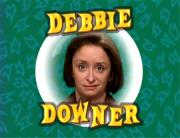 Everyone has that one person at the office. It doesn't matter what you're talking about, they will always have something negative to say. Sometimes it's gossip about a coworker. Other times it's criticism disguised as advice. Whether you call him a Negative Nancy, a Debby Downer or an Always-Has-A-Stick-Up-His-Ass Arthur, there's one common effect: this negative energy is contagious, depressing, and highly toxic.
How much do emotions matter in the workplace? Walk into any Department of Motor Vehicles and you'll feel the impact of the prevailing mood instantly — a dense fog of sourness, irritability, and listlessness. Walk into almost any Apple store and you'll experience the opposite — a sense of aliveness and excitement that raises your energy (and makes you want to buy something).
Emotional contagion can destroy a team's energy and productivity, but we all have a bad day once in while. How do you manage and monitor your emotions at the workplace?
When I hear about this type of person, I think back to an internship where the head of our office was a slightly less wealthy Ebenezer Scrooge. He would come into the office seemingly mad at the world every day, and the whole office was tense when he was around. I only ever saw him laugh once, when an overweight intern mentioned that she was trying to drop some pounds. Everyone hated this guy.
A boss should inspire a sense of respect, confidence, and maybe even a little fear every once in a while. But when someone consistently spreads negativity around the office, the entire team will suffer.
I'd definitely recommend checking out this link because the author gives a good anecdote that was a little too long to quote in this post. Here's the gist of it:
Finally, another employee came to me and said that this executive had been complaining relentlessly to her, and that what he was saying didn't seem warranted. Very quickly, I discovered he had rained these complaints on nearly everyone, treating each of his colleagues as a confidant and an exception to his otherwise withering assessments.
Have you had a co-worker who acts this way? At what point do the emotions people bring to work overshadow their cognitive skills?
See my WSO blog
"The only thing that interferes with my learning is my education." Albert Einstein