Is There a Cure for the Euro Virus?
O
Points)
on 8/7/12 at 3:00am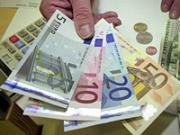 An article in Bloomberg BusinessWeek from two months ago, "How the Euro Virus Travels," still resonates today. According to the article, President Obama blamed the low number of jobs created in May (a disappointing 69,000) on Europe.
"A lot of that's attributable to Europe and the cloud that's coming over from the Atlantic," he told the crowd. "The whole world economy has been weakened by it, and it's having an impact on us."
The job numbers were better this month, even though the unemployment rate rose ever-so-slightly to 8.3%. One may suppose that the policies of the Obama administration may have also contributed to the economy's lackluster performance, but perhaps the President's point is worth exploring in greater detail.
The article explains the a loss in exports from the United States to Europe is not one of the main causes of our economic slowdown. As Tom Porcelli, RBC Capital Markets chief US economist, points out:
Europe's troubles may hit U.S. exports in a more roundabout way. Emerging markets such as Brazil, Mexico, and China have accounted for the bulk of U.S. export growth over the last few years. Since the recession began in 2007, exports to Brazil have increased by more than 70 percent. Emerging market countries get the majority of their lending from European banks. So if Europe continues to deteriorate and its financial system tightens, some emerging markets could lose a key source of financing, which in turn could squeeze their ability to keep buying U.S. goods. "That's a very important aspect that can't be overlooked," says Porcelli.
Here's another aspect that can't be overlooked:
 ...a new study from the Federal Reserve Bank of San Francisco found that Europe's woes have increased the borrowing costs for U.S. corporations through a phenomenon known as the contagion coefficient, essentially a measure of correlation. From 2009 to 2011, every percentage point increase in the amount that European corporations were charged to borrow money translated into a 0.68 percentage point rise in the rate U.S. corporations paid, meaning that about two-thirds of the rise in European corporate borrowing costs were passed on to U.S. companies.
This article has a wealth of information. The link for it is: http://www.businessweek.com/articles/2012-06-07/how-europes-contagion-may-hit-the-u-dot-s-dot-economy.
Given the above scenario, what steps should be taken to avert another crippling recession?