Mo' Mar and the Future of Oil

Points)
on 10/21/11 at 11:50am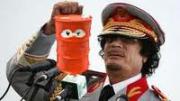 With the news of Muammar Gadhafi's death reverberating throughout the globe, financial markets and oil speculators everywhere are contemplating how the event will effect production and prices. The simple logic would lead us to believe that production will increase to pre-revolution levels and with a more cooperative government in place, perhaps even grow to a level which could ensure price stability.
This may, however, just be wishful thinking. We still don't have a clue who will come to power in Libya and what their practical policies will be. What we do know is that production will ramp up sooner or later. What we do know is that the Bakken fields of North Dakota and Montana could have the United States on the path to energy independence with a potential 24 billion barrels of oil available right here on our own soil. What we do know is that for all the peak oil propaganda and Energizer Bunny powered tricycle talk, the oil picture is looking a whole lot more promising.
Libyan oil production hit 1.559 million barrels of daily production back in 2010, according to OPEC. That was about 2% of global production and 5% of OPEC production. Civil war, though, disrupted flows to the point where in August production averaged 7 barrels a day. Over the third quarter, production averaged 151,000 barrels per day.
I watched a movie the other day from the early 90's where the hero stops to get gas at a filling station. The neon blue sign with white numbers reads "$0.92". I recall filling up at those prices as recently as 1998. Then the shocks came. I drove a big ol' pimpin' sort of Cadillac at the time and felt like the $1.79 I was asked to Shell out was equivalent to highway robbery. I couldn't believe myself and talking to older generations about it gave me the sinking feeling that something really bad was happening.
In the next ten years we would first break the $2, then the $3 and the $4 barriers at the pump. The rubber band stretching caused by a multitude of factors in the changing global economy had even made $5+ a realistic daily possibility. Peeking over the pond and seeing European per gallon prices in the $8-$10 range was seen as some as a mere precursor of what was coming to our own shores.
Those who have been around for more than a moment, however, realize that oil markets are highly cyclical. OPEC is now a withering old man in comparison to the youthful thug whose cartel once controlled prices and created ration lines at American pumps. Gadhafi's death in fact, reaffirms this analogy and is likely to be a catalyst in the stabilization of oil markets.
This is probably good news for everyone but you Glencore, Vitol and Trafigura guys. It is rare in the industry to hear someone say that they are bullish on a decreasing asset value and price. I am in this regard, going very much against common logic. I am extremely bullish on oil. Bullish on prices coming down, bullish on production and supply stabilizing and bullish on the natural resource being both a beacon of stability and in supply of abundance for decades to come.
Though it may take some time for the details to iron themselves out and though I may take more than a few monkey shit pies in between now and then, I have no doubt that oil markets, supply, demand, production and operational flow have yet to see their most efficient and stable day.
I will not make any drastic price recommendations or encourage rampant shorting. I will just remind you guys that while most of you were in elementary school a barrel of crude was a bit less than a bottle of cheap wine. Do not be shocked to see those days here again. Sooner than any of us may have thought possible.