Mazzone & Associates
Return to Company Database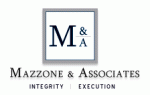 Industry:
Mazzone & Associates is a mergers and acquisitions advisory firm. We provide comprehensive transactional services for middle market companies, private equity groups and individuals buying and selling companies, raising capital and structuring debt. Additionally, we offer merchant banking services for select transactions when appropriate.
Our firm is relationship focused. We appreciate that our assignments are "life events" for our clients – particularly for management teams, entrepreneurs and family-owned businesses who have substantial portions of their net wealth at risk in their business. We have experience working on over 200 transactions valued in excess of $50 billion across a broad range of industries. Yet, our focus remains the single most important advantage we provide to our clients.
Our goal is to achieve the maximum results and value for our clients and their shareholders by executing our transactions with the integrity, premium service and confidence they want, require and deserve.
Location:
Office Tower at the Four Seasons
75 Fourteenth Street NE Suite 2800
Atlanta
,
GA
,
30309
United States
Phone: 404.931.8545
Fax: 404.574.5738