NorthShore Capital Advisors
Return to Company Database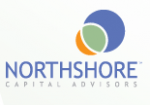 Industry:
At NorthShore, we understand the difference between simply closing a deal and providing the results you need. We'll become a part of your team and join you in the collaborative, thoughtful and all-encompassing process of truly investing in your future.
Our processes require a unique and thorough understanding of our clients, as well as the landscape of the industries in which they operate. Through painstaking observation and strategic analysis, we identify the most dynamic emerging market trends and apply our proven processes to representing businesses and their unique needs.
Ready. Set. Deal.
First, we get to know you, your marketplace, your team, your business model, your customers, your goals and your concerns. You understand your business better than we do, and that's why—before we advise you how to move forward— we'll get to know everything about your unique situation and how it fits into the marketplace.
Our approach makes use of defined objectives, past results, current industry initiatives and competitive trends to guide our recommendations. And our experience gives us the tools and the know-how to optimize your success.
Location:
9202 S. Northshore Drive Suite 200
Knoxville
,
TN
,
37922
United States
Phone: 865-862-4942
Fax: 865-862-4946