WSO NYC Happy Hour

HF
Points)
on 6/16/12 at 11:19am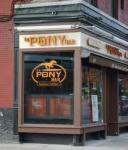 Dear monkeys, it has been entirely too long since the last NYC Happy Hour. Let us celebrate summer at one of IlliniProgrammer's favorite watering holes, The Pony Bar on 45th Street and 10th Avenue.
For those who have been here before, the Pony Bar has a rotating menu of 20 craft brews at five bucks a pour, which is terrific. Great place to unwind after work (especially after a shitty day), as certain of the regulars can attest (cough cough, Frieds).
Plus, it's always great to meet some of the users in person, and ever since I personally started attending these meetups last year, I've never had a bad time.
As mentioned the last couple of times we've met here, the place fills up pretty quickly (21-plus only, please). So get there whenever you can!
Looking forward to it, monkeys!
Location:
The Pony Bar
45th Street and 10th Avenue
New York
,
NY
United States