A Few Good Men: LIBOR Style

ST
Points)
on 7/20/12 at 5:50pm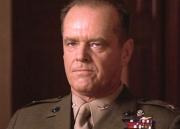 A Few Good Men: LIBOR Style
via Dan Davies
Deputy Governor, we live in a world that has interest rates. And those interest rates have to be set as the average of a panel of banks...
Who's gonna do it. You? You, Deputy Governor? I have a greater responsibility than you can possibly fathom. You weep for the financial system and you curse the rates traders. You have that luxury.
You have the luxury of not knowing what I know - that distorting the LIBOR, while tragic, probably saved banks. And my existence, while grotesque and incomprehensible to you, saves banks.
You don't want the truth. Because deep down, in places you don't talk about at parties, you want me on that LIBOR panel.
We use words like "bid", "offer", "quote". We use these words as the backbone to a life spent trading something. You use them as a punchline.
I have neither the time nor the inclination to explain myself to a man who sleeps under the blanket of the short term funding I provide - then questions the manner in which I provide it! I'd rather you just said thank you and went on your way.
Otherwise, I suggest you pick up a telephone and submit a quote. Either way, I don't give a damn what you think you're entitled to!
Jack: They're all former investment bankers who were laid off from that economic crisis that Nancy Pelosi caused. They have zero real world skills, but God they work hard. -30 Rock