Best data source for Mortgage REITs (MREITs)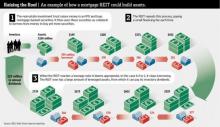 Does anyone have any experience with mortgage REITs (NLY, TWO, NYMT, etc) and what service might have the best standardized data for them (net spreads, yields, security holdings)?
I'm looking specifically at Mortgage REITs which are REITs that invest primarily in Agency and non-agency MBS.
Any help would be appreciated!
Thanks
Upcoming Events
Feb 5 2016 - 8:00am

to

Feb 6 2016 - 8:00am

Feb 9 2016 -

5:00pm

to

6:00pm

Feb 10 2016 - 8:00am

to

Feb 11 2016 - 8:00am

Feb 14 2016 -

3:00pm

to

4:00pm
Poll
Who do you want to win the superbowl?
Panthers
29%
Broncos
36%
Don't care
35%
Total votes: 204