Carl to the rescue (again)

IB
Points)
on 1/15/13 at 4:00am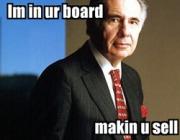 Shares of Transocean (NYSE: RIG) are up around 3% to just shy of $56 Monday morning. It was recently announced that Carl Icahn acquired a 3% stake in voting rights. Icahn is one of the most famous activist investors - he also took a significant position in RIMM in September of 2011.
What are you thoughts are Carl's latest move and/or activist investing in general?
http://stream.wsj.com/story/markets/SS-2-5/SS-2-14...
Tags: