Floyd Mayweather vs. Miguel Cotto: May 5, 2012

O
Points)
on 4/17/12 at 12:34am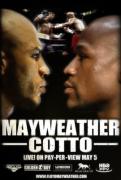 Any fight fans in here? I just watched the first episode of Mayweather-Cotto 24/7 and I thought it was pretty legit.
This could be a good fight. Cotto is reinvigorated after that Margarito fight (I was so happy to see him wipe that sneer off Margarito's face), and this is at 154lbs - the weight class Cotto should be fighting in not the 145 he fought Manny at.
This will be a tough fight for Floyd Jr. It was nice to see he and his dad had reconciled somewhat.
And while its not in the limelight I'm pretty excited to see Canelo-Sugar Shane.
Thoughts anyone?