How to say "No"
IB
Points)
on 6/17/12 at 1:00am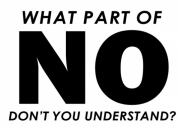 I found the single hardest thing to be saying "no" in my IBD SA last year, aka underpromising and overdelivering. Arguably in an intern position you want to say yes as much as possible since there's light at the end of the tunnel, but I think being tactful with no's will be helpful and necessary entering the FT role.
I've heard the basic response "Yes, I can do this, but Joe & Dave really want to see XYZ by Tue" ..but that didn't help me much.
Usually, I'd be asked "have you got a moment?". Before knowing what the person wants, I find turning him down here difficult and probably harmful.
Then, this is followed by explanation - maybe something small, maybe something larger, but explanation usually takes several minutes. Afterward I feel pressured to accept, because he just spent this time elaborating in detail.
What is the right time to indicate your capacity and say the "no"?
I suppose it breaks down to the following moments, and I don't know where to find the freedom to decline:
- I think I need to know what the work is before I can decide whether I can do it or not (eg capacity for small, but no capacity for big urgent project)
- I doubt I can ask "is it a lot?"
- Therefore listen to associate explain the background and the job
- Which afterward makes me feel he has invested enough time/effort that I must accept, or face a "wtf, why did I just stand here and waste my time" if not openly