To all Asian bankers and bankers-to-be:

IB
Points)
on 3/7/08 at 11:31pm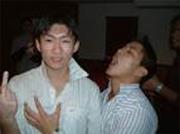 I know that, for whatever unbeknown reason, there is a very large Asian population on this board. How many of you have been "invited" to the secret society known as Gossip Banker? I don't know how they got my contact info or how they knew about my offer from a top BB, but somehow I got the tap. From a very preliminary survey of the group, it seems like a very pre-mature project started up be a pompous Harvard banker, trying to amass an army of Asian bankers, similar to this unfunny piece by Leveraged Sell Out.
Although not much content is available on the site, there was some mildly entertaining tidbits, such as the post about which schools were sending kids to top BB this year, and how many students were coming from each school (with detailed information where applicable, such as "one to MS HK"). Fret not, and don't get your panties in a bunch over trying to get this information; it's not as valuable as it seems. For example, while Harvard is only sending "5; should be more; and one to Jane Street", Wharton is sending "TONS, lots to GS IBD NY and GS IBD BJ" and Yale, unsurprisingly (from a Harvard perspective) is only sending "who cares".
My favorite post, however, has to be the most recent one. As many who are familiar with my past posts know, I do not look very favorably upon SEO candidates nor Lehman HK. In fact, I absolutely despise one and constantly ridicule the other (although these sentiments could be interchanged without much recourse). The most recent post from Gossip Banker affirms many of my previous assertions. For those unfamiliar with SEO, they are undergoing a new placement process this year, and the only HK firms participating are Lehman Brothers, JPMorgan, and Citigroup. There will be approximately 20 SEO HK interns this year, and the majority will be placed at Lehman. I believe that this coupling affirms my previous assertions that 1.) SEO candidates are definitely not up to snuff (especially when compared to regular candidates who didn't cheat their way into banking), and 2.) Lehman HK is a total joke.
To quote directly from the site:
Lucky you who got into Lehman Brothers. Because you will have many... many SEO fellows around. I guess at least you will not be worried about to work late or to look for someone to hang out after work. Looks like Lehman Brothers really needs SEO. May I suggest that next year Lehman sponsors a program itself: SEO in Lehman Brothers. Or shall I say, Safely Exuberant Opportunities in Lehman Brothers. Wait and see who will be placed in Lehman Brothers Hong Kong later.
ASIA ECM 2007 Eq, Eq Rel Rees (US$$m)
Advisor - Fee - Share
UBS - 411.6 - 9.3
GS - 314.9 - 7.1
MS - 296.2 - 6.7
JPM - 254.3 - 5.7
ML - 253.3 - 5.7
Citi - 228.2 - 5.2
CS - 190.4 - 4.3
China Int'l - 183.7 - 4.1
Bank of China - 150.5 - 3.4
Deutsche - 140.8 - 3.2
Where is Lehman Brothers?