3 Non Traditional Arguments for Getting a CFA

EN
Points)
on 1/15/13 at 12:15pm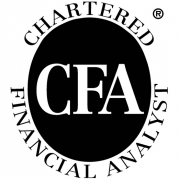 Here are three non-traditional reasons for getting a CFA. I use the term "non-traditional" because I'm not going to include "because you want to work in equity research" (or some other area where it's
basically a required certification) – that's too obvious. This post is more for folks who are tangentially involved in a finance career and considering getting a CFA. For example, this post could be for someone considering a private equity, consulting, or corporate strategy career.
Are these three reasons incredibly strong arguments for investing 300 hours per level to get a CFA? No, I wouldn't say that. But, they are points to consider.
#1 – It's not that easy to get, which means it's a good way to differentiate yourself on paper.
I spent 7 years working for a strategy consulting firm, and ultimately became a manager, stopping for an MBA at Kellogg along the way. I saw lots of undergraduate and MBA level resumes. Later, I became an entrepreneur, and started a tutoring and test prep company which offers CFA prep services. I've got tons of friends in investment banking, P/E, consulting, etc.
I don't have a CFA, but I know it requires a lot of studying and perseverance, and while it doesn't mean you're necessarily a genius, you certainly have to have a good head on your shoulders to pass all three levels. And of course, it indicates that you understand finance very well.
Most importantly, I know tons of people who passed level 1, but couldn't pass level 2 or 3, and wanted to. I know lots of CPAs who couldn't stick with it and get the CFA. It became too hard (either the material itself, or more likely the amount of content and required studying), and they just gave up.
So, when I'm reviewing a resume or talking to someone, and they say they are a CFA – I respect it.
#2 – Very few people really understand finance on a deep level, which means getting a CFA is a good way to differentiate yourself in the work place.
I worked at a strategy consulting firm called Marakon. Our history as a firm was very much about understanding the intrinsic value of alternative strategies and choosing the highest value (i.e., discounted cash flow option), so finance was at the core of the advice we provided. I've debated and explained simple finance concepts to too many MBA consultants and senior business leaders – at times it was ridiculous (i.e., I'm talking about CFOs that really don't understand much about finance…).
Most people have only a cursory knowledge of finance, even if their degree or title has everything to do with finance. So, even if you're planning on working for a large company that doesn't necessarily value the CFA, it might be a good idea to make the investment early in your career in getting it. You'll build a good reputation for knowing your stuff when people are inevitably talking about "the market," ways to expand the company's multiple, or when/whether/why to buy back the company's stock, etc.
#3 – It's a networking tool
I think young professionals typically underestimate the power of networks. The more people you know and who trust you, the better off you'll be as your career progresses. So, it's good to be a part of groups that are relatively difficult to join.
Once you have a CFA, you're part of a global network of colleagues who understand the commitment you've made and the knowledge you have. If the individual across the table from you in a business negotiation, interview, or some other type of meeting has a CFA and so do you, that's one small reason for the meeting to turn out more favorably for you than it otherwise would.
Summary
Of course, if you find the above points valid and you may want to work in equity research – then that's a much stronger argument for getting the CFA.
What do you think? What other non-traditional reasons to get a CFA are out there?
Tags: