Are Plea Bargains Too Soft?

CF
Points)
on 6/12/12 at 6:00pm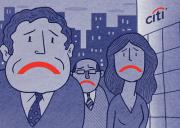 The Economist's Unsettling Wall Street is an article about the SEC accepting plea bargains rather than pursuing legal actions against banks which would provide transparency and a legitimate guilty verdict. In addition,
[plea bargains] also disarms aggrieved investors of a weapon (a conviction) which they might have used in future lawsuits.
...a New York district judge, in rejecting a $285m settlement between Citigroup and the SEC."
The case involved a fund that, it is alleged, the bank had designed to fail. The subsequent implosion cost investors $700m while earning Citi $160m. Mr Rakoff called the settlement not just a betrayal of the public interest, but the product of an approach "hallowed by history but not by reason" that provided the SEC with little beyond a "quick headline". Settling without establishing the facts "is worse than mindless, it is inherently dangerous," Mr Rakoff wrote."
"Unsurprisingly, Citigroup and the SEC both expressed their objections. Citi said it stood ready with "substantial factual and legal defences". The SEC noted decades of precedent, and asserted that the settlement "reflects the scope of relief that would be obtained after a successful trial".
Do you think plea bargains undermine the markets or achieves the same results through the courts?