Ballin' on the Green- How important is golf in banking and business?

CF
Points)
on 7/15/12 at 10:30pm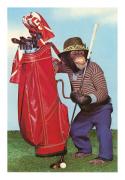 I've always heard people in the business world say golf is a great sport for business and deal making. It's not an overly rough or physically demanding sport (which is not saying it's easy – it's probably one of the most challenging sports in the world) and lends it itself to being played by all ages. That being said, ever since I started working full-time I've noticed a lot of "important meetings" and "client appointments" take place "over a couple of holes". Now I'm sure most analysts working 90-hour weeks have little or no time to work on their handicaps, but if golf is required for the corporate world:
How important is the ability to play golf for business (be it banking, PE or anything else)?
How and when do you start playing? Playing at least enough, that you don't make a fool of yourself on the course? Does it occur in business school or have most of you always played consistently?
At what levels (VP,ED,MD, SVP etc.) do you actually need to start making deals/conducting business while playing 9 or 18?
Besides golf, what other sports are useful/important to meet clients/pitch business during? What activities in general lend themselves to corporate life?
While I was an SA at a BB, the first day I walked in to speak with an MD (in PB sales) I noticed a putter lying on his desk.
I'm in sales, what do you think? It's part of the job kid, you should learn sooner or later.
I've played on and off since I was sixteen, so while I seldom shoot under 90, I don't feel completely out of place at a golf course. It also helps that I work maybe 60 hours (in the insurance industry) and can hit the driving range Chelsea Piers at least once or twice a week. But what about you guys in banking? It seems as your career progresses from Analyst to MD (well hopefully) and a more sales/revenue generating role – you need to be more and more comfortable swinging a club (correct me if I'm wrong). But in the mean time at what point of time are you able to actually start playing the game and become halfway competent? I mean at Analyst through VP level – I can't imagine you have enough time, and by the time you're a director of some sort you already need to be out there.
Maybe it just appears to me that being able to play golf seems more important for business than it actually is and that's not actually the case. I can say with certainty that in insurance, if you're in any sort of sales/client role – you will have to play at some point of time. I can't imagine that banking is such a stretch (at the more senior levels I imagine). Would love to hear some feedback on this? I think author P.G. Wodehouse sums it up pretty well,
Golf, like the measles, should be caught young, for, if postponed to riper years, the results may be serious. ~P.G. Wodehouse, A Mixed Threesome, 1922