Click! The Banking Snapshot Thus Far...

O
Points)
on 8/12/12 at 4:30pm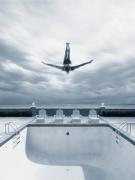 In the spirit of the Olympic Games in London, I'd like to say, "Take a dive!" Because it seems to be what the IB industry has generally been doing in 2012 given the latest news coming from WS firms. Early in the earnings season I've hearing about revenue guidance coming in weak from Bob Pisani but now it seems to have manifested itself in some key WS players. The following is a sanpshot on some of the latest second quarter earnings from WS, to see who's been affected and how...
TRADING

---
NYSE-Euronext
gave its results earlier this month and even though it beat its estimates by a penny, revenues fell precipitously. Year-over-year average daily volume for cash
trading
was down 12% and Q1 year-over-year was down 23%, while European volumes fell modestly. Short-interest has been rising since June and has yet to be covered which has been a contributing factor while a majority of NYX's revenue came from transaction and clearing fees.
Nasdaq OMX also reported its results citing its net total cash equity trading revenue declined by 14.5% from Q1 year-over-year and down a further 11.9% in Q2 also as a result of lower trading activity in both U.S and European markets.
Do you think these earnings can be attributed to high frequency traders or the greater uncertainty over U.S and European economies?

BANKING

---
While,
"…hybrid banks that cut across investment banking activities, savings, and essentially pure play investment banks"
survive the continuing deterioration of markets, some
BB
's are feeling the effects.
Deutsche Bank
admitted in July to lower corporate banking across Europe, a reduction in debt securities
trading
, and announced a labor reduction of 1900 positions as it reported a decline in revenues of €451 million.
2012 global mergers & acquisitions, according to Thompson Reuters, are down 25%, totaling $1 trillion and less than last year's $1.3 trillion. In the U.S alone, activity has declined by 44% and is the slowest since 2003. For a more in-depth breakdown, the Financial Times has a great visual of the IB industry depicting prevailing trends and a global deal map of the top banks, industries, etc. If this trend continues, says Christopher Versace, contributor to Forbes,

…larger banks will be hunting for active deals and squeezing out smaller players."
For IB boutiques like Evercore Partners or JMP Group that derive almost all of their business from U.S markets, this is not particularly inspiring news. For example, Greenhill & Company in June reported a 90% decline in profits and its advisory revenue plunged 47%. Meanwhile, FBR & Company managed to eek out a single penny per share with $500K in after-tax earnings. Its revenues declined from Q1 by $1.2 million and year-over-year by about 26%, according to my calculations. They have also reduced their labor force by 164 since last year.
Despite these economic doldrums for the IB industry, do you see of hear anything different?

OPINION

---
First, I think this is partially due to a distortion of financial markets by repeated failures in monetary policy. Second, consistent opaqueness in a European Crises solution, the absence of clear growth signals, and the U.S presidential election have all fused into an overall economic uncertainty. Lastly, as result, money is being diverted into corporate bonds and equity short sales, see my article
NYSE Short Sales Top September's Peak, So What's Your Move
.
In the coming weeks, it seems that a rally in the U.S equity market is due, given the need for eventual short coverage and possibly another monetary policy initiative. However, once the election is decided this may bring some economic certainty and improve the the IB industry's business, ceterus paribus.
What's your snapshot of the banking industry look like?
Who Am I?
|
See what GMngmt is all about at
About.Me